POSTPONED: BIG Spring Camp 2020
206 people attending
293 places left
Event booking closes on May 21 at 12:00:00
BSC is as easy or hard as you make it - plenty for everyone!
Due to the coronavirus epidemic, BIG Spring Camp 2020 is postponed. We are looking at alternative dates and will announce a revised date as soon as we are able. All existing bookings for the event will be automatically moved over to the new date, and if anyone is unable to make the revised date they will receive a full refund. However, we'd ask that you wait for the new date to be announced before asking for a refund, please. 
The glorious festival of all things OutdoorLads and our biggest showcase event of the year, BIG Spring Camp, is back for 2020 and you will not want to miss it!
We'll be returning to North Wales where we will have full use of the site and be on the doorstep of an outdoor playground with the dramatic scenery and adrenaline experiences of Snowdonia National Park and the surrounds right on our doorstep. Come and celebrate OutdoorLads and the outdoors in a three day break of activities, exercise and our legendary themed party nights if that's your bag; or use the opportunity for more of a chilled weekend soaking up the scenery and relaxing in your camp chair, it really is up to you.
Our successful pop-up micro-pub, The Outdoor Inn, will be making a return in 2020 so there is a quieter contrast to the party-focused clubhouse. It will feature our own portable bar, which has draught lager, draught cider and cask ale plus a full range of spirits, premium tonic waters, wines and prosecco, plus a wide range of soft drinks and non-alcoholic lager.
(Did you know you can hire our portable bar for your own events, birthdays, weddings and parties - and raise money for a charity of your choice and/or OutdoorLads at the same time. Click here for more details).
The OutdoorLads kitchen will provide hearty meals to see you through the weekend. With a packed entertainment programme to ensure you can never be bored, this will be another fabulous weekend of fun and friends - don't miss it!
Want to get a taste of the event? Check out this fantastic video captured by Daniel Wynnn-Powell. 
EVENTS
Once again there will be a host of free and paid for activities, and we'll be looking to introduce some new ones in 2020. Details will be made available here nearer the time.
THE CLUB HOUSE AND MARQUEE
​The OutdoorLads bar is a permanent fixture in the club house offering an indoor space to relax and eat during the day/early evening then later it becomes a lively space with entertainment into the early hours.
Saturday Night: Emergency Disco! We're thinking blue lights, firemen, police, doctors & nurses, and Tupperware on heads.
Sunday Night: Disco Down Under! Not at all influenced by Kylie's promise of a new album. But besides plenty of Kylie we're expecting corks on hats, thongs on dresses, Priscilla Queen of the Desert references... Keep your didgeridoos to yourself, though.
We'll also have The Outdoor Inn, our own pop-up micro-pub as a nice contrast where it's easier to chat!
We have a range of draught ales and lagers, cider, wine and spirts as well as soft and hot drinks. The Bar is operated by our own OutdoorLads volunteers. The prices are kept low and all the profit made goes right back into supporting the charity.
The Outdoor Chill-out Area is available to use anytime up to 11pm, with a cosy fire pit it is a quiet space where campers can relax.
CAMP SITE INFORMATION
The camp is in a fantastic spot near Betws-y-Coed in the Snowdonia National Park, North Wales. The site is easily accessible with good public transport links and next to some of the most amazing locations for all the outdoor pursuits the UK has to offer. This site is only used for camping by OutdoorLads, and we have exclusive use of the site and all its facilities. 
CAMP FACILITIES
Licensed Bar
Food served every day
Hot, high pressure showers
Toilets & wash rooms
Changing areas
Washing up area
Drinking water taps
Recycling area
Floodlit camping area on Friday evening (to help get the tent up if you arrive late!)
CAMP RULES - Whilst we don't like too many rules, a few are necessary for a successful event for all: 
No glass policy. This is a rugby club with pitches - this rule will be strictly enforced
You must respect other campers and their property
Quiet camping between 23:00 and 07:00 - there are designated areas to socialise and talk away from peoples' tents
Please pitch tents at least 6 feet / 2 metres apart. Any closer and it represents a fire risk
This is a camping event, designed for tents. Caravans, campervans, motorhomes and trailer tents (indeed anything you want to sleep in that isn't a traditional fabric tent!) are only permitted if you have a booked and confirmed a place for such, at additional cost. Places will go on sale nearer the time. Six metres between units minimum. Numbers are restricted to 15 units. No awnings allowed. No exceptions will be made. 
All vehicles must be parked in the car park and are not permitted on the camping fields 
No dogs on site at any time - this is a rugby club with pitches. This will be strictly enforced. 
Open fires are not allowed - BBQs are okay, but must be raised off the ground so as to not scorch the grass. 
You are responsible for keeping your camping area clean and tidy - please ensure it is left in the state you found it when you leave.
All waste and recycling must be sorted and disposed of in the appropriate area on site, not left on the camping fields. 
Campsite opens at 4pm on Friday 22nd May for general admission. Early entry may be made available nearer the time at additional cost. 
Unfortunately there are are no day passes to this event, all attendees must book and pay for a place. However, non-attendees are welcome to participate in the off-site associated events. 
All photos on this event page are used with permission from Wesley Kristopher Chambers Photography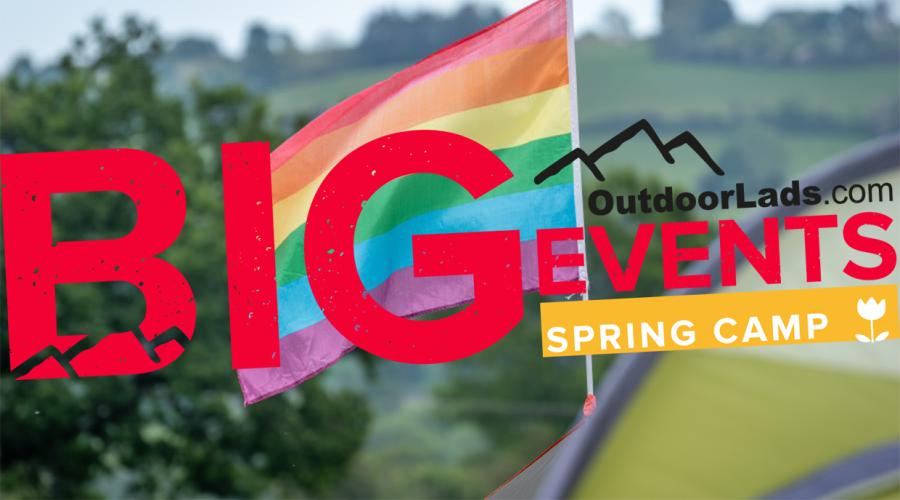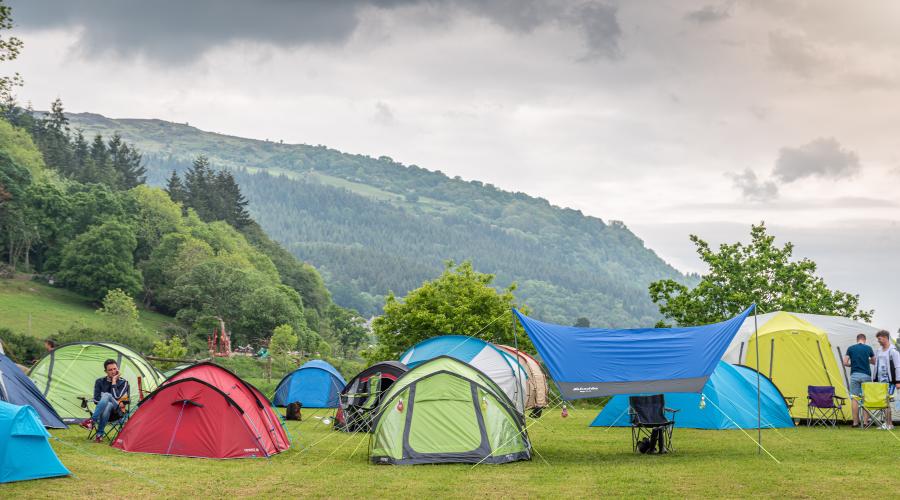 What to bring
If you haven't been camping since you were in the Scouts here is what you need. If it's your first trip you are likely to want to get away with the bare minimum.
Tents start off relatively cheap but as they say you get what you pay for. These tend to start from £10 upwards ('festival tents') that are light and do the job – but only just. You may find that they leak, break or blow away.
A thin foam 'carry mat' is good to sleep on (under £10) and you can use your clothes to make a pillow. Or if you have the room places like Tesco often sell air beds that cost as little as a fiver.
Don't forget you will need something to sleep in. You can buy a sleeping bag from as little as a tenner. This will tend to be thin but will do the job at most summer camps. At camps later in the year you will want something warmer though.
Some places such as Argos/ASDA sell camping sets where you can buy a tent, sleeping bag, sleeping mat and a lamp for approx. £50-£60.
If you have friends that camp you may find it beneficial to talk to them first and they may even lend you some kit.
You can easily beg a cup of tea from more seasoned campers – but it helps if you have a cup, and don't forget a plastic glass if you like your wine! If you are coming by car, a folding chair (£10) is great. As you may be sitting outside late into the evening. Some proper warm clothing always comes in handy – even in the summer. Don't forget a torch, or you may never make it back to your tent. Finally, ear plugs are always a great idea.
Nearer the time we'll be offering the chance to rent-a-tent for the weekend, which we'll even erect for you in exchange for a donation to the OutdoorLads Foundation. 
Once you have been once or twice you will know what kit you need to be able to cook a full English breakfast and host a party for 8 in your tent. Until then the above basics will see you right.
The above information will help you with the camp its self, depending on the activities you choose to do you may need to bring further kit. However its worth noting that any of the activities where special kit is need it will be provided, in most cases all you will need is walking boots, clothes, and a small back-pack (bring a few changes of clothes and footwear).
Food & drink
We will again be running the OutdoorLads catering service in the kitchen. We will have a full range of breakfasts (regular and BIG – and vegetarian versions too) alongside porridge, toast, cereals, egg / ! beans on toast, etc, so something for everyone. 

Throughout the day the bar will be open for snacks and drinks, and from 5pm we'll also be serving our evening menu, including vegetarian options. No need to go hungry! We've worked hard to keep prices reasonable whilst ensuring good quality ingredients, and any money made goes straight back into OutdoorLads, so please use the bar and catering service and support the organisation!
Meeting & times
May 22 - pm
Location
53.140467381375, -3.817298425989