There are two types of membership
Full Members - have paid the membership fee and get the Member's price for events. Full Membership at 75% off is available to anyone who qualifies for the concession price. 
Pay-as-you-Go Members - pay the full price for events.
Some events are free to everyone, such as indoor bouldering/climbing (you only pay the climbing centre) and socials.
When you first join OutdoorLads you will become a Pay-as-you-Go member, but you can become a Full Member at any time by paying the membership fee.
If you are a Full Member but choose not to renew your membership, you revert to being a Pay-as-you-Go member. 
Just click MY ACCOUNT on the outdoorlads.com menu and you'll find your unique coupon codes under the COUPONS tab of your account profile.
There are a number of factors taken into account when pricing an event:
Accommodation
If accommodation is involved, it's typically the most expensive cost of an event. Our office staff work hard to build up relationships with venues around the country to keep this as low as possible.
Food
We include a budget per person. For a hostel weekend this is usually £7.00 to cover two breakfasts and a dinner, plus teas and coffees.
Leader Expenses
We allow our volunteer event leaders to claim some expenses for some events. For example, for hostel events where there will be shopping and cooking to do, leaders can claim up to £5.00 per person whereas for camping and camping barn events where there is typically less to do they can claim up to £2.50 per person. This can be used to cover some or all of the cost of their own attendance at the event, for their transport to and from the event and for anything else they need in order to run the event. Many leaders spend the money on additional food for the group, or simply don't claim the expenses and leave the funds in the organisation.
Early Bird Discount
On some events, there is a lower price for the first few people who book. This encourages interest in the event, and maximises the likelihood that events will then fill up.
OutdoorLads Margin
As a charity we need to generate an income to cover our overheads such as employing a small office team, running the website and processing credit card payments. We also need to have funds to invest back into the organisation. We add 20% - 25% (at least £2.50 per day) to the cost of each event to cover these.
Taxes
We are required to charge VAT on our events. We recover the VAT on our costs whenever possible.
Early bird discounts are available to Full Members on some events, and are designed to encourage the first few people to book onto the event and hence drive interest from everyone else.
If an early bird discount is available for an event, it will show when you look at the the event page. 
There is a limited number of places on an event that can be bought at the early bird price, so don't hang around. To get an early bird price when they are available you need to book onto the event and fully complete the checkout process before they run out.
If you are a confirmed attendee on an event, your refund is determined by how far in advance you cancel your booking:
29 days or more : refund of full cost minus a £5.00 admin charge
28 - 22 days: 75% refund or £5.00 admin charge (whichever is the higher amount)
21 - 15 days: 50% refund or £5.00 admin charge (whichever is the higher amount)
14 - 8 days: 25% refund or £5.00 admin charge (whichever is the higher amount)
7 days or less: no refund
If you are still on the Waiting List for an event after the 'last booking date' has passed you are entitled to a refund of the full cost.
If you are on the Waiting List and withdraw before the 'last booking date' you are entitled to a refund of the full cost minus a £5 admin charge.
In exceptional circumstances we may agree to refund more than the amount shown above. This would usually only be due to exceptional personal issues beyond your control and which could not be predicted. You can send us details to support your request by responding to the support ticket that was created for your refund.
Refunds are processed manually by the Admin team and therefore take some time. Please contact us if you have not received a refund within 5 working days of applying for one. You can do this by responding to the support ticket that was created for your refund.
The above only covers events delivered by OutdoorLads. Events delivered by third parties are not covered by this policy.
Our camping events are typically held at smaller campsites in often rural locations that aren't suitable for such vehicles.
The decision on whether these vehicles are allowed on a camping event rests with the event leader who will know the campsite best. Please contact them through the event page before booking.
Please note that campsites typically charge more for camper vans and motor homes and this is not factored into the event price.
Well-behaved, socialised and under control dogs are welcome on some events. It's important to check with the event leader before booking, as it is the event leader's decision whether to accept dogs on their event or not. Sometimes they will be restricted by third parties, the YHA for example does not allow people to bring dogs to its hostels.
If you have agreed it with the leader and are bring a dog, please remember that others may not feel as comfortable as you with dogs around and adjust your dog control behaviour accordingly.
Day walks: Dogs must be kept on a lead whenever this is signposted and whenever we are in the vicinity of livestock. It's a good idea to check what the route may be like with the event leader before booking to find out more about the potential suitability of the walk for dogs.
Camping weekends: Different campsites have different rules so please speak to the event leader before booking to find out whether your dog would be welcome at the campsite.
Hostel events: Some private (non-YHA) hostels allow dogs, and in these cases it is for the event leader to decide if dogs can be brought on the event. Often there is a limit of two dogs per hostel and this would then be on a first-come first-served basis. We are always on the look out for the few and far between hostels that are very dog-friendly, as then we can create events specifically designed for dog owners and friends. If you know of such a venue please tell us.
OutdoorLads is a group run by its members for its members. Events only take place because some members are willing to lead them and other members are willing to attend. The group then is only as good as the effort its members put into it.
If there are no events on the website near to where you live and you'd like to see more, the simple answer is get involved!
Firstly if there is an event taking place near to you and you can attend then go along and take part. It is through member support of events that demand for more events in a particular area increases.
Secondly you could get involved further and become an Event Leader yourself. The process of becoming an Event Leader is easy, it requires a small amount of work on your part and we will support, help and advise you.
Click MY ACCOUNT and then open the EDIT tab to update all your profile details. 
You'll find the details in the four sections, each of which you can update to complete your profile in full:
Account Information
Personal Information
Marketing and Contact
Essential Information
The EU General Data Protection Regulation (GDPR) replaces the Data Protection Directive 95/46/EC eugdpr.org. It will apply from 25th May 2018.
The GDPR gives EU citizens greater rights and protections, including:
requirement to obtain active consent for use of their personal data

to know how personal data concerning them is being processed, where and for what purpose

to demand a copy of their personal data, free of charge, in an appropriate format

the right to be forgotten by demanding their data be erased
OutdoorLads has always taken the data security of Members seriously, and is putting further procedures in place to ensure full compliance with the GDPR. 
We take your privacy very seriously. We allow others to see only the information about you that is appropriate and necessary for OutdoorLads to run successfully and safely.
1) None of your profile information is visible to non-members.
2) When looking at your profile, other members can see:
your first name
your OutdoorLads profile name
your profile picture
your profile bio (written by you)
an icon to show if you are an OutdoorLads leader
an icon to show whether you have a car (the implication being that you might be able to offer lifts)
your events (past, present and future events as well as events that you have bookmarked)
3) For events that you have signed up for, the event leader can see: 
your first name
your last name
your OutdoorLads profile name
your profile picture
your profile bio (written by you)
your mobile phone number
your address
an icon to show if you are an OutdoorLads leader
an icon to show whether you have a car
an icon to show if they are first aid trained
your dietary requirements
your Next of Kin details
4) OutdoorLads Administrators can see all the information of your profile
Note: All of our Leaders and Admin Staff have signed the OutdoorLads Confidentiality Agreement and in doing so have committed to maintaining the security of your confidential personal data.
As a registered charity our aim is to 'improve the physical and mental state of gay, bi men and trans guys' through a range of outdoor activities on a not-for-profit basis. 
With these charitable aims, being registered as a charity then means we can access discounts from some suppliers, qualify for some grants open only to charities, and make some savings in VAT.
We've divided the UK up into regions, so that you can search for events in a particular part of the UK.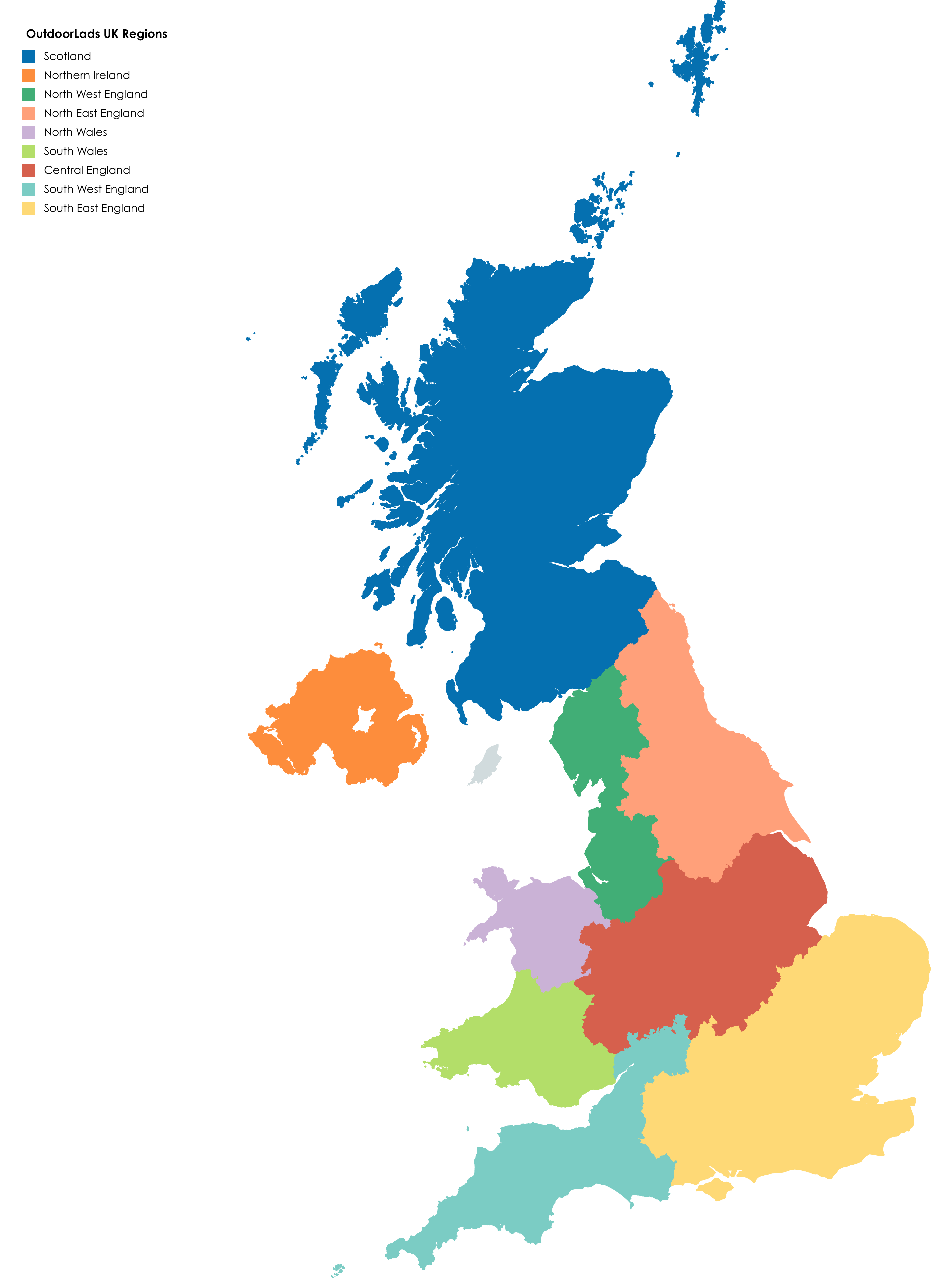 Whilst this isn't a frequently asked question, that's not to say that it can't happen. If you wish to raise a concern, or make a complaint, there are several options. Whichever you choose, you can be sure we will respond appropriately.
If you're on an event and have a concern or compliant, the first thing to do is to discuss it with the event leader. Remember that they are a volunteer, so please be accommodating in your expectations, but do say if there is something you feel is wrong or should be considered.
If you don't find that satisfactory, or do not want to discuss the issue with the event leader, then you can contact the relevant Regional Coordinator or the Admin team. You can do this by email or by sending them a message, oryou can call the Admin team on 0161 420 0001.
If you prefer, you can complete the OutdoorLads Concern or Complaint Form.