BIG Peaky Weekender 2022 (Camping)
119 people attending
1 place left
2021's BIG Event at this venue was such a success, we had to come back!
There are three accommodation options for this event:
Camping

Teepee (camping add-on)

The teepees can fit up to 3 people (4 at a push). If wishing to use a teepee for the weekend, you must sign up to this camping event page and the teepee page. Only one person per teepee needs to sign up to the teepee page.
This weekend is a celebration of all things outdoors. This outdoor centre is perfectly located in the heart of the Peak District for walking, cycling, mountain biking, climbing, and we'll even have use of the on-site high-ropes course!
In terms of evening entertainment, this event will be a relaxed affair. We'll have a bar of course, but rather than a late night disco, it's more about having a space to chat, catch up with old and new friends, and maybe even play board games!
OutdoorLads will have exclusive use of the site, designed for large groups like ours. You can be sure that everybody you meet over the weekend will be an OutdoorLad or a member of staff at the venue.
You can do as much or as little as you desire over the weekend (but we do advise you to get stuck in!).
Events
We're planning a wide variety of events over the weekend. The event is ideally located for walks, cycling, trad/sport climbing, water sports, and the site even has it's own high-ropes course!  Of course you may just choose a less vigorous option and go and visit a local National Trust property.
The events below will go live on the website on Wednesday 29 June and will be bookable from 18.00 on Sunday 3 July, to give everyone a chance to see what events are on offer.
Friday
19.30 - Zumba with Joey
20.30 - Strategy Consultation Session
Saturday
08.00 - Bakewell ParkRun
09.30 - Stroll to Chatsworth House (13mi / 21km)
09.30 - Sport Climbing 
09.45 - Bakewell, Queen of Tarts! Walk (10.5mi / 17km)
10.30 - Derwent Valley Brewery Walk (10mi / 16km)
10.00 – Deep Dale and Magpie Mine (anti-clockwise) Walk (10mi / 16km)
10.15 – Monsal Dale Short Walk (6.5mi / 10.5km)
10.30 – Deep Dale, Mine Shaft (clockwise) Walk (8.4mi / 13.5km)
10:30 - Kayaking  (paid event)
10:30   Stand-Up Paddleboarding (paid event) 
11.30 - Leisure Cycle
13:15   Stand Up Paddleboarding (paid event)
13:15   Kayaking (paid event)
17.30 - Stretch and Tone with Joey
Sunday
09.30 - Climbing at Froggatt Edge
10.30 - Sunday Bimble for Lunch
All meeting points are at the camp in the sheltered area where you will also sign in to the event. The area will be well signposted when you arrive.
Food
As you're camping, you're obviously welcome to bring and cook your own food on your camping stove / BBQ, but these must be raised off the grass. For a very small cost, you can also book some or all of your meals to avoid the faff of cooking. Book via links below:
Friday night dinner  - Jacket Potatoes and a variety of fillings
Saturday night dinner - Sausage casserole
Saturday night dinner - Sausage casserole VEGAN
Dogs
This event is not suitable for dogs.
Campervans, caravans, motorhomes
Due to the venues licencing restrictions, we are unable to accept campervans, campervans and motorhomes. 
Images: Aerial shots kindly supplied by and used with permission from Will Allaway. Other photos taken by and used with permission from OutdoorLads Members.
IMPORTANT! - Participation Statement
You MUST complete a Participation Statement in addition to booking your event space before attending an OutdoorLads event. You only need to complete this Participation Statement once, not for each event you attend. 
Anyone with COVID-19 symptoms, even if they are extremely mild, or who has recently tested positive for Covid-19, is asked not to attend.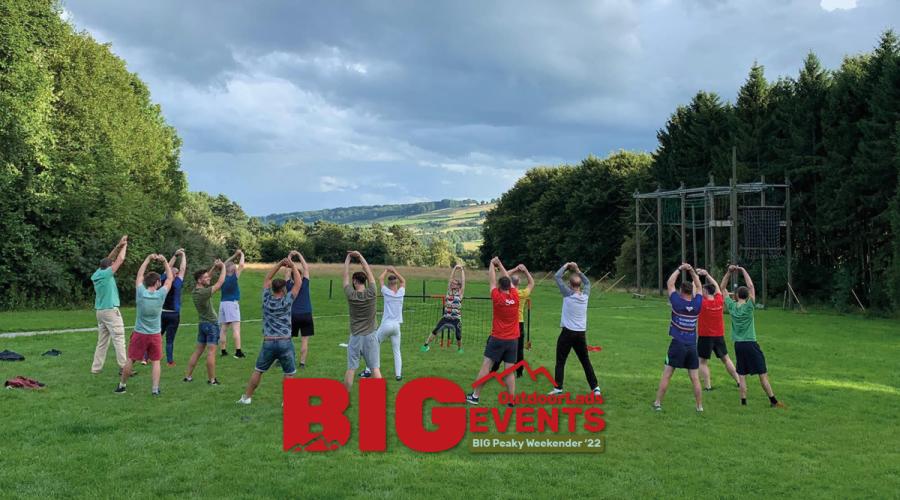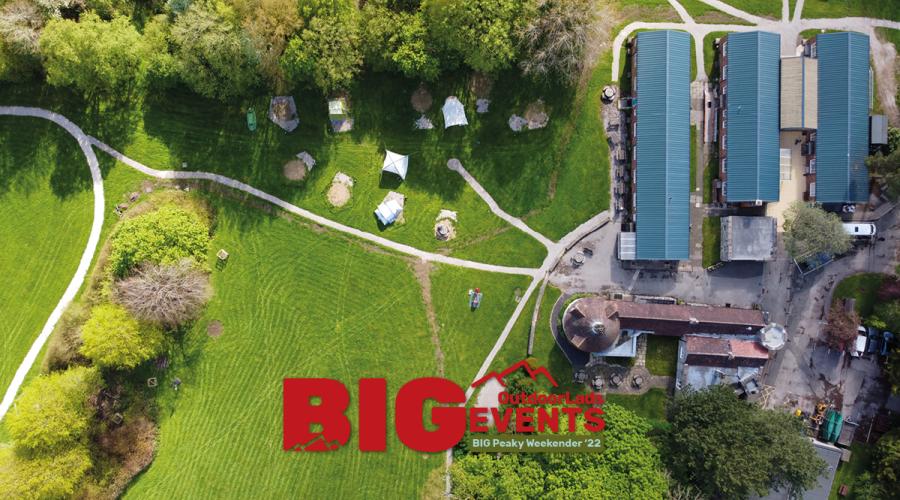 What to bring
If you haven't been camping since you were in the Scouts here is what you need. If it's your first trip you are likely to want to get away with the bare minimum.
Tents start off relatively cheap but as they say you get what you pay for. These tend to start from £10 upwards ('festival tents') that are light and do the job – but only just. You may find that they leak, break or blow away.
A thin foam 'carry mat' is good to sleep on (under £10) and you can use your clothes to make a pillow. Or if you have the room places like Tesco often sell air beds that cost as little as a fiver.
Don't forget you will need something to sleep in. You can buy a sleeping bag from as little as a tenner. This will tend to be thin but will do the job at most summer camps. At camps later in the year you will want something warmer though.
Some places such as Argos/ASDA sell camping sets where you can buy a tent, sleeping bag, sleeping mat and a lamp for approx. £50-£60.
If you have friends that camp you may find it beneficial to talk to them first and they may even lend you some kit.
You can easily beg a cup of tea from more seasoned campers on the campsite – but it helps if you have a cup, and don't forget a plastic glass if you like your wine! If you are coming by car, a folding chair (£10) is great. As you may be sitting outside late into the evening. Some proper warm clothing always comes in handy – even in the summer. Don't forget a torch, or you may never make it back to your tent. Finally, ear plugs are always a great idea.
Once you have been once or twice you will know what kit you need to be able to cook a full English breakfast and host a party for 8 in your tent. Until then the above basics will see you right.
The above information will help you with the camp its self, depending on the activities you choose to do you may need to bring further kit. However its worth noting that any of the activities where special kit is need it will be provided, in most cases all you will need is walking boots, clothes, and a small back-pack (bring a few changes of clothes and footwear).
Food & drink
If you plan to cook for yourself, please ensure stoves and BBQs are kept raised off the grass so as not to damage it. Campfires are not permitted at this campsite.
If you don't fancy the hassle of campsite catering, you can book some or all of your meals for the weekend with us! Links to book at in the main description of the event, above. 
Tea and coffee will be available free of charge all weekend on a self service basis - please bring your own mug!
The bar will be open from the afternoon onwards for your use. 
Meeting & times
Jul 29 - pm