Why OutdoorLads is Good for You
Spending time outside has been proven to have significant and wide-ranging health benefits.
There's extensive research, including by Norwich Medical School in the UK, proving that spending time in nature is associated with diverse and significant health benefits. Being out and about really does provide a health boost, it reduces the risk of type II diabetes, cardiovascular disease, premature death and it increases sleep duration.
The benefits extend to mental health too. Mind, the UK mental health charity, has shown that spending time in nature can benefit both your physical and mental wellbeing, and that it helps with anxiety and depression, possibly the result of combining regular physical activity, with healthy social contact and being outside in nature.
I have no doubt that I'm physically fitter than I would otherwise be. I have no doubt that regular activity with OutdoorLads has fuelled my mental wellbeing.
OutdoorLads can help.
We're a group of gay, bi and trans men and our volunteer event leaders organise a wide range of events around the UK, including walking, cycling, bouldering, climbing, scrambling, sailing, kayaking, camping, hostelling and skiing. On top of those, we also run social events. 
We cater for a range of members, whether novices or experienced, and our events are an opportunity for members to enjoy the company of others, doing some physical activity, mostly outdoors, and always with a spirit of friendship and mutual support.
Our members regularly tell us just how much of a difference it makes to them to be part of Oudoorlads.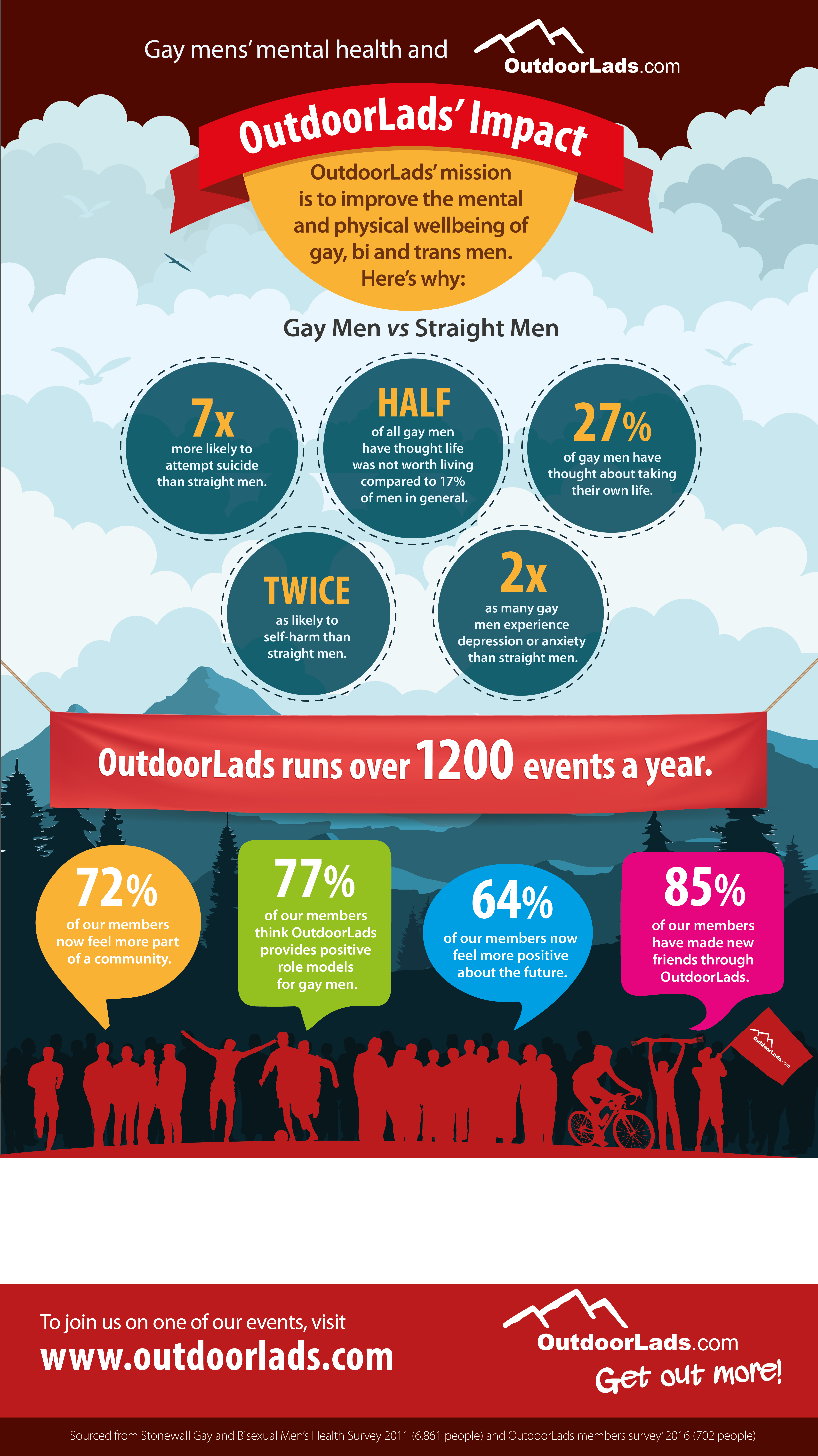 I can't thank OutdoorLads enough for helping me to become happier and healthier again.
It's easy to get involved.
If you're new to OutdoorLads you can join for free and take part in any of our events. Many are free or low cost, and we'll anyway help you try us by giving you some coupons to use towards your first events when you first sign up.
You'll soon know whether getting out more, and experiencing the OutdoorLads magic, is for you. 
We hope so, and hope to see you soon. 
OutdoorLads has changed my life for the better. It's such a positive alternative to some of the negative aspects of gay life. I think OutdoorLads has helped save me, my liver and my mental health!