Manchester Pride 2022 - The Parade Float
76 people attending
4 places left
Walking, waving and dancing isn't too difficult :D
Who's ready for Manchester Pride 2022!
Join us to celebrate and promote OutdoorLads at one of the UK's biggest and best pride events, Manchester Pride!
==> A message was sent out on 22nd August. If you have joined after this, please see the message HERE.
---
It's been a long time since we've been able to enjoy the Parade at Manchester Pride, I don't know about you, but I'm super excited!
We're going all out this year, and we are entering as a FLOAT - yes that's right, an actual float! 
It will be a rather large trailer float filled to the brim with everything OutdoorLads. And we have wonderful loud music as well.
It is anticipated that there will be about 15 people on the float, and 60 people walking alongside and behind.
The Plan (Now Confirmed!)
Different to usual, we will be meeting in a special location that is right next to the main parade assembly point at Castlefield Roman Gardens (which is just off Liverpool Road, the little park next to the White Lion Pub on Liverpool Road). The OutdoorLads Bar will be fully stocked at our start point too! See the "Location" section below. You will see us wearing Red T-shirts, of which you need to wear yourself! Please arrive by 10am.
As always, we would like to show off the many things that we do, so, please do some of the following, if you can!
Climbers - Wear climbing harness. Bonus points if you can hang nuts/hexes/cams from them for jingly-goodness
Bikers / Mountain bikers - ride along-side on your bike. Bonus points if you have a bell / horn.
Walkers/Hikers - Walking poles, rucksacks (with water bladder too? Accepting no responsibility if this is filled with anything other than water...). Massive OS maps - Bonus points for cracking out the acting skills, acting lost and asking the crowd for help with directions)
As well as this, there are flags to be energetically waved and wafted, as well as stickers to be given out too.
...But most importantly, wear your Red OutdoorLads T-Shirt!
If you don't have a Red OutdoorLads T-Shirt, a limited amount in S,M,L & XL will be available to buy at the bar for £10.
In order to take part in the parade, you must obtain a wrist band from our muster point (see "Location" section  below). You will not and able to join the parade without the parade wristband. Please try to arrive on time as last year late-comers struggled to obtain a wristband.
Sadly, No Dogs are allowed. Not our rule, it's imposed by the Parade organisers (I'd have loved to have brought our dog!!)
We will also be milling around in the village afterwards. Both socialising together, and also as an OutdoorLads presence to engage with non-members. We may send groups of three or four members out and about throughout the rest of the day to engage members of the public and most importantly, sticker people up, and hopefully sign up new members, whilst enjoying drinks together (in the sunshine! - hopefully).
Details of where to meet afterwards for this will be announced at the event.
If you are joining us in the village afterwards, you will need the separate Big Weekend pride event wristband - the parade wristband does not allow you into the pride event. It's probably best getting your pride Big Weekend event wristband before joining us at the Castlefield Roman Gardens off Liverpool Road.
More details will be added here and sent out to participants as it all develops, it's going to be fantastic!
Can't wait to see you all there! 
OTHER PRIDE WEEKEND ACTIVITIES:
Thursday (Pre-Pride):
Sign up and get ready to toss your handbag, chuck your sausage in the hoop or maybe don your finest heels (or whatever is left in the box of goodies) and do us proud on the high heeled egg and spoon race! We need a team of 4-6 and plenty of people just to cheer us on and line the street with Red OutdoorLads t shirts! 

Saturday:
After the parade, how about a short afternoon walk that explores some of Manchester's green byways and interesting sights? This could be the walk for you!  It's a 5 mile / 8 kilometre linear walk.

Sunday:
We will also be having a social event on the Sunday evening - come along and catch up with old friends and make a few new ones along the way :)
IMPORTANT! - Participation Statement
You MUST complete a Participation Statement, in addition to booking your event space before attending an OutdoorLads event. You only need to complete this Participation Statement once, not for each event you attend. 
Anyone with COVID-19 symptoms, even if they are extremely mild, or who has recently tested positive for Covid-19, is asked not to attend.
Photos taken by OutdoorLads member Jay, who has given them to us to use freely on our event pages - Thanks Jay!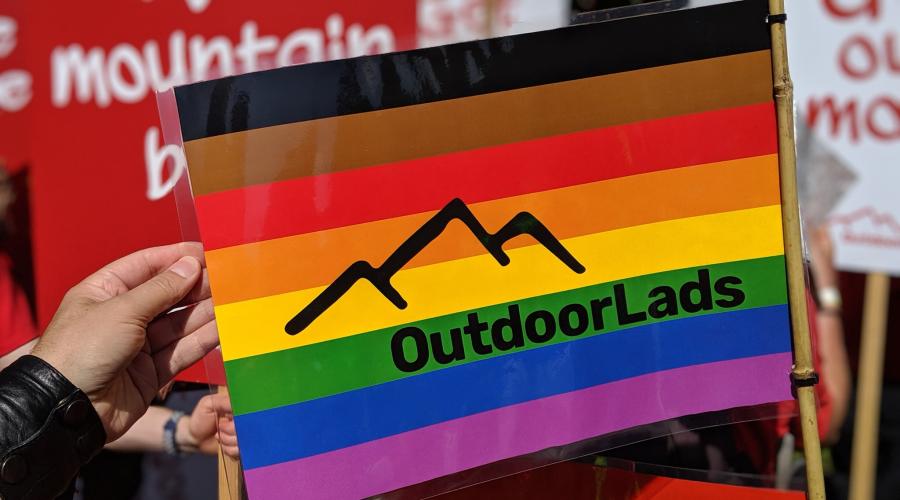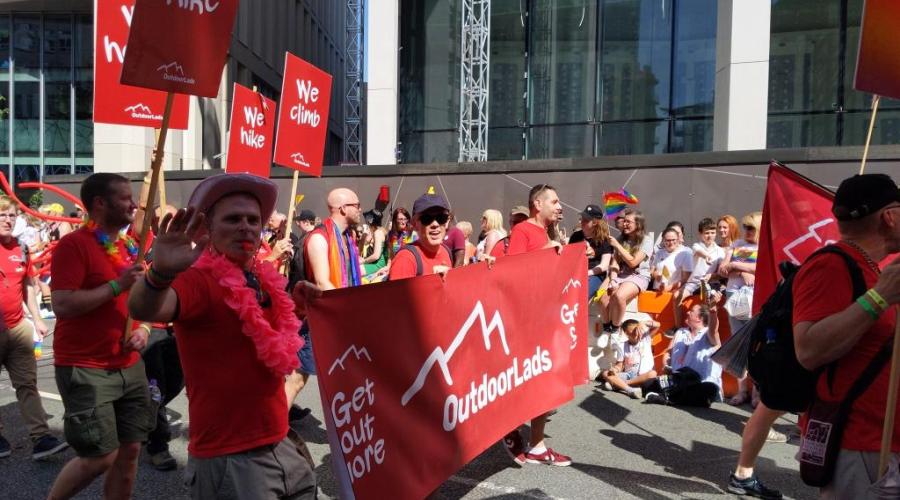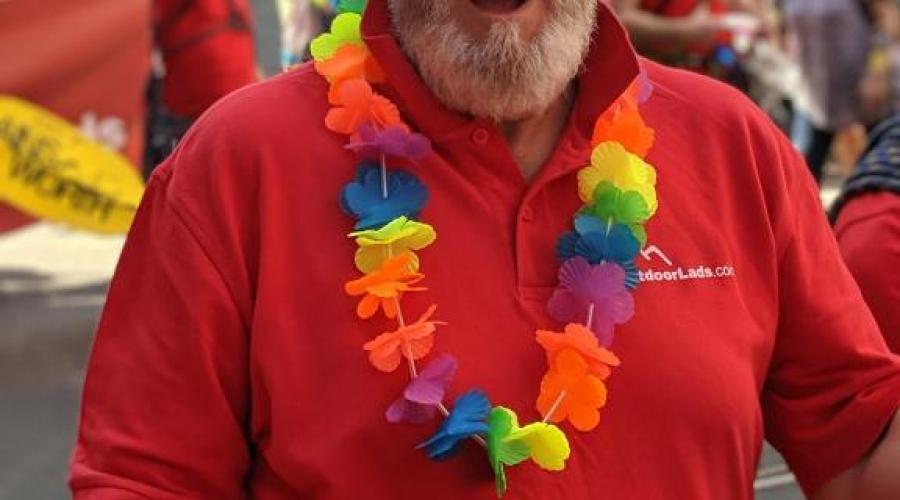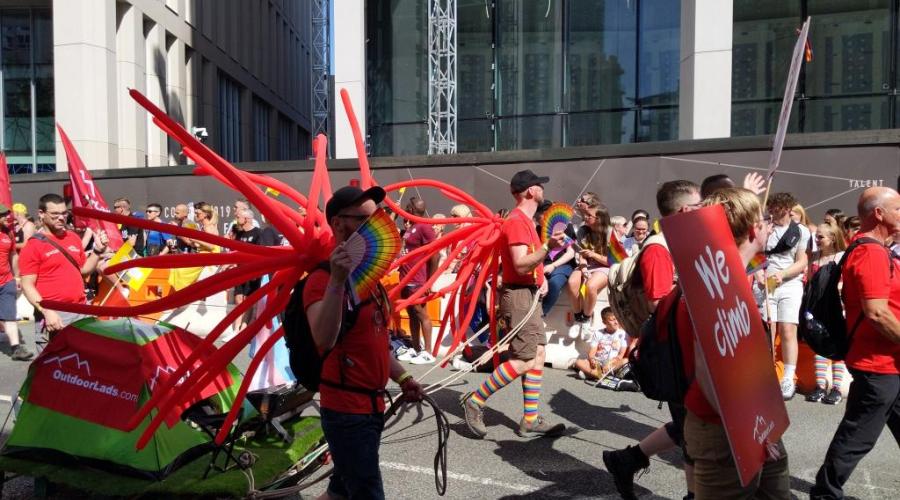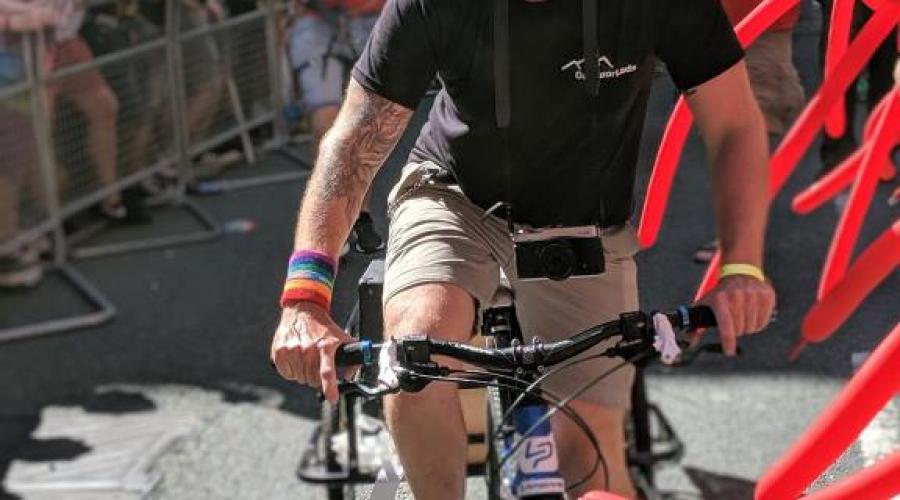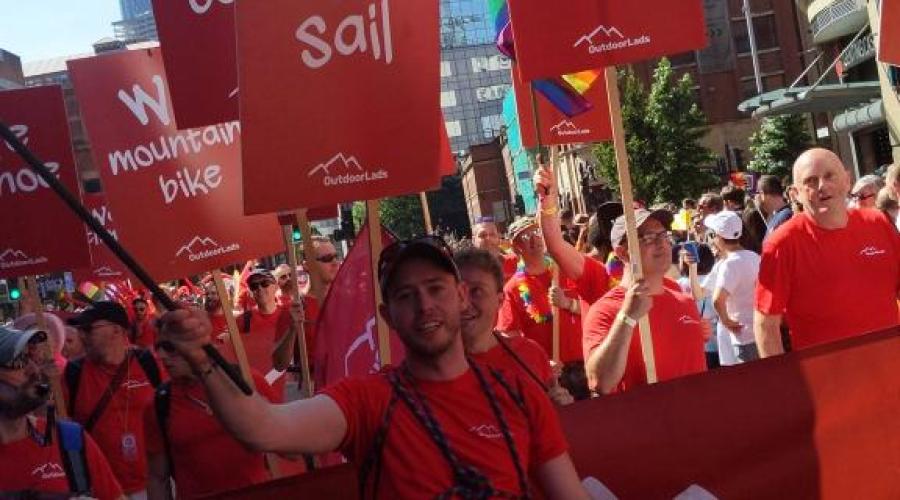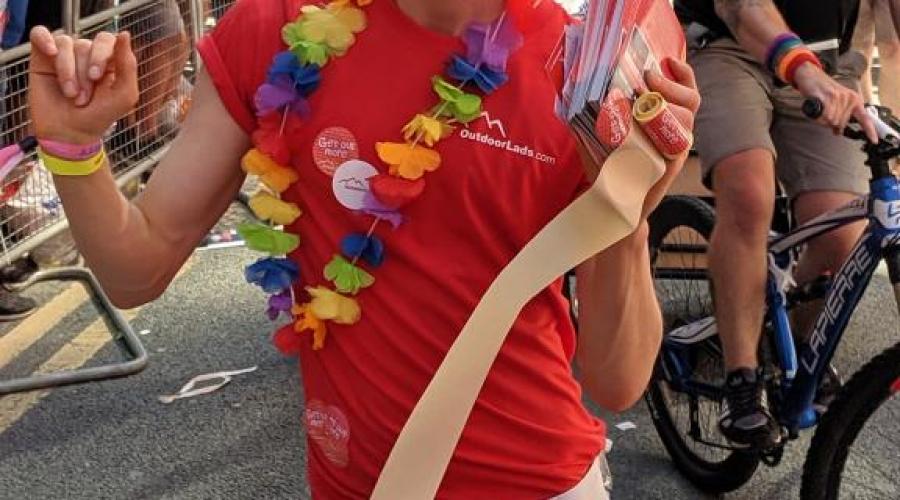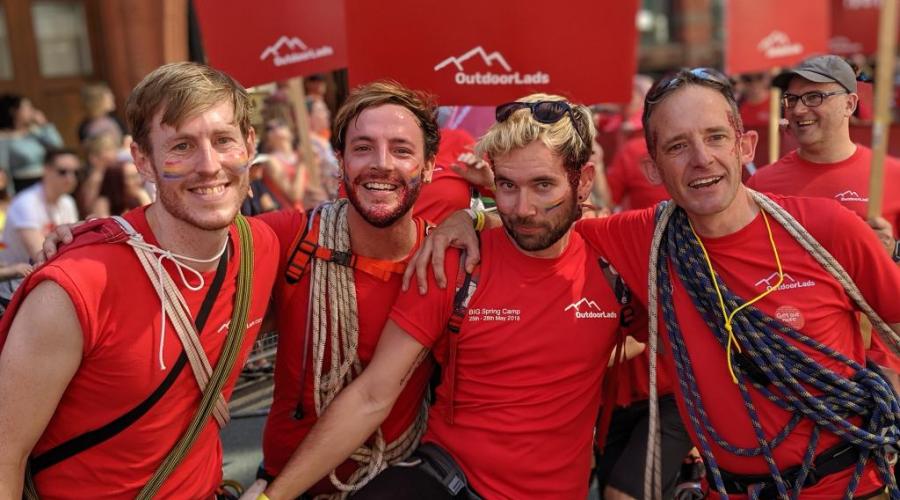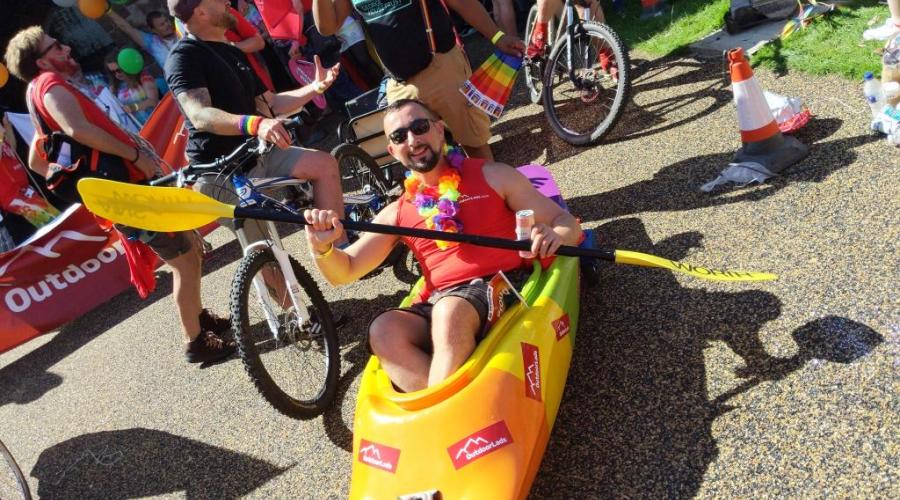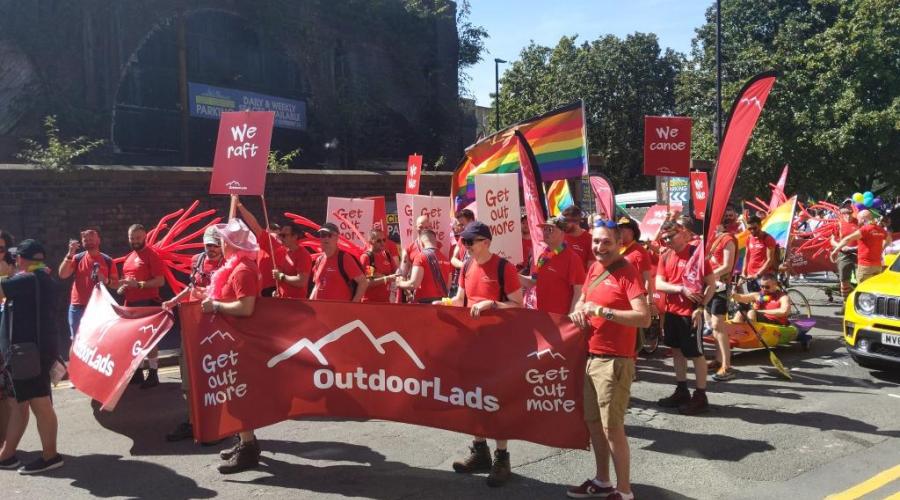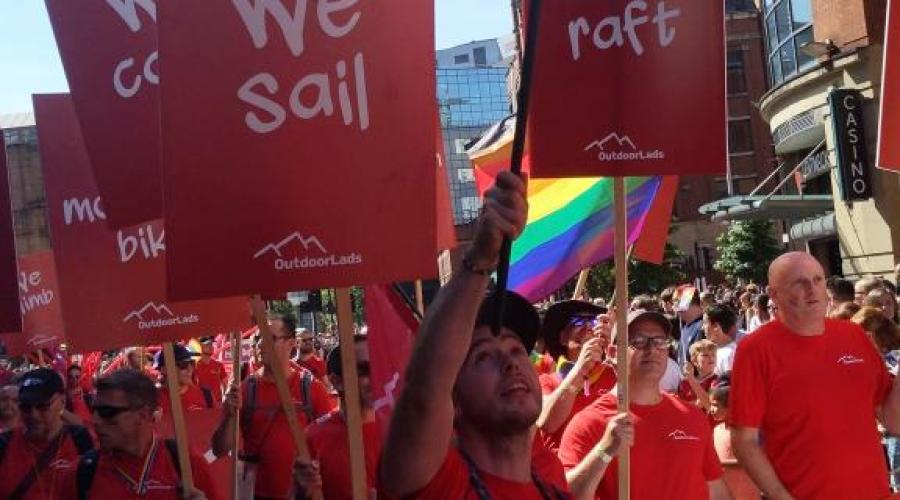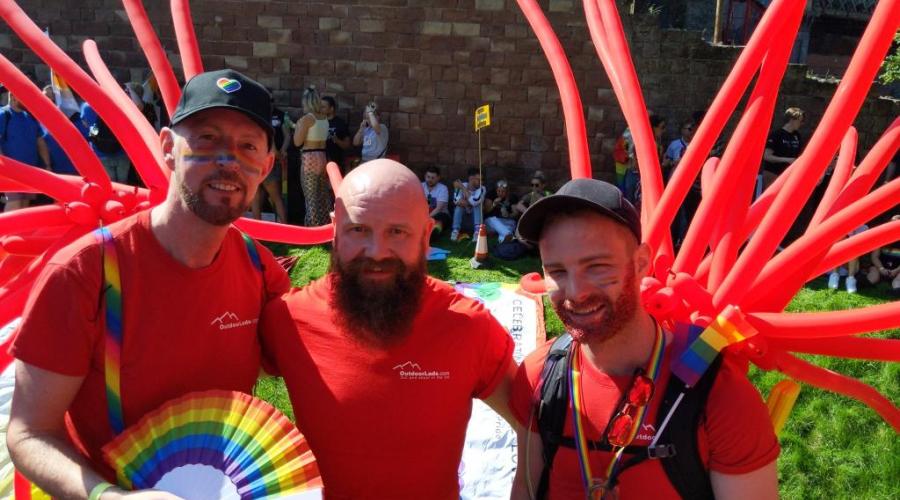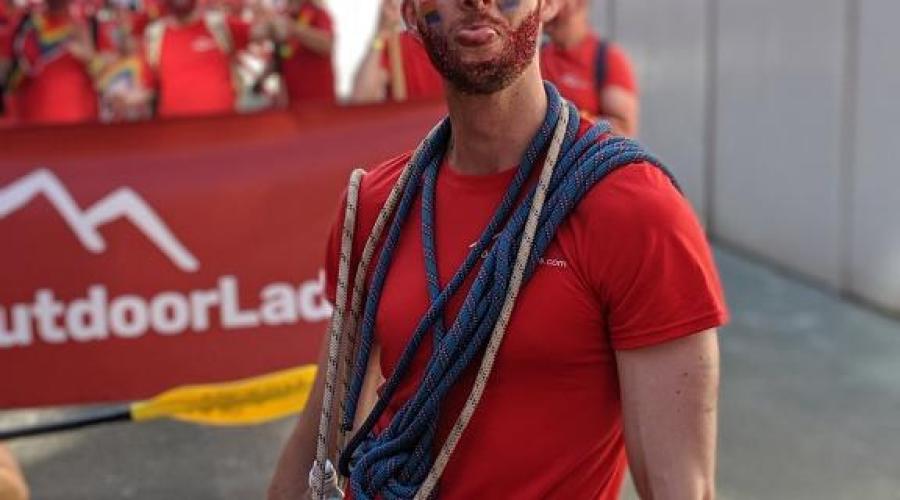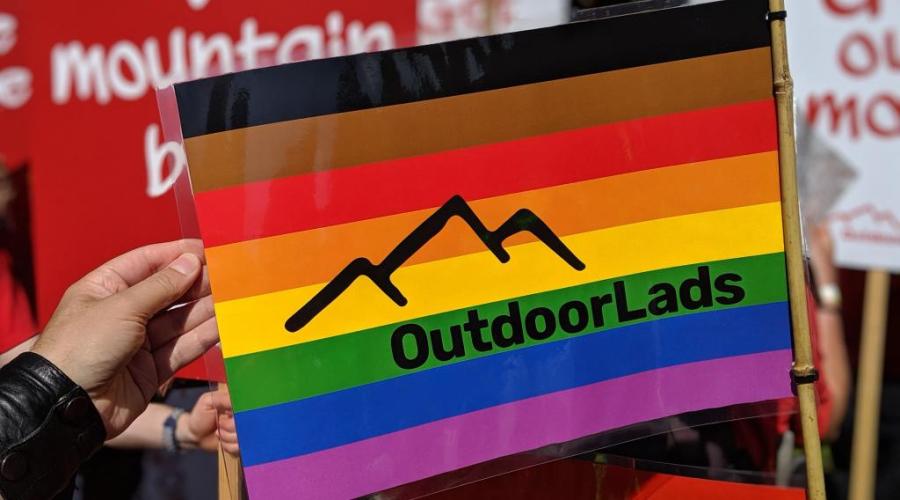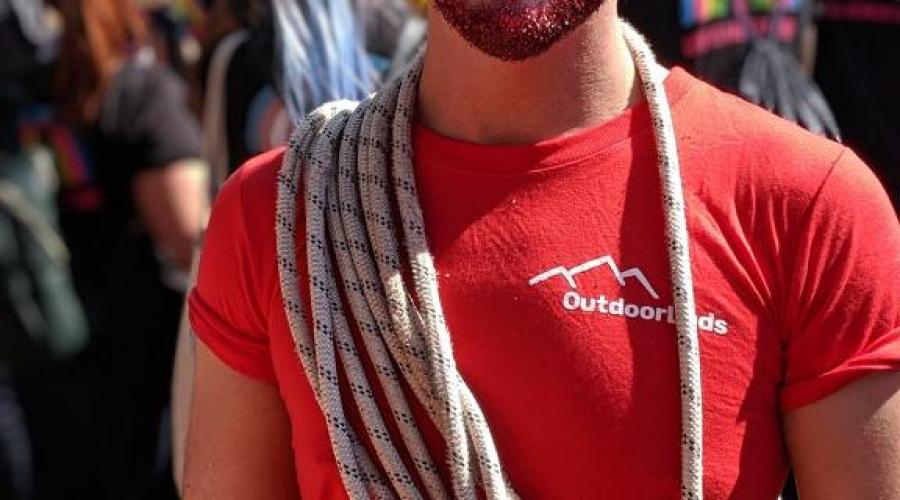 What to bring
RED OUTDOORLADS T-SHIRT!
See event description for kit ideas.
Food & drink
The OutdoorLads Bar will be making its first Manchester Pride appearance at the start point!
Please also make sure you have some water and fluids to last you on the parade too, it's thirsty work.
Meeting & times
Aug 27 - am
Location
53.476182430938, -2.2531119392057