The Hidden Lake District Camp 2021
39 people attending
1 place left
The camping is easy, the walks are varying in difficulty depending on what you want to do!
This event takes place on 2nd July 2021, moved from an original date in 2020 due to coronavirus. New bookings are not now being taken for this event due to the extensive waiting list. We have another event at this site in September, here and which is taking bookings. 
Welcome to the Hidden Lakes, so called as it is a beautifully secluded part of the Lake District, off the beaten track to most meaning we get it all to ourselves.  
This year is special, it is the 10th anniversary of this event.  (11 years though, if you count the cancelled 2020 event...) 10 years of me, Maddog, leading this amazing event most of those with my husband Andy.  So if that isn't a reason to join us on the event, I don't know what is.  
The Duddon Valley is a gem, as you drive through it, this becomes very clear as the winding roads weave around rocky outcroppings, cross rivers, through lush moorland and pretty little hamlets all the way to the campsite.  Just check out the event photos, all are from previous years of this event, including the swimming...
We have a whole field to ourselves - an oasis amongst the rocks that jut out of the ground giving definition to the area, with plenty of flat grass sections with rivers passing nearby too and wonderful views of the Coniston Fells, Hardknott and Harter Fell along with the Scafell Massif too! Literally mountains all around!
We have given you all the reason you need to come, now we need you, the great company to join us on this special event as final touch! So don't miss out, sign up and see you there!
Saturday Night -  The centrepiece of this event is the wonderful local pub, The Newfield Inn who absolutely love us....probably due to their takings that night but hey ho.  We have a celebration planned for the Saturday night which we have run for the last 2 occassions successfully.  A pay as you go BBQ is available and the food quality is great.  Then a local live singer comes on and last year he was incredible with everyone up dancing, singing and revelling! It truly is something else! Pray for sun is all we can say!
Dogs - Dogs are welcome on the site, but an extra charge is payable to the campsite after arrival. Dogs should be kept on a lead as there are livestock in adjacent fields and it goes without saying about cleaning up any mess.
Campervans/Caravans/Motorhomes - The site is suitable for campervans and small motorhomes.  Caravans and large motorhomes are not permitted due to access restrictions.  An additional charge will be payable to the campsite after you arrive. 
Event Photos - All event photos were taken by the event leader, Daniel McKeown-Henshall or other members from whom permission has been sought for OutdoorLads to use them.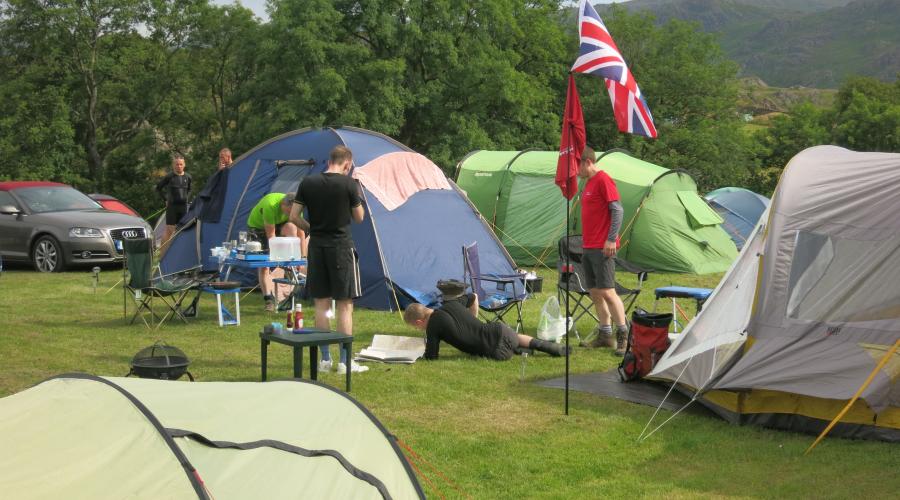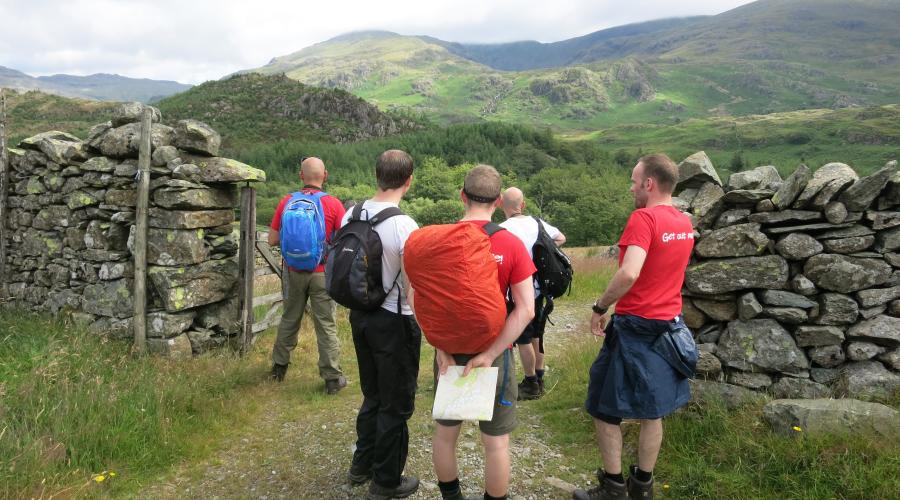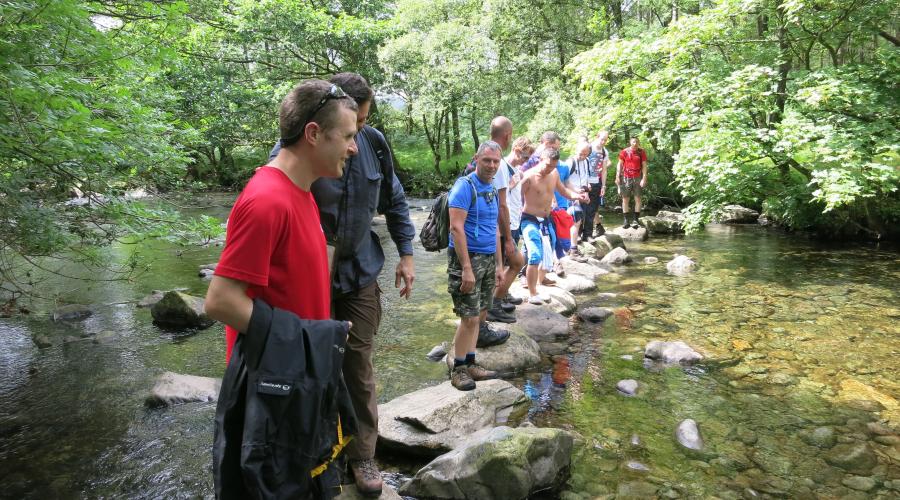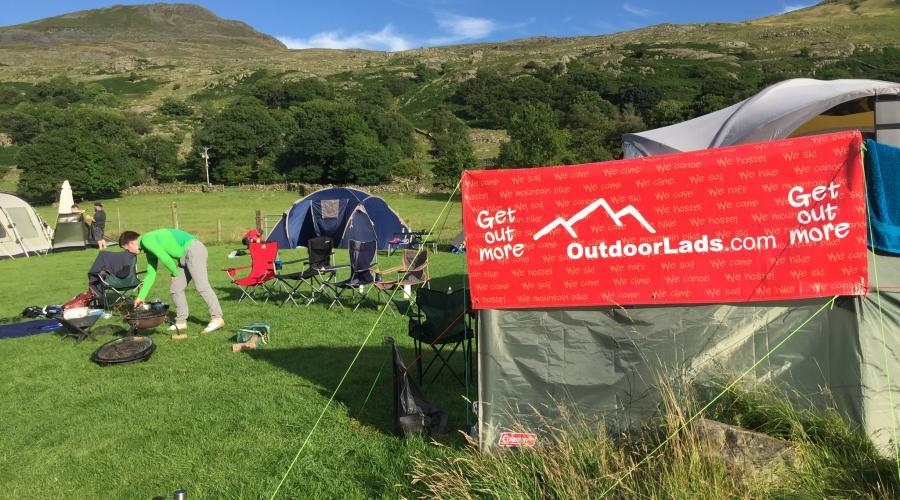 What to bring
In addition to the below, you should bring your walking gear - boots, waterproofs, warm clothing etc.
There are some great swimming spots in and around this campsite, if you want to partake in that, then you should bring a spare towel, some wet shoes are a great idea and some swimwear.  You would not be alone if you decided to skinny/chunky dip so that is up to you.
Tent: make sure you know how to pitch it, even in bad weather or in the dark. Check you have all the poles, ropes and pegs. A 3 season tent is the minimum recommended level of protection.
Sleeping bag: one that provides adequate warmth, designed to go below the temperature that you expect
Sleeping mat: will keep you warmer and dryer
Waterproof bags: for spare, dry clothing
Food: search online for camping food that's easy to cook and filling
Hot drinks: at least in cold weather
Cooking Equipment: check you have fuel and know how yours works
Eating equipment: mug, bowl or plate and cutlery
Washing up equipment: detergent, brush/scourer and tea towel
Wash kit: remember to include a towel, shower gel and shampoo
Torch: or easier still, a head torch
Food & drink
Please arrive on site with all of your food and drink requirements for the weekend.  There are limited shops in the area and on the road in so you are advised to do your shopping before you get too close.  There is a small grocery shop called Melville Tyson in Broughton in Furness but it will only have basic goods but they are a butcher also, if you want your local high quality meat.
There is a local pub a half mile walk from the campsite which you will have likely passed on the drive in, The Newfield Inn.  They serve food until 9.00pm, the food is really good.  
On the Saturday night, as has happened in previous years we will have a mass BBQ and celebration at the pub.  The BBQ will be a pay as you go affair.  They have home made burgers, Cumberland sausage, chips and plenty of salad.  All under cover outside.
Meeting & times
Jul 02 - pm
Location
54.356756971155, -3.184249140979