Late Summer Hidden Lakes Camp 2021
25 people attending
0 places left
6 people waitlisted
Event booking closes on Sep 1 at 12:00:00
The camping is easy, the walks are varying in difficulty depending on what you want to do!
This event has been rescheduled from the original date of 18 September 2020.
Please note that the venue has indicated that they plan to increase their prices, but have not yet confirmed by how much. OutdoorLads will absorb the cost if it is a relatively low increase. However, we may have to very slightly increase the price retrospectively if it would make the event loss-making.
Welcome to the Hidden Lakes, so called as it is a beautifully secluded part of the Lake District, off the beaten track to most meaning we get it all to ourselves.  
The Duddon Valley is a gem, as you drive through it, this becomes very clear as the winding roads weave around rocky outcroppings, cross rivers, through lush moorland and pretty little hamlets all the way to the campsite.  Just check out the event photos, all are from previous years of this event.
Our site is an oasis amongst the rocks that jut out of the ground giving definition to the area, with plenty of flat grass sections with rivers passing nearby too and wonderful views of the Coniston Fells, Hardknott and Harter Fell along with the Scafell Massif too! Literally mountains all around!
We have given you all the reason you need to come, now we need you, the great company to join us on this special event as final touch! So don't miss out, sign up and see you there!
Please note: Coronavirus is still having an impact, meaning that we expect the local pub, The Newfield Inn, IS NOW OPEN AND TAKING BOOKINGS  We also won't have the back field all to ourselves, as the site request that we all spread out over the whole site. That said, it's a large site with plenty of space and restricted numbers, so this won't be a problem. Please note that anyone entering open water does so entirely at their own risk. 
Dogs - Dogs are welcome on the site, but an extra charge of £1 per night per dog is payable to the campsite after arrival, in cash. Dogs should be kept on a lead as there are livestock in adjacent fields and it goes without saying about cleaning up any mess.
Campervans/Caravans/Motorhomes - The site is suitable for campervans and very small motorhomes, no bigger than a VW campervan. An additional charge is payable in cash on arrival of £2 per night per campervan.  Caravans and medium / large motorhomes are not permitted due to access restrictions.  
Camp fires / bbqs- the campsite owners allow these, but they must not damage the grass, so keep them raised up. Could be cool in the evenings, so the more firepits (and wood for burning !) the better
Showers- nice hot power showers provided.  £1 for 4 minutes.  Don't forget to bring coins.
Event Photos - All event photos were taken by Daniel McKeown-Henshall or other OutdoorLads members from whom permission has been sought for OutdoorLads to use them.
COVID-19  – IMPORTANT, Please read the following before you sign up to this event:
Anyone with COVID-19 symptoms, even if they are extremely mild, or who lives or is in a support bubble with someone showing symptoms, is asked not to attend. This is in line with the government's coronavirus advice.
All are required to practice social distancing – staying 2m (not 1m) apart at all times, including when eating. 
Unfortunately, there won't be any planned pub / café stops en route or at the end, and please don't share food, sweets or snacks with others – we're sorry!
Please bring your own hand sanitising gel for your own use throughout the event. Use of face coverings is at your own choice, but please bring one with you just in case it's needed. 
Each person should only attend one OutdoorLads event a week. (Leaders excepted on events if they are leading.)
On walks, one person to hold open gates and allow everyone to walk through – so minimising surfaces that multiple people touch. 
Be aware that opportunities for toilet stops may be minimal if facilities are closed.
Please, please cancel at your earliest opportunity if you are unable to attend or are unwell, so that we can allow others to take up these valuable event spaces.
Much as it's difficult - no handshakes or hugs!
COVID-19: Events Participation Statement
OutdoorLads draws your attention to the fact that travelling and being away from home increases the risk of receiving and transmitting Coronavirus, whilst it is present in the UK. You are likely to choose not to participate in OutdoorLads events whilst there is a risk of Coronavirus transmission. However, should you choose to participate in OutdoorLads events whilst the risk is present, you must be aware of and follow the law and government guidelines, both when travelling to and from events as well as when participating in events.
Please note that every person participating should be aware of (and accept) that those members perceived as 'in charge' or leading the event are not experts,  do not need to be experts, and are not regarded by OutdoorLads, or themselves as experts, but are amateurs with some experience in the event type and who are happy to impart their knowledge.  Any advice given should be considered with this in mind by the recipient.
By signing up to and attending an OutdoorLads event, you are confirming that you have read, understood and accept the content of this statement.
Please see our website for more information including an FAQ about our events.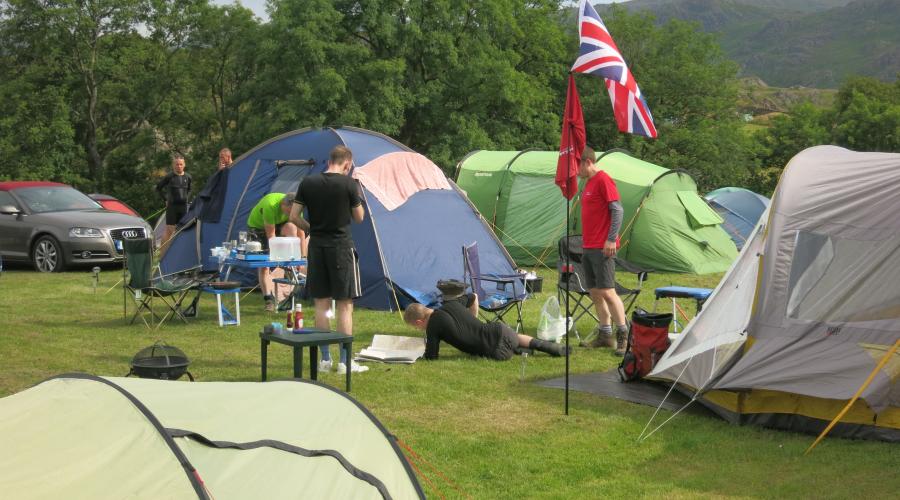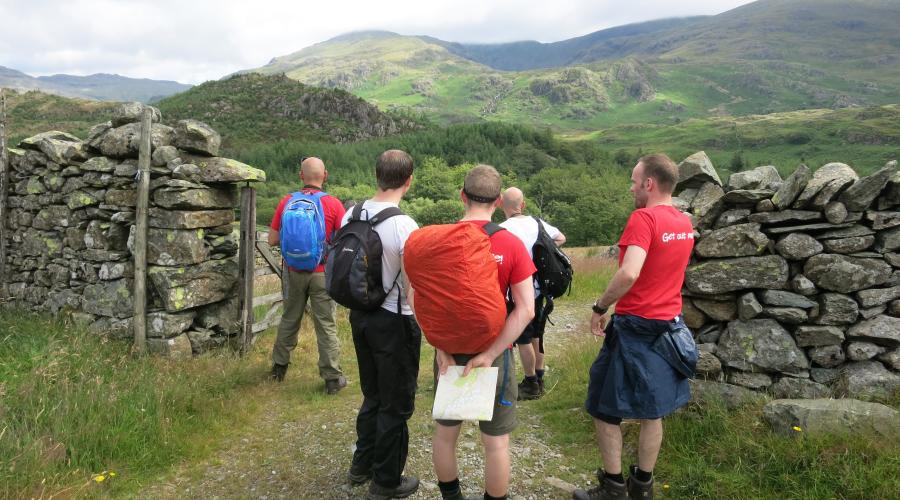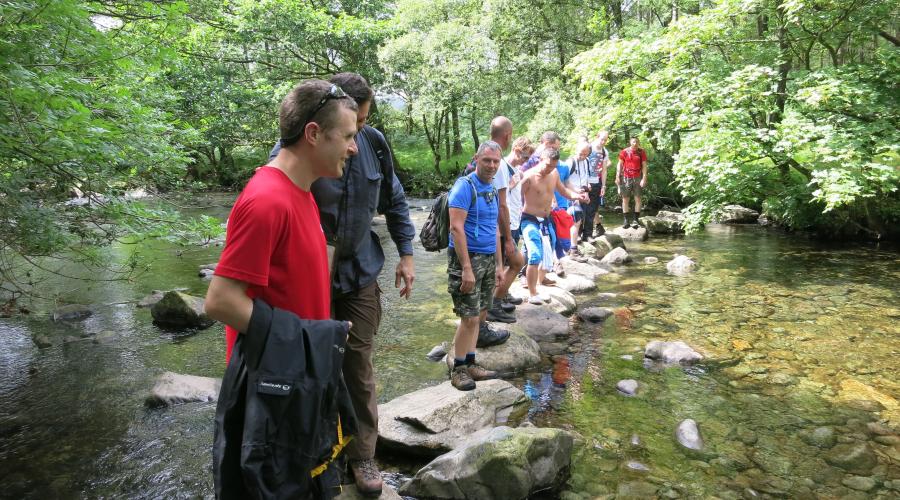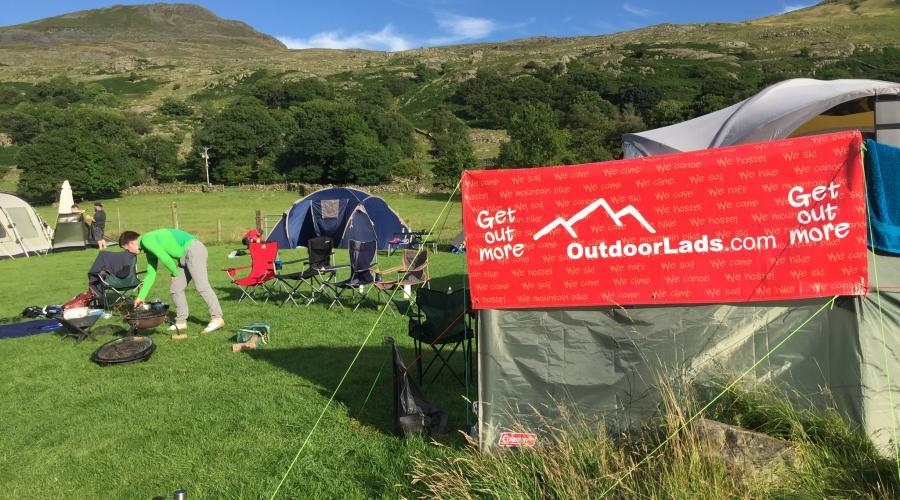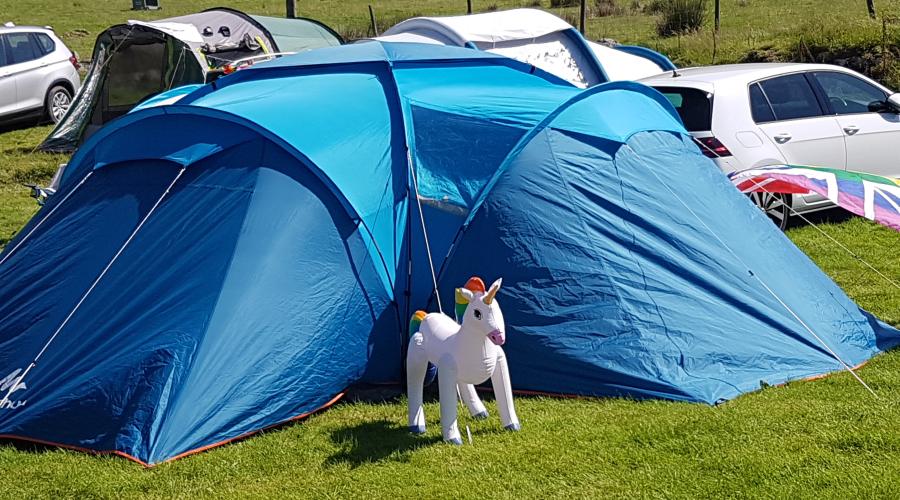 What to bring
In addition to the below, you should bring your walking gear - boots, waterproofs, warm clothing etc.
There are some great swimming spots in and around this campsite, if you want to partake in that, then you should bring a spare towel, some wet shoes are a great idea and some swimwear.  You would not be alone if you decided to skinny/chunky dip so that is up to you.
Tent: make sure you know how to pitch it, even in bad weather or in the dark. Check you have all the poles, ropes and pegs. A 3 season tent is the minimum recommended level of protection.
Sleeping bag: one that provides adequate warmth, designed to go below the temperature that you expect
Sleeping mat: will keep you warmer and dryer
Waterproof bags: for spare, dry clothing
Food: search online for camping food that's easy to cook and filling
Hot drinks: at least in cold weather
Cooking Equipment: check you have fuel and know how yours works
Eating equipment: mug, bowl or plate and cutlery
Washing up equipment: detergent, brush/scourer and tea towel
Wash kit: remember to include a towel, shower gel and shampoo
Torch: or easier still, a head torch
Food & drink
Please arrive on site with all of your food and drink requirements for the weekend.  There are limited shops in the area and on the road in so you are advised to do your shopping before you get too close.  There is a small grocery shop called Melville Tyson in Broughton in Furness but it will only have basic goods but they are a butcher also, if you want your local high quality meat.
There is a pub near the campsite, The Newfield Inn. You can call them to book a table on 01229 716 208.
Meeting & times
Sep 03 - pm
Location
54.356756971155, -3.184249140979