Dorset Double, Day 2: Kimmeridge Ledges and Chapman's Pool
35 people attending
15 places left
Distance is 20.5 km (13 miles); total ascent is 723m with the bus back from Kingston OR 23.5 km (15 miles) and ascent is 761m without; relief is very hilly with four ascents; terrain is dirt, grass, beach shingle and tarmac.
Introduction:
Last year it was a Devon Triple. This year it's back to a Dorset Double, inspired by the brilliant idea of Simon Ellicott, but adding a new walk which will go to Lulworth Cove and Durdle Door. Nearby campsites, hotels and B&Bs are plentiful, although they will be booking up fast. I'll lead one walk, assisted by the fantastic Adam Cooper, and he'll perhaps lead the other, assisted by me. Demand may be reduced as Big Spring Camp will be running at the same time, but even so, I hope you can come and experience the best of the Jurassic Coast Unesco World Heritage Site - some of the finest coastal scenery in the country (nay the world) - and just two hours from London. 
Schedule:
Day 2: Corfe Castle to Kimmeridge Ledges and Chapman's Pool
Our survey of the spectacular scenery of the Jurassic Coast continues on Day 2, where a walk across a range of landscapes from sandy heaths to chalk downs and limestone wolds will culminate in a stretch using the South West Coast Path from Tyneham Cap to Chapman's Pool. It'll be a bit longer than Saturday's walk, but you could make it more manageable by getting the bus back to Corfe Castle from Kingston (no matter if we've just missed it; we'll have a drink at The Scott Arms while waiting). Among the highlights of the route will be the Kimmeridge Ledges, which are banks of rock sticking out into the sea, and Chapman's Pool, an idyllic oval of turquoise water, framed by vividly verdant cliffs.
The sights:
Corfe Castle: Built by William the Conqueror and one of the first castles to be built with stone. Updated in the C12 and C13. Sold by Elizabeth I in 1572 to Sir Christopher Hatton, and then in 1635 to Sir John Bankes whose wife, Lady Mary Bankes, led the defence of the castle when it was twice besieged by Parliamentarian forces. The first siege, in 1643, was unsuccessful, but the second, in 1645, succeeded. In March that year the castle was slighted on Parliament's orders. A Grade I listed building and Scheduled Ancient Monument.
Kimmeridge: An attractive village of limestone cottages. Within Kimmeridge parish there are twenty-five listed buildings. The parish church was mostly rebuilt in 1872, though it has C12th origins; the south door and parts of the west wall of the nave are still original. The south porch is early C13. The Etches Collection (The Museum of Jurassic Marine Life) is an independent fossil museum, based on the collection of Steve Etches, a plumber and fossil hunter after whom some of his finds were named. The collection contains plesiosaur and ichthyosaur fossils as well as ammonites and other molluscs. The museum opened in 2016 and costs £9 to enter. If that's not your thing, you could have a drink at Clavell's restaurant in the village.
Kimmeridge Bay: The bay is roughly semicircular and backed by low cliffs of Kimmeridge clay, and beneath the cliffs is a large wave-cut platform and a rocky shore. Within the clay are bands of bituminous shale, which in the history of the village have been the focus of several attempts to create an industrial centre. An oil well with nodding donkey has operated since 1959 and was producing 100,000 gallons a week in its early years. The village is globally recognised as the origin of the Kimmeridgian stage of the Late Jurassic Period.
Clavell Tower: A folly high on the cliff eastwards of Kimmeridge Bay, built 1830 in a Tuscan style. It inspired PD James's novel The Black Tower and was used in the 1985 ITV adaptation starring Roy Marsden. At risk from falling into the sea, it was recently dismantled and then reassembled 35 m further back from the cliff edge. It is available as a holiday let.
Kimmeridge Ledges: A set of Kimmeridge clay wave-cut platforms, their geology a highly important part of the Jurassic Coast World Heritage Site. Famous for the quality of the fossils they yield as they reveal an entire Late Jurassic marine ecosystem with sea reptiles, bivalves and ammonites, with many finds held in The Etches Collection.
Chapman's Pool: A beautiful semicircular cove between two headlands. The rocks that form the cove are the upper parts of the Kimmeridge Clay, and are rich in fossils of bivalves and amonites.
The route (please click here to check the route on the Ordnance Survey website and see elevations and ascents):
We'll head southwest out of Corfe Castle by way of West Street and we'll cross Corfe Common. Then, heading west, we'll use a lane to get past West Orchard Farm and Bradle Farm. At Kimmeridge village we'll use footpaths heading west to get to Tyneham Cap. We'll then be on the South West Coast Path, which we'll follow all the way along the coast to Chapman's Pool. At Chapman's Pool we'll use a footpath heading north to Kingston, where you can get the bus back or walk using the Hardy Way to go back to Corfe Castle.
Accommodation:
Campsites: Choose one near Corfe Castle. Browse here. Woodyhyde is always popular with ODLers doing the Dorset Double. You'll have familiar company if you stay here. Otherwise try Norden Campsite (click the links).
Bed and Breakfasts: Nice B&Bs are abundant a short bus ride away in Swanage, but are booking up fast. Browse here (click the link).
Dogs:
I love having dogs on my walks and this one may be suitable for dogs with lots of stamina. It is long, has some fields with livestock and will partly be along lanes. Much of the route is exposed to the sun so a dog may overheat, although they will be able to go in the sea at Kimmeridge. Your dog must be responsive if it is off the lead. 
IMPORTANT! - Participation Statement
You MUST complete a Participation Statement, in addition to booking your event space before attending an OutdoorLads event. You only need to complete this Participation Statement once, not for each event you attend. 
(Images: South West Coast Path towards Rope Lake Head: Photo © John Allan (cc-by-sa/2.0); Chapman's Pool: Photo © John Allan (cc-by-sa/2.0); Corfe Castle: Photo © Derek Harper (cc-by-sa/2.0); West Street, Corfe Castle: Photo © Pierre Terre (cc-by-sa/2.0); Kimmeridge thatched cottage: Photo © Chris Downer (cc-by-sa/2.0); Tyneham Cap: Photo © Jim Probert (cc-by-sa/2.0); Brandy Bay: Photo © Graham Horn (cc-by-sa/2.0); Gad Cliff:  Photo © Graham Horn (cc-by-sa/2.0); Cliff at Kimmeridge Bay: Photo © Oast House Archive (cc-by-sa/2.0); The Clavell Tower above Kimmeridge Bay: Photo © Tony Atkin (cc-by-sa/2.0); Egmont Bight: Photo © John Allan (cc-by-sa/2.0). These images are copyrighted but are here credited to their copyright holders and are licensed for reuse under Creative Commons CC-BY-SA/2.0.)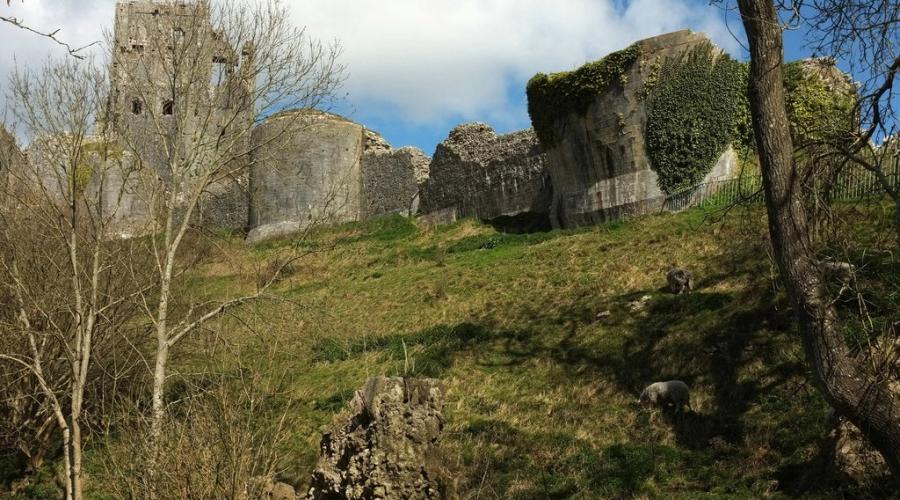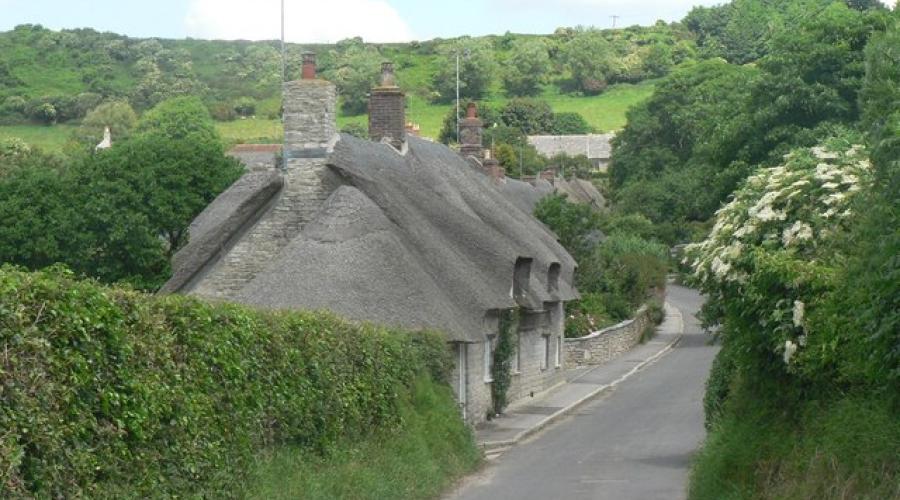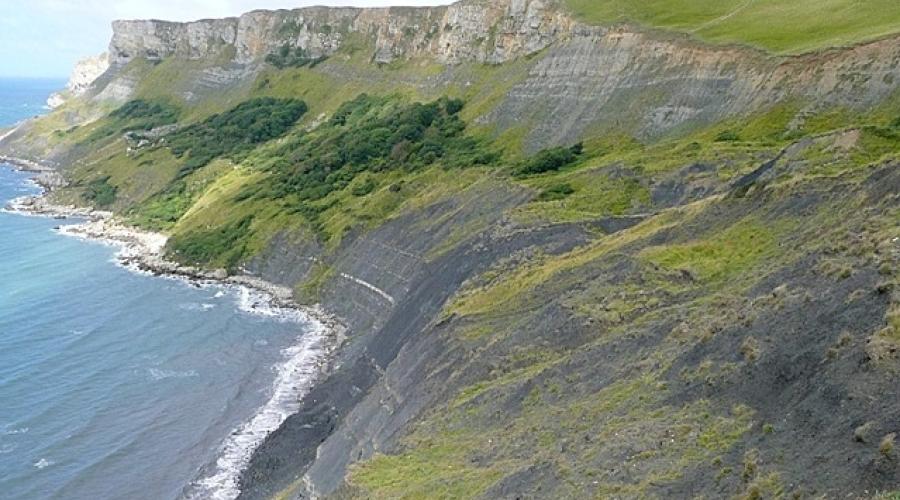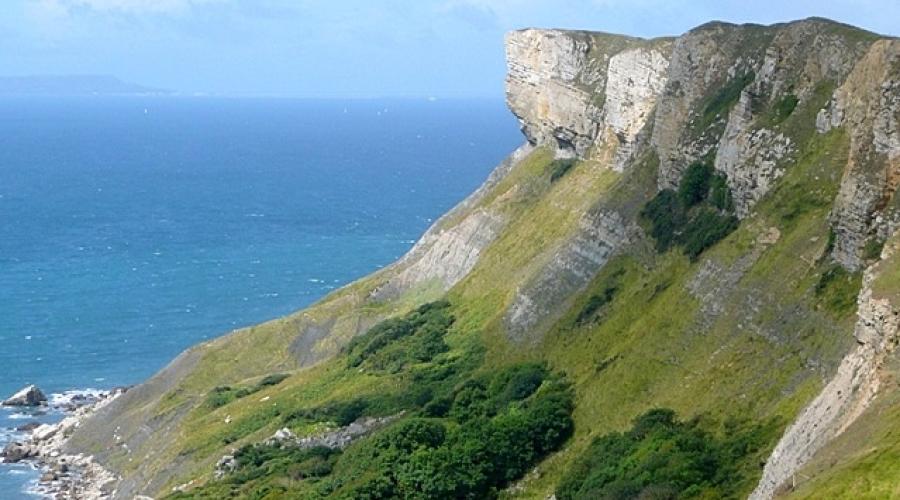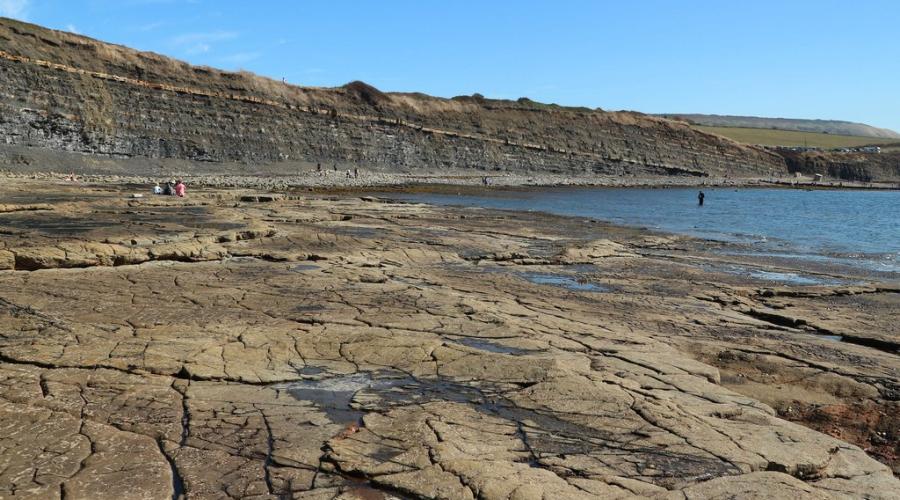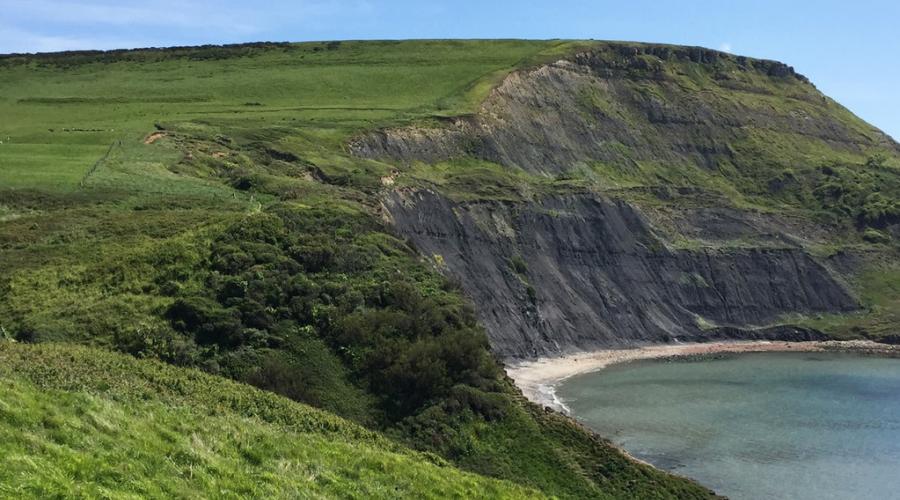 What to bring
Well-fitting walking boots are absolutely essential to cope with the uneven, rocky and steep terrain.
You may need suncream and perhaps a sunhat if sunshine is forecast as the route is frequently exposed and only offers sporadic shade. Bring a waterproof coat if wet weather is forecast.
Food & drink
Bring a packed lunch and plenty to drink. You can get filled rolls at The Pink Goat in Corfe Castle which we'll walk past.
You must have at least two litres of fluid with you if the weather is warm. The only places to get drinks and other refreshments will be at Kimmeridge (Clavell's restaurant and an ice cream van in the coastal car park) at about 11.30 and 12.30 and Kingston (The Scott Arms pub) at about 17.00.
Meeting & times
May 28 - am