Dorset Double, Day 1: Lulworth Cove and Durdle Door
41 people attending
4 places left
Distance is 20 km (12.5 miles); total ascent is 756m; relief is very hilly with five ascents; terrain is dirt, grass, beach shingle and tarmac. This is a linear walk that uses a bus to get to the starting point.
Introduction:
Last year it was a Devon Triple. This year it's back to a Dorset Double, inspired by the brilliant idea of Simon Ellicott, but adding a new walk which will go to Lulworth Cove and Durdle Door. Nearby campsites, hotels and B&Bs are plentiful, although they will be booking up fast. I'll lead one walk, assisted by the fantastic Adam Cooper and Anthony Dean, and Adam will perhaps lead the other, assisted by me and Anthony. Demand may be reduced as Big Spring Camp will be running at the same time, but even so, I hope you can come and experience the best of the Jurassic Coast Unesco World Heritage Site - some of the finest coastal scenery in the country (nay the world) - and just two hours from London. 
Schedule:
Day 1 (Saturday 27 May): Durdle Door, Lulworth Cover and Tyneham, and back to Corfe Castle - linear walk with bus to the starting point
Day 1: Corfe Castle to Tyneham, Lulworth Cove and Durdle Door
This linear walk with bus to the starting point will survey the symmetrical sublimity of Lulworth Cove and the parabolic perfection of Durdle Door, and will use the huge chalk spine of the Purbeck Hills to get back from them, and some of the pinnacles and promontories of the Jurassic Coast to get between them. While the walk, like the sensational scenery, is tightly controlled by the geology of alternating bands of hard rock (limestone and chalk) and soft rock (sands and clays), there will be history and humanity too: courageous Corfe Castle, shattered by the Parliamentarians, and touching Tyneham village, confiscated by the military.
The sights:
Durdle Door: A famous sea arch eroded in the Portland limestone. Rock strata are almost vertical, and the bands quite narrow. Originally a band of resistant Portland limestone ran along the shore with a wide band of weaker, easily eroded rocks behind, which has been eroded to form the bay, and behind this a stronger and much thicker band of chalk which is the Purbeck Hills.
Man O' War Rocks and Man O' War Bay: A line of limestone sea stacks partly enclose a bay that shows, along with Durdle Door which is adjacent, the next stage on from the Lulworth Cove stage in the evolution of the coastline.
Stair Hole: An infant cove which suggests what Lulworth Cove would have looked like a few hundred thousand years ago. The sea has made a gap in the limestone and has begun rapidly eroding the soft sands and clays behind. The wall of Portland limestone contains arches, caves and a blowhole. The Lulworth Crumple is a famous small fold in the Purbeck limestone.
Lulworth Cove: Celebrated in literature, TV and film, and one of the world's finest examples of such a landform, the cove has formed as a result of bands of rock of alternating hardness running parallel to the coastline. A narrow band of Jurassic Portland limestone rocks forms the shoreline. Behind this is a narrow band band of slightly less-resistant Purbeck limestone also from the Jurassic. Behind this are wide bands of much less-resistant clays, sands and sandstone from the Jurassic and Cretaceous Periods. At the back of the cove is a wide band of chalk, also from the Cretaceous, which is more resistant than the clays and sands, but less resistant than the limestones. The entrance to the cove is a narrow gap in the limestone bands, which was eroded by wave action. The widest part of the cove is where the weak clays and greensands have been eroded. The result is a perfectly symmetrical enclosed bay, a classic cove. 
West Lulworth: Part of the small village leads down to the Cove. From the late C17 to the mid C19, smugglers used Lulworth Cove. Coastguard cottages, which housed the customs officers, still stand above it. The millpond is all that remains of the mill. Shops and cafés line the main street and behind is the Jurassic Coast Visitor Centre.
The Fossil Forest: Ring shaped structures which are the moulds of gymnosperms (conifers) which died after being smothered in sediment in late Jurassic Period, 150 million years ago.
Worbarrow Tout: A headland ('tout' means lookout), originally part of Gad Cliff to its east, but sea erosion has virtually separated the two completely. The Tout has a pointed shape with steep angular layers of rock that demonstrate complex folding 30 million years ago.
Tyneham: A village abandoned in 1943 and only accessible when the Lulworth Firing Ranges are open to the public. There are more than 30 iron age barrows in the area and remains of a medieval settlement with strip fields (lynchets). The church of St Mary is C15 and Grade II-listed. The village and 30 km2 of surrounding land were requisitioned just before Christmas 1943 by the then War Office (now MoD) for use as firing ranges for training troops. 225 people were displaced. The last person left a notice on the church door: 'Please treat the church and houses with care; we have given up our homes where many of us lived for generations to help win the war to keep men free. We shall return one day and thank you for treating the village kindly'. The confiscation was supposed to be just for the war but in 1948 the Army placed a compulsory purchase order on the land and it has remained in use for military training ever since. The land has become a haven for wildlife as it is free from farming and development. In 1975 the MOD began opening the village and footpaths across the ranges at weekends and throughout August.
Grange Arch: An C18 folly on Ridgeway Hill (199m) on the Purbeck Hills. It was built by a former owner of Creech Grange, Denis Bond, in 1746. Today the arch is owned by the National Trust. It is a Grade II*-listed building.
Corfe Castle: Built by William the Conqueror and one of the first castles to be built with stone. Updated in the C12 and C13. Sold by Elizabeth I in 1572 to Sir Christopher Hatton, and then in 1635 to Sir John Bankes whose wife, Lady Mary Bankes, led the defence of the castle when it was twice besieged by Parliamentarian forces. The first siege, in 1643, was unsuccessful, but the second, in 1645, succeeded. In March that year the castle was slighted on Parliament's orders. A Grade I listed building and Scheduled Ancient Monument.
The route (please click here to check the route on the Ordnance Survey website and see elevations and ascents):
The bus will take us to the caravan park at Newlands Farm near Durdle Door, where a footpath will take us to the Door itself. The South West Coastal Path will lead east to Lulworth Cove where we'll have refreshments and a mooch. The SWCP will take us along the coast to Worbarrow Bay where we'll turn inland to Tyneham. The Hardy Way and the Purbeck Way will lead us east all along the ridge of the Purbeck Hills back to Corfe Castle.
A note on the buses:
I have decided to run this walk in reverse and start at Durdle Door and walk back to Corfe Castle. This may not seem right aesthetically, but is much better practically. Buses back from Durdle Door are only every two hours, and we could rush and miss the first and wait a long time for the second, and they could be very busy. Buses to Durdle Door are hourly.
We'll catch the Jurassic Breezer No. 30 in Corfe Castle at 09.45 or if the bus is too busy, we'll split into two groups and a later group can catch it at 10.45 having spent time exploring Corfe Castle village. See the bus timetable here.
Accommodation:
Campsites: Choose one near Corfe Castle. Browse here. Woodyhyde is always popular with ODLers doing the Dorset Double. You'll have familiar company if you stay here. Otherwise try Norden Campsite (click the links).
Bed and Breakfasts: Nice B&Bs are abundant a short bus ride away in Swanage, but are booking up fast. Browse here (click the link).
Dogs:
I love having dogs on my walks and this one may be suitable for dogs with lots of stamina. It is long, has some fields with livestock and will partly be along lanes. Much of the route is exposed to the sun so a dog may overheat, although they will be able to go in the sea at Lulworth Cove and Durdle Door. Your dog must be responsive if it is off the lead. 
IMPORTANT! - Participation Statement
You MUST complete a Participation Statement, in addition to booking your event space before attending an OutdoorLads event. You only need to complete this Participation Statement once, not for each event you attend. 
(Images: Lulworth Cove: Photo © PAUL FARMER (cc-by-sa/2.0); Corfe Castle features [1]: Photo © Michael Dibb (cc-by-sa/2.0); Knowle Hill: Photo © Pierre Terre (cc-by-sa/2.0); Ridgeway Hill: Photo © Pierre Terre (cc-by-sa/2.0); Tyneham: Rectory Cottages: Photo © Chris Downer (cc-by-sa/2.0); Cliffs above Worbarrow Bay: Photo © Philip Halling (cc-by-sa/2.0); Lulworth Coast - Arish Mell: Photo © Peter Elsdon (cc-by-sa/2.0); Mupe Rocks: Photo © Mike Searle (cc-by-sa/2.0); Lulworth Cove from Hambury Tout: Photo © Anne Burgess (cc-by-sa/2.0); Natural Arch: Photo © Anne Burgess (cc-by-sa/2.0); St Oswald's Bay by Graham Hogg: Photo © Graham Hogg (cc-by-sa/2.0); Durdle Door: Photo © Graham Hogg (cc-by-sa/2.0); These images are copyrighted but are here credited to their copyright holders and are licensed for reuse under Creative Commons CC-BY-SA/2.0.)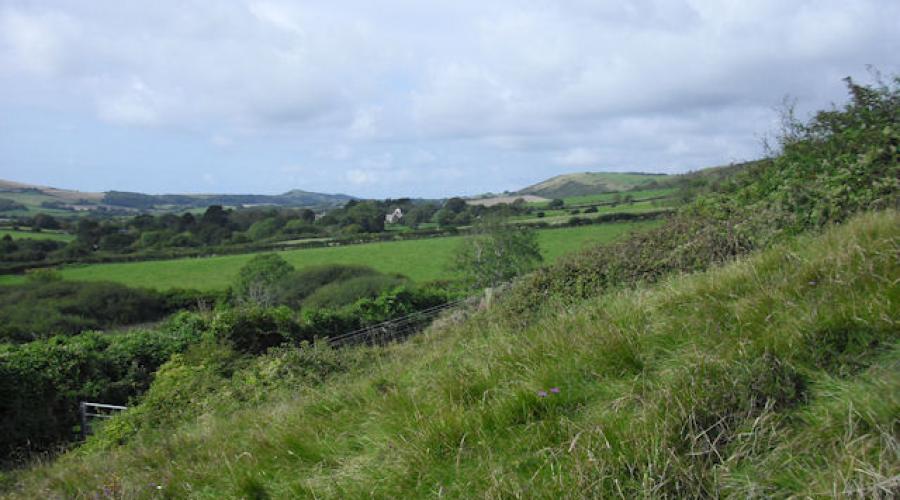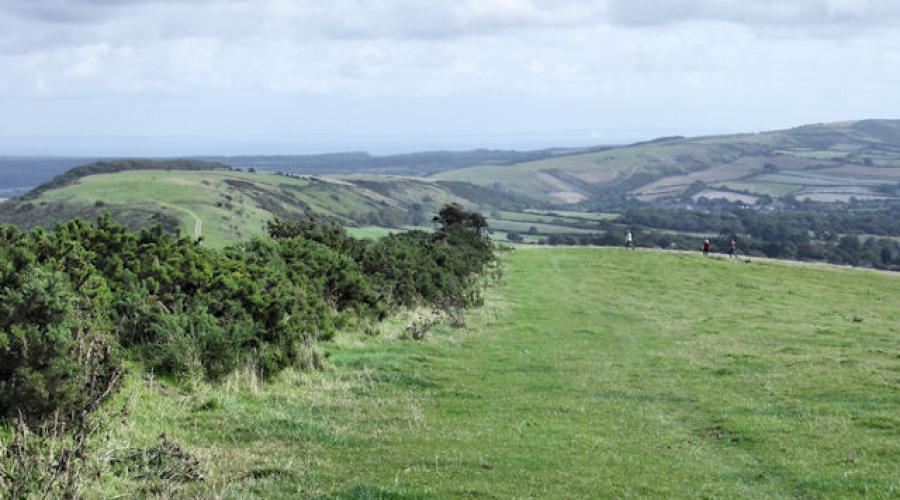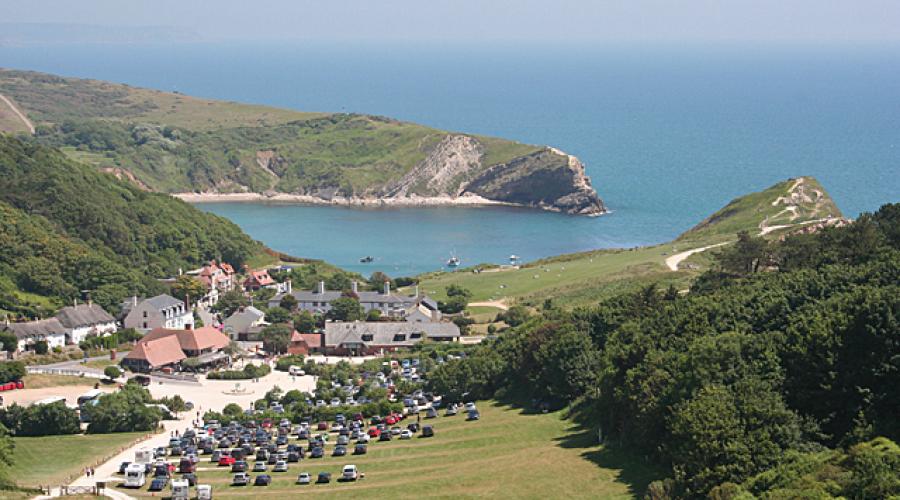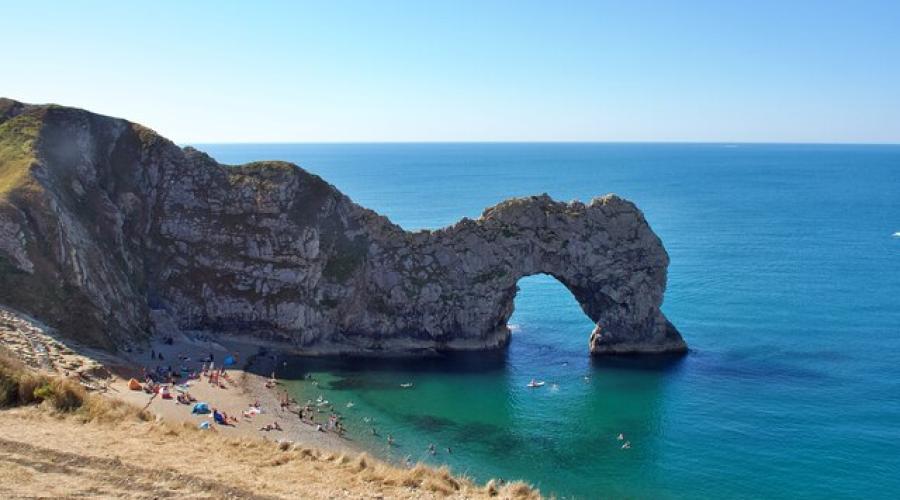 What to bring
Well-fitting walking boots are absolutely essential to cope with the uneven, rocky and steep terrain.
You may need suncream and perhaps a sunhat if sunshine is forecast as the route is frequently exposed and only offers sporadic shade. Bring a waterproof coat if wet weather is forecast.
You might want to bring swimwear and a towel is you want to go in the sea at Lulworth Cove.
Food & drink
Bring a packed lunch and plenty to drink. You must have at least two litres of fluid with you if the weather is warm.
The only places to get drinks and other refreshments will be at Lulworth Cove (West Lulworth) and Durdle Door caravan park shop before the walk starts. There may be a van selling refreshments at Tyneham.
You could buy filled rolls at The Pink Goat in West Street in Corfe Castle, or at The Village Bakery in the Square.
Meeting & times
May 27 - am