Big SPRING CLIMB 2020 - Bouldering (Sunday)
2 people attending
10 places left
Event booking closes on Mar 8 at 10:30:00
Suitable for all abilities, including beginners!
This event is part of The Big SPRING CLIMB 2020; our weekend of indoor climbing and bouldering in Manchester - check out the main event page for more information on what else is going on!
On the Sunday we'll be climbing at Awesome Walls - with it's famous 23.5m Tall Walls  - one of the highest artificial climbing walls in England!! - but if climbing isn't for you then we'll be bouldering too.
What is Bouldering? It'is a form of climbing, often considered as the 'purest' form of climbing because of its emphasis on technique, balance, and body positioning, without the need for ropes. If you're a seasoned boulderer, you won't need convincing of its benefits: from the physical - improved strength, tone, balance, power and coordination; mental - problem solving, focus, concentration and body awareness; to the emotional - relaxation, a sense of achievement and a feeling that mind and body are working together perfectly ('feeling psyched'). On top of all of this, bouldering is a very social sport, where you can hang out with mates and each have a go and discuss solutions to the routes (known as 'problems') regardless of ability. 
Who's it for? This event is for members of all abilities, whether you're a pro climber, or an absolute beginner whose never climbed much more than a staircase before, you're sure to have fun and hopefully progress you're bouldering on this event.  If you are new to bouldering then sign up to this event, let the event leader know and look out for the guys in black ODL tee shirts on the day, whole give you a free introductory guided session and go through everything you will need to know to start bouldering safely.
What will it cost?  Awesome walls are very generously offering members of Outdoorlads a discounted entry rate of just £8 for the day (including shoe hire) which you will need to pay this directly to the centre when you arrive. For more information, see the venue information below and if you haven't been to an Awesome Walls centre before it is advisable to register online through their website before attending to save time when you arrive - as well as signing up to this event.
How do I get there?
For anyone travelling to/from Awesome Walls in Stockport see http://outdoorlads.events/BigSpringClimbCarShare-Sunday for possible car-sharing!
Participation Statement
Please note that every person participating should be aware of (and accept) that those members perceived as 'in charge' or leading the event are not necessarily qualified, do not need to be qualified, and are not regarded by OutdoorLads, or themselves as 'technical experts' but are amateur climbers with some experience and who are happy to impart their knowledge. Any advice given should be considered with this in mind by the recipient. All those attending the event must also be aware of the centre's own terms and conditions of participation and abide by them, along with any instructions given by the centres staff. Everyone must also take responsibility for their own safety while participating in Indoor climbing events.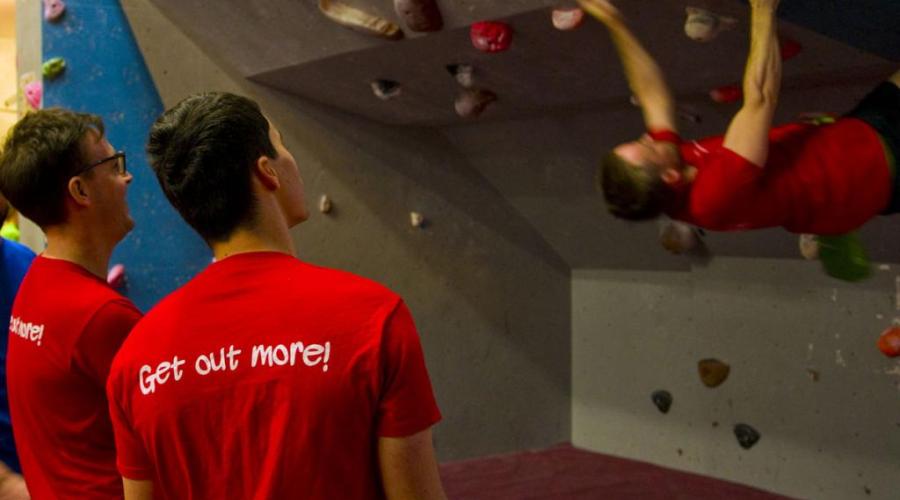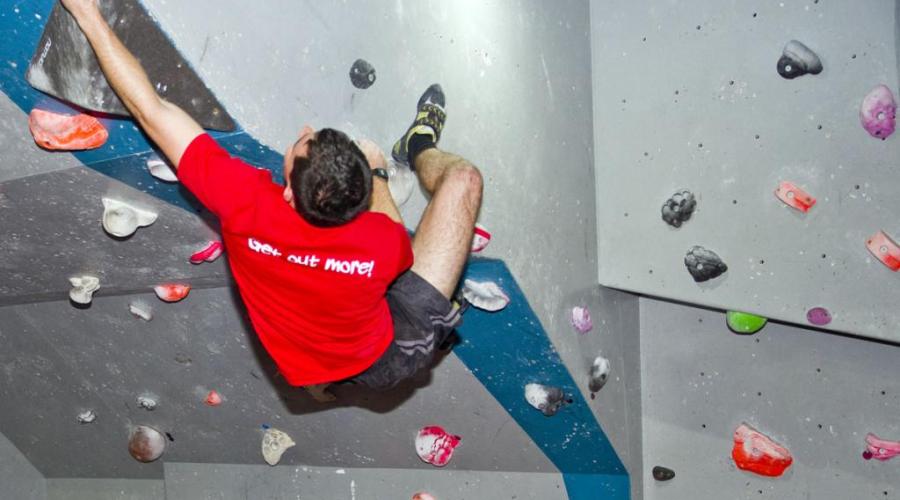 What to bring
You don't need much equipment for bouldering at all, which is another part of its appeal. The only specialist kit you will need are (rock) climbing shoes which can be hired from the centre if you haven't got your own (cost included in the centre's admission fee). 
What to wear

It is best to wear either shorts, combats or tracksuit bottoms. No jeans or any form of trouser which hampers movement. A t-shirt or vest is also suitable. If you have any OutdoorLads branded clothing then please try and wear this as it will give the group a good level of visibility. Any jewellery such as rings, watches, chains or bangles should be removed before beginning the session to prevent injury.
We've also booked a meeeting room at the centre, where you can change and leave bags during the session (including weekend bag's if you're heading straight to the train station afterwards). A limited number of lockers are also available, although you will need to provide your own padlock.
Food & drink
There is a cafe area at the centre where hot and cold drinks along with snacks can be purchased, while the cafe in the next-door Victorian Emporium has the most incredible selection of cakes and more hearty light-bites! 
Meeting & times
Mar 08 - pm
Location
53.414059531171, -2.1328282356262