BIG Peaky Weekender: Monsal Dale Shorter Walk (Sat 10.45)
8 people attending
17 places left
Good paths, on the whole, and with some ascent and descent. Around 6.5 miles / 10.5 km. Could be muddy in places.
This event is part of the OutdoorLads BIG Peaky Weekender 2022 and participation is intended for those attending the celebration Weekend.
If you're looking for a shorter walk on Saturday, this could be the one for you! 
Join us on for a circular walk that starts from the Peaky Weekender site and heads west along the Monsal Trail (the line of the former Midland Junction Railway) under the hill through the Headstone Tunnel (length 485m), emerging at the famous railway viaduct across Monsal Dale.  From here we walk along the high northern edge of the dale and drop down through the woods to Lees Bottom in the valley of the River Wye. 
Easy walking then follows through woodland alongside the river, passing an old mill with two water wheels and arriving at the well-known village of Ashford in the Water.  Here, we can stop for a drink at the pub or the café, next door to each other in the village, before making our way a mile up the lane back to our staring point. 
Distance: around 6.5 miles / 10.5 km with 350 metres ascent.
An alternative to lingering in Ashford would be to make best speed back to the hostel / campsite and investigate the café at Thornbridge Hall or take a tour of the gardens (garden ticket price in £7).  Both are open until 16:00 (the café can be accessed without needing a garden ticket).
IMPORTANT! - Participation Statement
You MUST complete a Participation Statement, in addition to booking your event space before attending an OutdoorLads event. You only need to complete this Participation Statement once, not for each event you attend. 
Anyone with COVID-19 symptoms, even if they are extremely mild, or who has recently tested positive for Covid-19, is asked not to attend.
Photo credits: all photos by the event leader, with permission granted to ODL for their use.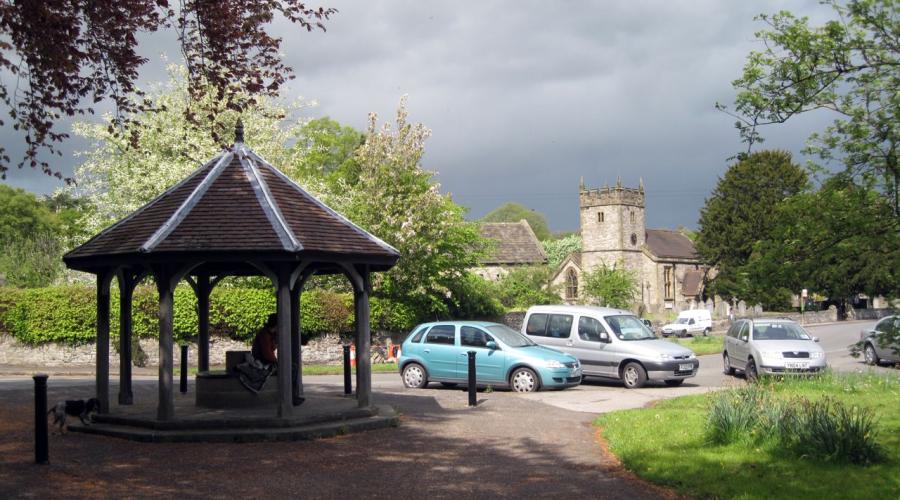 What to bring
Boots: your most important piece of kit: waterproof, breathable and designed for hiking.  Trainers may be OK, depending on how rough the ground is and if its dry.  Socks: proper walking socks will keep your feet dry and help prevent blisters.  Gaiters: recommended for wet weather or boggy conditions.
Layered clothing: lets you quickly adapt to changes in the weather and to body temperature.  Go for a base layer (vest or t-shirt), a mid layer (micro-fleece or shirt) and in cooler weather add an outer layer (windproof jacket or thick fleece).  Trousers: avoid jeans as they become heavy and cold in the rain, and take ages to dry out.  Breathable fabrics are more comfortable and dry more quickly.  On warm days shorts may be OK.
Waterproof jacket: carry one in your rucksack when walking in all but the calmest of weather.  Breathable fabrics are more comfortable and dry.
Hat or cap: useful for staying warm in winter and shaded in summer.  Gloves: essential in winter and ideally waterproof.
Day rucksack: typically 20-30 litres, this should be comfortable to wear and allow you to use your arms freely.
Sunglasses: for any sunny day, even in winter.  Sun cream: can be useful even on cloudy and winter days.
Lunch: bring a packed lunch unless otherwise stated.  Snacks: a range of biscuits, energy bars, bananas, chocolate or dried fruit (for example) are always good to have.  Put them in your rucksack where they are easy to grab..
Water and other fluid: bring between one and two litres, depending on season of the year and temperature. A combination of water, fruit juice, energy drinks and a hot drink is a good idea.
Medicines: essential if you have hay fever, diabetes, minor ailments, etc.  A personal first aid kit with bandages and paracetamol or ibuprofen (for your own use only) is a good idea.
Hand sanitiser and a face covering: whilst we are living with Covid-19, please bring your own to events to help keep everyone safe.
Food & drink
Bring a packed lunch, snacks and plenty of water or other fluids (one to two litres) to drink.
Meeting & times
Jul 30 - am