BIG Peaky Weekender: Climbing at Froggatt Edge (Sun 10.20)
7 people attending
0 places left
1 person waitlisted
6
This event is part of the Outdoorlads 2022 *BIG Peaky Weekender* and participation is intended for those attending the weekend event. However, additional places may be available to other members wishing to attend. Please message the event leader for more details, if you are wishing to attend, but not on the Peaky Weekender event. 
A day's outdoor climbing at Froggatt Edge in the Peak District, suitable for those starting off outdoors as well as those with some outdoor climbing experience already. 
To attend this event you will preferably have climbed indoors (ideally with Outdoorlads) before, and you will be competent with tying in with a figure 8 knot and lead-belaying. If you do not have this experience it will depend on the availability of suitably experienced leaders as to whether you would be able to attend this event. If that is the case, please message the event leader to discuss before registering. 
DEPENDING ON AVAILABILITY OF LEAD CLIMBERS, THE NUMBER OF SECONDER CLIMBING PLACES MAY NEED TO BE RESTRICTED AND THIS WILL BE DONE ON A FIRST COME-FIRST SERVED BASIS. 
Please note that this event is subject to change / cancellation depending on weather conditions so please check your messages in the days before the event for any message from the event leader, who will keep you informed of any changes.
Participation statement
As a BMC Affiliate member, Outdoorlads draws your attention to the fact that climbing is an activity with a danger of personal injury or death. You should be aware of and accept these risks and be responsible for your own actions and involvement. Please note that every person participating should be aware of (and accept) that those members perceived as 'in charge' or leading the event are not necessarily qualified, do not need to be qualified, and are not regarded by OutdoorLads, or themselves as 'technical experts' but are amateur climbers with some experience and who are happy to impart their knowledge.  Any advice given should be considered with this in mind by the recipient.
IMPORTANT! - Participation Statement
You MUST complete a Participation Statement, in addition to booking your event space before attending an OutdoorLads event. You only need to complete this Participation Statement once, not for each event you attend. 
Anyone with COVID-19 symptoms, even if they are extremely mild, or who has recently tested positive for Covid-19, is asked not to attend.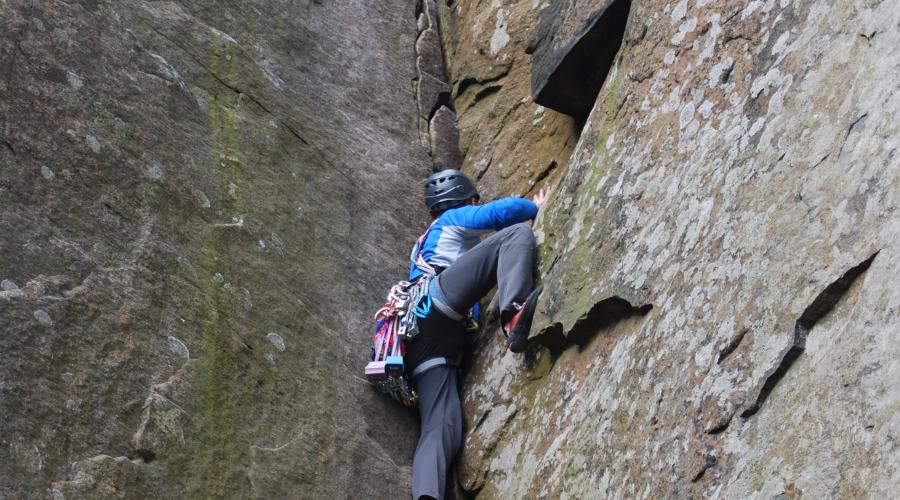 What to bring
Harness, rock boots/climbing shoes, belay plate and screwgate karabiner and a Helmet.
If you have ropes and climbing gear, please do bring them. Some group ropes will also be available. 
There are limited harness/Karibiner/belay plate sets and helmets available from the Groups stock, these will be issued on a first come, first served basis, so message the event leader to request as early as possible to avoid dissapointment. 
You will need a helmet  to climb. No exceptions! 
Appropriate warm, preferably windproof, clothing will be needed-it can get chilly while waiting to climb!. A waterproof jacket should also be bought in case of rain. It may be best to wear older clothing that you don't mind getting damaged as grit stone can be quite abrasive.
PLEASE NOTE: THERE IS A CHARGE FOR PARKING (NATIONAL TRUST) SO BRING SOME CHANGE FOR P&D MACHINE. 
Food & drink
You will need to bring a packed lunch and something to drink; we don't usually leave the crag during the day.
 After climbing we may call in at the the The Grouse Inn for a drink and review of our day's achievements - used by climbers for years! The nearest shop is the filling station at the Calver crossroad.
Meeting & times
Jul 31 - am