Introducing OutdoorLads' New Chair
Following the Board Meeting on 17 April 2023, we are delighted to introduce you to the new Chair of OutdoorLads, Rob Mitchell. Rob was elected as a co-opted Board Member by the Trustees, and subsequently as Chair of the Board.
Rob has been an active member of OutdoorLads for over 15 years, and for much of that time he has been a dedicated volunteer Leader and Coordinator. His commitment to OutdoorLads is clear, and throughout the recruitment process, given the high number of strong applicants, Rob's experience and knowledge of the role shone through.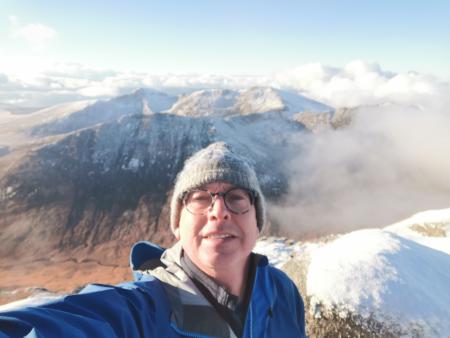 We would like to take this opportunity to thank the other applicants for taking the time to apply - all delivered fantastic interviews, and it was a tough one to choose. We wish them well for the future and hope to see them at events soon! We would also like to thank Joey for taking on the role of Acting Chair until a permanent Chair was appointed.
A message from the new Chair of OutdoorLads
I joined in 2008 as a gay man who was keen to meet other gay guys who share a real interest in the outdoors, in a safe, supportive and exciting environment. It has been one of the best things I've ever done and I get so much out of it, as well as give lots back. I became a leader in about 2010 and lead hill and mountain walks, camps and hostel events.  OutdoorLads has inspired me to gain an accredited Summer Mountain Leader qualification.
I have been introduced to many of Britain's most beautiful landscapes thanks to OutdoorLads and I am proud to have introduced hundreds of guys to these places on events that I lead. Nothing pleases me more than to see the sense of achievement when people accomplish things they thought they could never do, whether it's a lengthy walk or to summit their first mountain or Munro. 
Having retired from my career in local government in December 2022 and finding the Chair position had become vacant, I wanted to offer my wealth of experience as a senior manager, coupled with eight years as a governor and trustee of a further education college and 11 years as treasurer of a village hall committee (registered charity) for the benefit our group and fellow members.
I am "chuffed to bits" (as we say in Yorkshire) to become the new Chair. I look forward to working with and for you, our members, as we grow the OutdoorLads magic!
Rob.