Yorkshire Dales Cycling & Walking Hostel - Long Weekend
14 people attending
0 places left
1 person waitlisted
Event booking closes on Aug 11 at 17:00:00
Routes devised according to abilities in the group.
This is a 3 night premium event in the Yorkshire Dales National Park for those wanting a good long weekend of road cycling and walking in this beautiful corner of the Yorkshire Dales! (You can come for cycling, walking or a mixture of both.)
We will even have a baking contest on the first night... well we do need those cakes to fuel the cycling and walking! There will be a prize for the best bit of baking...
Bikes can be hired for the day in the centre where we are staying should you wish to do so (Click here) The venue is purpose built for cyclists and outdoor enthuaists, and features a bike wash, bike storage and a laundry!
For those of you who are non-cyclists, Ian will be offering walks out from the hostel in the local area. 
Our accommodation is rather up-market from your standard OutdoorLads hostel, and the price includes breakfast prepared for us, so fewer chores to be done and more time to #getoutmore on the roads! Evening meals will be in the pub!
Cycling Routes: 
There are some suggested routes that we may cover during our stay.
Reeth - Kettlewell Circuit - a 93km route with 1900m of ascent. 
Mallerstang and Kirkby Stephen  Circuit - a 91km Circuit with 1,722m of ascent (including a visit to England's "Highest pub"
Mallerstang Circuit - an 87km Circuit with 1,625m of ascent 
4 Dales Circuit - a 96km route with 2,250m of ascent 
5 Dales Circuit - the grand-daddy of them all 116km with 2,721m of ascent 
The Vale of York and Richmond Circuit. - A flatter shorter day 76km & 1,015m ascent) with a chance to visit Richmond Castle (Bring your English Heritage Cards) and a stop in Bedale too
(These routes may be adapted to suit abilities and other suggested routes may used. There will be a discussion on the weekend as to which ones you wish to do)
Dogs: This event is not suitable for dogs. 
Photos: Used with permission of Yorkshire Dales Bike Centre, and OutdoorLads. 
IMPORTANT! - Participation Statement
You MUST complete a Participation Statement, here, in addition to booking your event space before attending an OutdoorLads event. You only need to complete this Participation Statement once, not for each event you attend. 
COVID-19 – IMPORTANT, Please read the following before you sign up to this event:
Anyone with COVID-19 symptoms, even if they are extremely mild, or who lives or is in a support bubble with someone showing symptoms, is asked not to attend. This is in line with the government's coronavirus advice.
You must also immediately self-isolate and not attend the event if you or someone in your household or support bubble shows coronavirus symptoms or tests positive. You can find the NHS self-isolation guidance here.
This event takes place after 21 June 2021, which is currently the earliest date by which the Government hopes that we will have entered Step 4 of the Roadmap out of lockdown. At step 4, the Government hopes to have removed all legal limits on social contact. 
It is possible that Step 4 takes place at a date later than 21 June 2021 and could affect this event. We will review the situation as things change and will advise members signed up to the event if there are changes necessary to ensure compliance with restrictions in place at the time of the event. 
If the event is unable to proceed sue to Covid-19 restrictions, a replacement date will be offered, or a full refund. 
We must all remember that COVID-19 remains a part of our lives. We are going to have to keep living our lives differently to keep ourselves and others safe. We must carry on with 'hands, face, space'. Comply with the COVID-Secure measures that remain in place. Meet outdoors when we can and keep letting fresh air in. Get tested when needed. Get vaccinated when offered. If we all continue to play our part, we will be that bit closer to a future that is more familiar.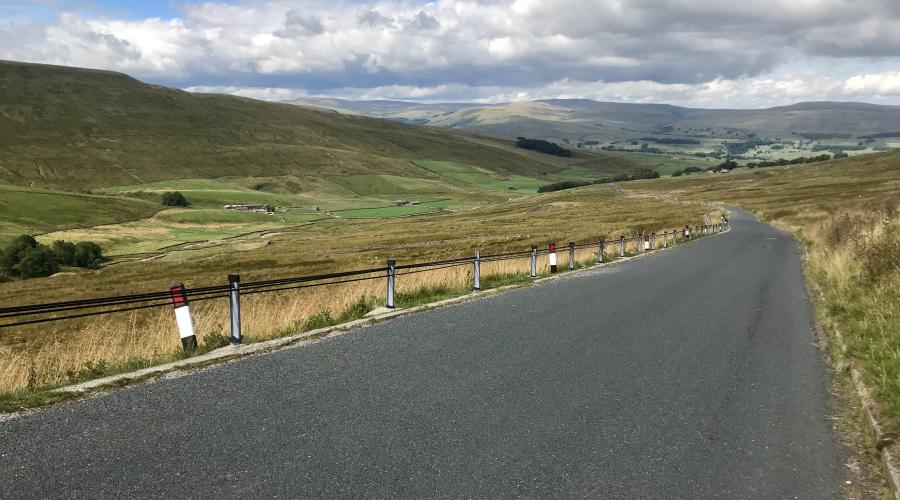 What to bring
If you are cycling, you must have a road bike for this event - however bikes can be hired from the centre itself (at extra cost) 
A helmet is mandatory and must be worn while riding at all times, and anyone without one will not be permitted to start. 
If you are walking, please bring good hiking boots, backpack, waterproofs and good gear for being up on a hill. 
Please also ensure you bring: water bottle; spare tube; pump; puncture repair kit; and wet weather gear.
Given the spectacular area, some form of camera would be a good idea.
Bedding will be provided at the bunkhouse but please remember to bring a towel with you as well as evening and overnight clothing.
Food & drink
The first night will be a buffet and a baking contest - so brush up your baking skills !! The produce will be needed to supply us on our rides around the Dales - and the bakery produce will be judged by the hostel manager's wife with a small prize for the winner!
On the first night we will be having the traditional buffet of food. Bring enough for 2 people  but PLEASE no quiche, pizza, sausage rolls and brown pastry ! We want to have a variation of choice so look around the supermarket for different things. 
The remaining 2 evenings, we will adjourn to the pub nearby for food and a drink. This hostel will not have evening meals catered for by the leader on this occasion. There is a good kitchen in the bunkhouse should you choose to cook for yourself.
Breakfasts are included however, and served at 8:15am in the adjoining cafe. Tea and coffee are also available in our accommodation. 
Please bring sufficient food and snacks for the rides and walks.
Meeting & times
Aug 13 - pm