Virtual Cycling - Zwift (Yorkshire - Royal Pump Room 8)
0 people attending
12 places left
Event booking closes on Dec 3 at 19:30:00
Join us for a series of regular meetups on the virtual cycling platform Zwift. We will be able to see each other in the virtual world and chat during the ride. 
This ride will be on the Yorkshire - Royal Pump Room 8 (28.7km virtual ride)
 
How to Join
Already on Zwift?
Zwift doesn't allow the sharing of profile or event URLs, therefore please take the following steps to find us:
Follow us: David Sharpe (33, UK) Thomas Haywood (Scotland) using the Zwift Companion app on mobile.
Optionally, join our telegram group where we will share details of upcoming events and details for the group voice chat, this will depend on who is leading on the day: https://t.me/ODLVirtualCycling
Message us on Telegram (or on the ODL site) to add you to the upcoming events 
Accept the event invite in the Zwift companion app. You must do this otherwise you can't join the event. 
When ready to start the event, please enter any world and any route, just get in game. Once inside the game you will see automatic countdown to the event and you'll be teleported to the right place if needed. Click the button to accept if needed. Note, usually you can't enter these events from the home screen, not sure why. 
Once in game, don't stop pedalling otherwise you will loose the group, other than that Zwift will simply adjust power levels to keep us together by giving each rider a workout that's tailored to their fitness (clever!)
Not on Zwift?
Getting in to Virtual cycling is quite an investment but it's well worth it especially with gyms closed and terrible weather outside. We run virtual rides every winter on different apps, last winter we used RGT and this winter it's Zwift. Feel free to join the Telegram group or Facebook group to ask questions. https://www.facebook.com/groups/OutdoorLadsCycling
You will need:
A smart trainer. This is a specialist device that makes your bike into a periferal for your computer, tablet, etc and provides resistance to your back wheel according to the virtual gradient. We suggest a wheel on trainer as these are less expensive and will do the job for all but the most serious Zwifters.

A PC, laptop or tablet positioned in front of your trainer, as well as strong fan, water and a towel, and your mobile phone on your bars (mounted or loose)

The Zwift app on your PC or tablet and also the companion app on your phone, as well as a Zwift account and subscription (£12/mo)

A headset to listen to the voice call, we suggest doing this on your phone with the cheap mobile in ear headset that comes with your phone but you can set it up in lots of different ways eg bluetooth headset on the PC. Big earphones will get too sweaty however. 

A towel to wipe off some of that sweat!
We strongly suggest setting up your trainer and getting the Zwift apps working in advance of attending an event. It's a bit of a technological faff but once set up it's great fun!
Main image by Wilco Stekkinger.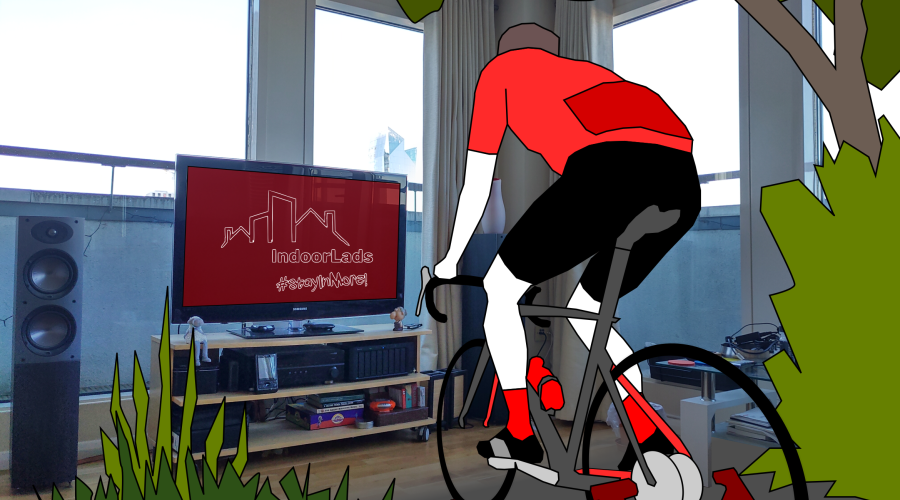 What to bring
See event description for requirements
Food & drink
Yes, you'll need some water on this one... 
Meeting & times
Dec 03 - pm