At Time of Yule: A Landscape Jewel and a Silent Pool
30 people attending
0 places left
19 people waitlisted
Event booking closes on Dec 18 at 10:30:00
Distance is 18 km (11 miles); total ascent is 389 m; relief is hilly with two main ascents and descents; terrain is dirt, grass and tarmac.
'Newlands Corner, Christie's Exit and Mother's Ruin' was an alternative name for this walk. The Corner is a beauty spot and viewpoint on the North Downs. It was there in 1926 that Agatha Christie's car was found abandoned and she was feared drowned in Silent Pool, another beauty spot we'll visit, and now the location of a gin distillery. To this diverse set of attractions have been added the redwood-rich parkland of a stately home, a fascinating church and many charming cottages and handsome houses. All of these features are set in a swiftly-accessed sweep of ravishing, rolling downland close to London, and being a time of goodwill and good cheer, we'll have a pub lunch in the village of Albury.
The sights:
West Clandon: A straggling, suburbanised street of pleasant buildings of many ages. We'll get quite familiar with it as we'll walk through it one and a half times, but at least we can visit the Onslow Arms pub second time around.
Newlands Corner and The Roughs: A beauty spot 173m up on the North Downs. Sheep-grazed grass slopes are interspersed with trees including 129  yew trees, some of which are 500 years old and 3.5m in girth, and one which is 6m in girth may be twice that old. Called 'Fairyland' because of the association of yew trees with supernatural beings. Together with Silent Pool it forms part of the Albury Estate Site of Special Scientific Interest. Newlands Corner was a key location in the crime writer's disappearance in December 1926. Her car was found in a bush overhanging a chalk pit and it was feared that she had drowned in Silent Pool. She was found some days later having checked in under an alias at a hotel in Harrogate. This incident was the starting point for the Doctor Who story 'The Unicorn and the Wasp', the climax taking place at the locale.
Albury: An attractive but self-consciously picturesque estate village of around 1850 with a little old, and a lot of C19 timber-framing.
Old Church of St Peter and Paul, Albury: Abandoned in 1842 and so unrestored and consequently one of Surrey's most worthwhile churches. Set in a lovely parkland glade of splendid yews and cedars, it is full of surprises including C13 woodwork, C15 wall paintings, a font reused from a Roman temple and a richly-decorated chapel by Augustus Pugin. There is also in passing a bizarre Catholic Apostolic Church and the rather hideous New Church of St Peter and St Paul which is of 1842.
Albury Park: We'll glimpse what was originally a Tudor house but was re-modelled by John Soane in 1800 in strict classicism and then by Augustus Pugin in the 1840s in mock-Tudor. The formal gardens were designed by John Evelyn and are Grade I-listed. The grounds are a wonderful arboretum of redwoods, cedars and larches.
Silent Pool: Admired by Tennyson and many before and since, a spring-fed lake at the foot of the North Downs next to Sherbourne Pond. The chalk aquifer gives a blue tinge to the water. Considered by some to be sacred, the pool is linked to a folklore tale in which King John abducted a woodcutter's daughter who was forced into the deep water and drowned. The maiden's ghost is said to be seen at midnight. The Silent Pool Gin Distillery (a 'bespoke, hand-crafted' gin and vodka distillers) occupies converted farm buildings adjacent to the Pool. We'll visit the shop.
East Clandon: A delightful group of small brick, tile and timbered cottages along a snaking road. The C12 church of St Thomas is small and authentic.
The route (please use the link to the Ordnance Survey site to see the elevations and ascents):
Walking south along the footpath of the A247 through West Clandon we'll cross the A25 and ascend through woods called Wildwood. We'll cross Trodd's Lane and head southeast across The Roughs and Merrow Down to Newlands Corner. We'll then follow Water Lane to Albury to have lunch. After lunch we'll use Church Lane and Warren Lane to cross Albury Warren and Albury Heath to go to the pub, turn north to walk through Albury Park to the church. At Albury Street we'll cross the River Tillingbourne, then cross the A25 and ascend the Downs at The Silent Pool, mostly following the Fox Way to Staple Lane. We'll cross the A246 and go through East Clandon before taking Back Lane and a footpath through Clandon Regis Gold Club back to West Clandon. 
Dogs:
I love having dogs on my walks and this walk is suitable for them although there will be considerable lane walking and some fields with livestock. A dog off the lead must be obedient.
IMPORTANT! - Participation Statement
You MUST complete a Participation Statement, in addition to booking your event space before attending an OutdoorLads event. You only need to complete this Participation Statement once, not for each event you attend.
COVID-19 – IMPORTANT, Please read the following before you sign up to this event:
Anyone with COVID-19 symptoms, even if they are extremely mild, or who lives or is in a support bubble with someone showing symptoms, is asked not to attend. This is in line with the government's coronavirus advice.
You must also immediately self-isolate and not attend the event if you or someone in your household or support bubble shows coronavirus symptoms or tests positive. Read the NHS self-isolation guidance.
OutdoorLads strongly encourages all attendees to take a rapid lateral flow test immediately prior to attending an event. This will help to keep everyone safe. Order free Rapid Lateral Flow Tests.
(Picture credits: Newlands Corner, The North Downs, Guildford (image cropped): Photo © tps58 (cc-by-nc-nd 2.0); View over a grassy hillside south of Albury village towards St Martha's Hill (Greensand) with its hilltop church: Photo © Colin Smith (cc-by-sa/2.0); Up on the Downs: Photo © Colin Smith (cc-by-sa/2.0); Winter Morning in Clandon Park: Photo © Colin Smith (cc-by-sa/2.0); Winter Fairyland: Photo © Colin Smith (cc-by-sa/2.0); Albury Downs: Photo © Martyn Davies (cc-by-sa/2.0); Albury - Village Shop: Photo © Colin Smith (cc-by-sa/2.0); St. Peter and St. Paul Church, Albury, Surrey; Photo © Dr Neil Clifton (cc-by-sa/2.0); Albury, St Peter and St Paul Church Pugin roof decoration in the Drummond Chapel 1: Photo © Michael Garlick (cc-by-sa/2.0); Albury, St. Peter and St. Paul Church: c15th wall painting, St. Christopher carrying the Christ Child 2: Photo © Michael Garlick (cc-by-sa/2.0); Trees by Albury Park: Photo © Colin Smith (cc-by-sa/2.0); Albury Park Mansion: Photo © Colin Smith (cc-by-sa/2.0);. All pictures are copyrighted but are licensed for reuse under Creative Commons CC-BY-NC-ND 2.0 and Creative Commons CC-BY-SA 2.0 and are here attributed to their copyright holders.)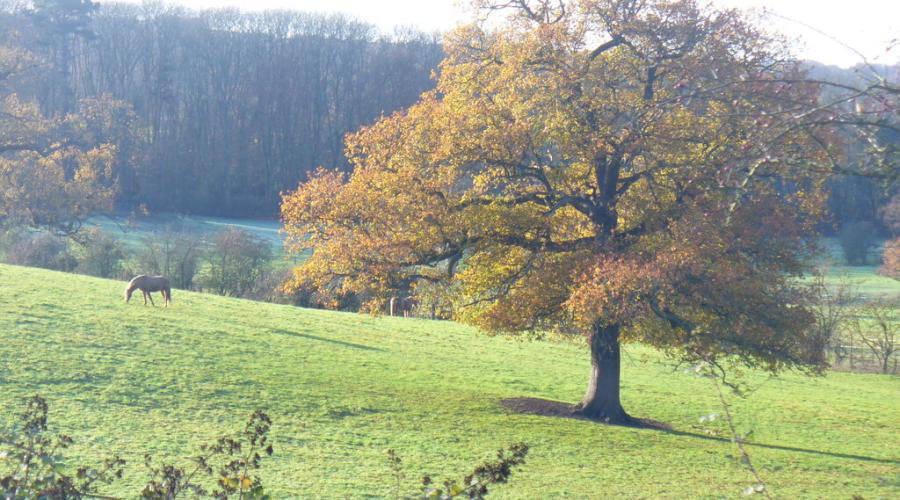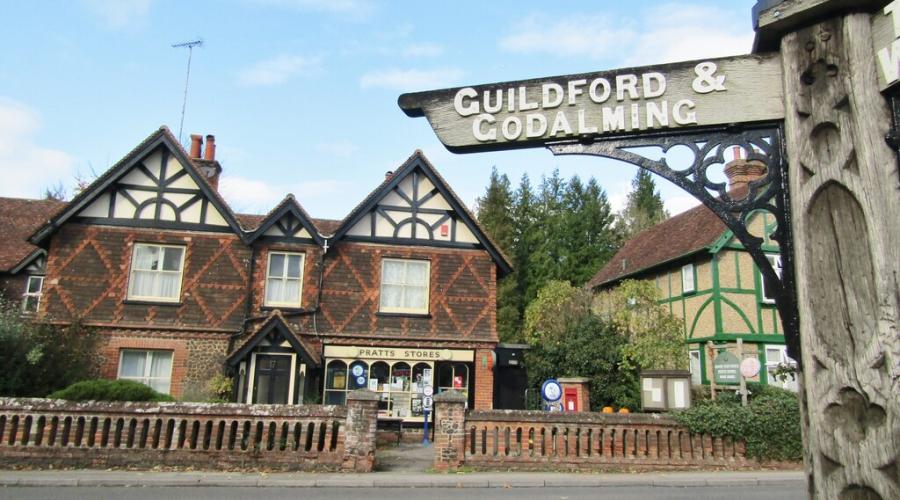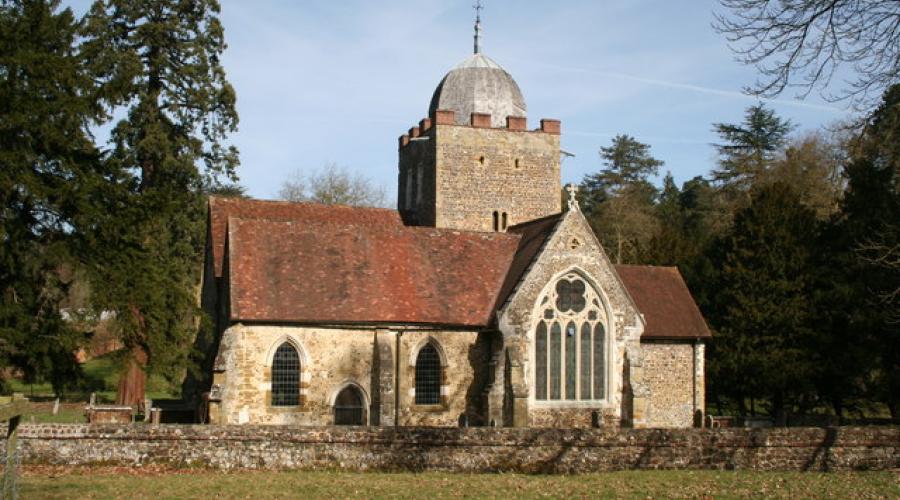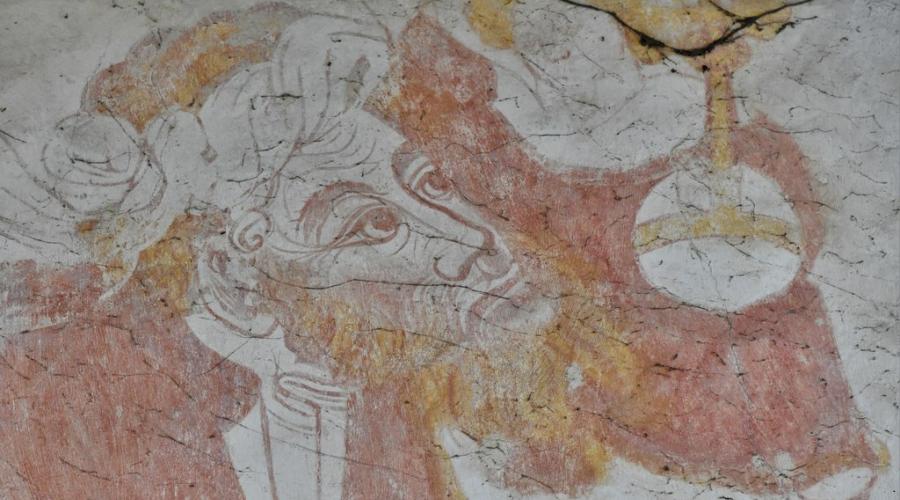 What to bring
Walking boots are essential to cope with some slippery paths. Wear clothing appropriate to the weather including warm kit in case of cold weather and waterproof kit in case of rain. Gaiters might be an option too if conditions are muddy. Much of the walk will be on tarmac lanes, but some off-road tracks will inevitably have mud.
Food & drink
I'm trying to organise a pub lunch at the The Drummond in Albury. I'll contact you about two weeks before the walk to with the menu to take your order. We'll also have a drink at the Onslow Arms in West Clandon. Otherwise bring a packed lunch.
Please bring drinks and snacks otherwise.
Meeting & times
Dec 18 - am