Tees Valley Highs, Iron Hills and Wild Moors
10 people attending
10 places left
10.5 miles one gradual and steady ascent paths can be slippy
Join Steven and the OutdoorLads for a good hike on the edge of Teesside in a quiet stretch of this once industrial ironstone extraction area and now a well loved nature reserve. 
This is not a difficult walk ideal for those who have not done longer walks before.
The walk is a good day out through varied and very different countryside reaching the height of the iron stone hills immediately to the south of Eston.  These hills were mined and quarried and the town of Middlesbrough was born and expanded rapidly from Port Darlington and a scattering of villages to a larger Victorian town.
The approach to the summit is from a nearby suburb and winds through a country park , a favourite haunt of fox, badgers and roe deer.  The leader has previously spotted a stoat, a brown hare, a sparrowhawk and buzzards in this area so this is ideal for birders and wildlife enthusiasts so please do not forget to bring along some binoculars.
The summit is reached about a quarter of the way along the  views are extensive as this modest height stands isolated from the North York Moors and on a clear day can see north towards Seaham on the County Durham Coast and over to the North Pennines. The higher tops of the Cleveland Hills line up to the southwest inpressively and in the late afternoon sun look much more imposing than you might expect.  A bit closer about three miles away the impressive silhouette of Roseberry Topping dominates the view on the slow descent through open birch woodland.
The walk now follows wider farm tracks before descending and meeting the old railway line that connected Guisborough to Middlesbrough.  A few other trails wind over fields back to the start point.
So reach for your hiking shoes or boots and come along if you can it will be a good day out.
Photo Credits: All the photographs on this page wete taken  by the leader Steven and permission of their use in any OutdoorLads communications or publications is kindly granted.
IMPORTANT! - Participation Statement
You MUST complete a Participation Statement, in addition to booking your event space before attending an OutdoorLads event. You only need to complete this Participation Statement once, not for each event you attend. 
.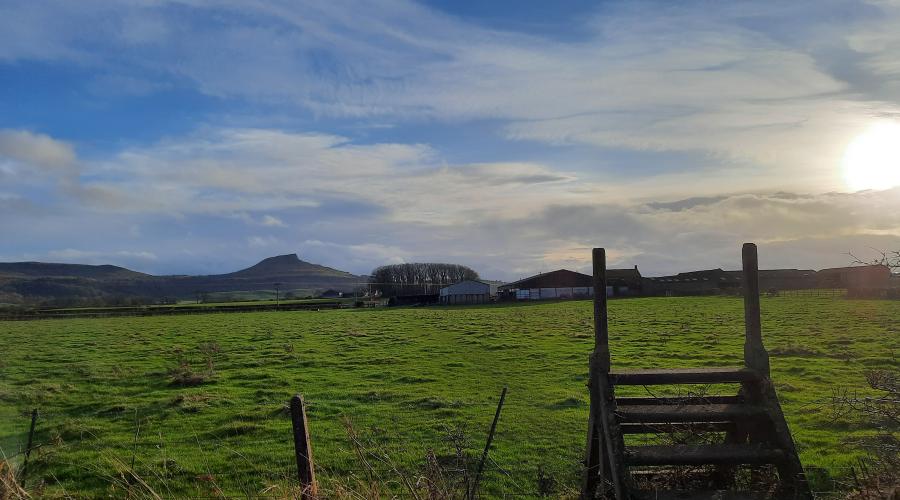 What to bring
Hand sanitiser and a face covering: whilst we are living with Covid-19, please bring your own to events to help keep everyone safe
Water: bring at least two litres
Medicines: if you have hay fever, diabetes, minor ailments etc.
Day rucksack: typically 20-30 litres, they are comfortable to wear and allow you to use your arms freely
Boots:  waterproof and breathable and designed for hiking, trainers are OK if the ground is dry and there's little chance of rain
Gaiters: recommended for wet weather or boggy conditions
Socks: proper walking socks will keep your feet dry and help prevent blisters
Layered clothing: lets you quickly adapt to changes in the weather and body temperature. Go for a base layer (vest or t-shirt) and a mid layer (a micro fleece or shirt) and in cooler weather add an outer layer (a windproof jacket or thick fleece)
Trousers: ideally no jeans as they become heavy and cold in the rain, breathable fabrics are more comfortable and dry and on warm days shorts are OK
Waterproof jacket: essential when hiking in all but the calmest of weather, breathable fabrics are more comfortable and dry
Gloves: Windproof, or better still, waterproof gloves are the best choice, bring a spare pair if expecting rain
Hat or cap: stay warm in winter and shaded in summer
Sunglasses: for any sunny day, even in winter
Sun cream: can be useful even on cloudy and winter days
Snacks: bring biscuits, energy bars, gels, bananas, chocolate or dried fruit for example and put them somewhere easy to get hold of
Lunch: bring a packed lunch unless otherwise stated
Food & drink
A piccnic will be required, a warm drink is recommended and plenty of snacks. There will be at least three stops on the walk for food and drink.
Meeting & times
Apr 23 - am