A Tearoom, A Muddy Field and A Country Pub
7 people attending
13 places left
10 miles (16km) / 4-5 Hours - we will have plenty of time, it's an easy walk with a few slight inclines.
IMPORTANT! - Participation Statement
You MUST complete the Participation Statement,  here, in addition to booking your event space before attending an OutdoorLads event. (If you have recently completed this, you do not need to complete it again.)
This modrate walk of roughly ten miles will take us through the villages of Kedleston, Duffield and Quarndon in search of a restorative pint. We will enjoy views of the Derwent Valley and beyond.
Starting and finishing at the tea rooms - hopefully to have some tea and cake on our return - we make our way down a short stretch of road to a secret short cut which avoids using the lane, on our way towards Kedleston, the village built by Lord Scarsdale who also happened to be the Priest.
We traverse very muddy fields to find ourselves crossing stepping stones and chasing sheep across field after field of pasture. Eventually we come down the hill on the Derwent Valley side to reveal the view towards the East. This leads us down pass the Puss and Boots public house and into the village of Duffield.
Once we have had our fill we will return up a different hill to Bunkers Hill which was used in the war to fire artillery shells at the bombers who descended on Derby. More recently I learnt to sledge here when I was a child. We arrive into the village of Quarndon and stroll on to Kedleston Hall once more.
Time permitting we will return to the café for tea and cake.
COVID-19  – IMPORTANT, Please read the following before you sign up to this event:
Anyone with COVID-19 symptoms, even if they are extremely mild, or who lives or is in a support bubble with someone showing symptoms, is asked not to attend. This is in line with the government's coronavirus advice.
All are required to practice social distancing – staying 2m (not 1m) apart at all times, including the lunch stop.
Unfortunately, there won't be any planned pub / café stops en route or at the end, and please don't share sweets or snacks with others – we're sorry!
Please bring your own hand sanitising gel for your own use throughout the day. Use of face coverings is at your own choice, but please bring one with you just in case it's needed. 
Each person should only attend one OutdoorLads event a week. (Leaders excepted on events if they are leading.)
On walks, one person to hold open gates and allow everyone to walk through – so minimising surfaces that multiple people touch. 
Be aware that opportunities for toilet stops may be minimal if facilities are closed.
Please, please cancel at your earliest opportunity if you are unable to attend or are unwell, so that we can allow others to take up these valuable event spaces.
Much as it's difficult - no handshakes or hugs!
COVID-19: Events Participation Statement
OutdoorLads draws your attention to the fact that travelling and being away from home increases the risk of receiving and transmitting Coronavirus, whilst it is present in the UK. You are likely to choose not to participate in OutdoorLads events whilst there is a risk of Coronavirus transmission. However, should you choose to participate in OutdoorLads events whilst the risk is present, you must be aware of and follow the law and government guidelines, both when travelling to and from events as well as when participating in events.
Please note that every person participating should be aware of (and accept) that those members perceived as 'in charge' or leading the event are not experts,  do not need to be experts, and are not regarded by OutdoorLads, or themselves as experts, but are amateurs with some experience in the event type and who are happy to impart their knowledge.  Any advice given should be considered with this in mind by the recipient.
By signing up to and attending an OutdoorLads event, you are confirming that you have read, understood and accept the content of this statement.
Please see our website for more information including an FAQ about our events.
Image Credits: All images provided by the leader and permission is granted to ODL for their use.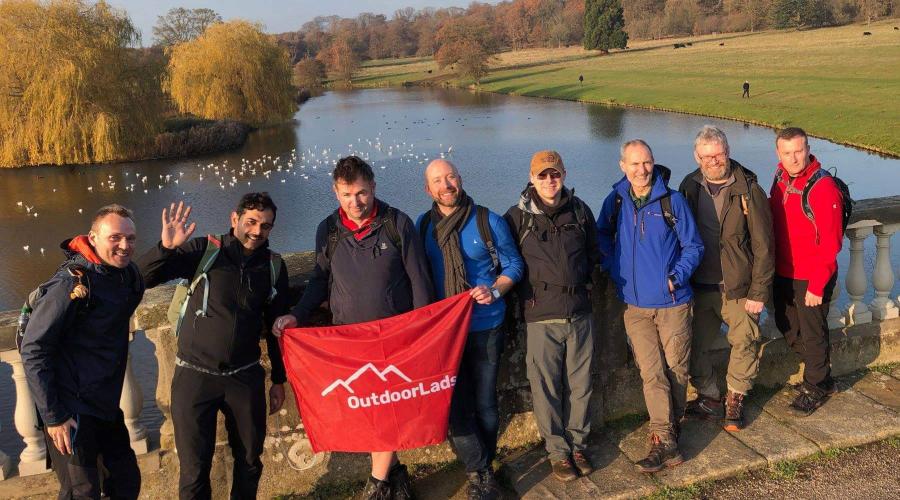 What to bring
Please make sure you are wearing sturdy footwear, it will be muddy underfoot. Please bring waterproofs as the weather may turn wet. I would recommend several layers so you can peel them off as required. Please bring a day ruck sack to carry your food and essential supply of water. Please remember to bring snacks too. Its usually advisable to bring a change with you for when you return to your car.
Food & drink
We will start and finish the day in the tearooms - socially distancing of course. 
As per the walk description, please bring a packed lunch. Please bring at least a litre of water.
Meeting & times
Sep 19 - am