Summer Weekend in the Shadow of the Cheviot
24 people attending
0 places left
6 people waitlisted
Event booking closes on Aug 10 at 19:00:00
Hopefully a range of walks from challenging to easy!
This event originally scheduled for 20th March 2020, then 2nd October 2020, and then 19th March 2021, will now take place on 13th August 2021.
Sandwiched between the Cheviot and the Scottish border, this hostel is a get-away-from-it-all weekend. We will be 5 miles from the nearest public road, in a Dark Skies Park, with sheep, cattle and deer roaming freely on the beautifully rounded Northumberland hills. This event in a dark skies area should now also coincide nicely with the peak of the Perseid Meteor Shower.
We will start with the usual OutdoorLads buffet after gathering on Friday night, welcome and information from the leader.
Saturday, after breakfast, provides us with an opportunity to explore the hills. The Cheviot is so close, but so are lots of other hills and interesting features, from glacial valleys and gorges to WW2 plane crash wreckages. Some of the names of hills are so intriguing, such as Bloodybush Edge and Windy Gyle. The border fence with Scotland is barely half a mile from the hostel - we may well straddle the border on a walk! One of the most amazing features in the area is the dramatic Hen Hole, a steep sided ravine with cascades of waterfalls, created as the ice retreated after the last ice age. The choice of walks will depend on the availability of leaders and, of course, the weather. But the opportunities are endless.
Hearty food on Saturday evening will be provided. Then, if skies are clear, we will get a stunning display of stars, being so far from towns and light pollution.
There will be at least one option for a shorter walk on Sunday, once we've tidied and cleaned the hostel, before we head for a pub lunch, maybe at the Tankerville Arms on the edge of Wooler, and then our journeys home.
OutdoorLads has now visited this location on several occasions. Most people can't wait to get back. Nestled at the head of the stunningly beautiful College Valley in North Northumberland, the bunkhouse is truly remote. The Bunkhouse sleeps 24 in dorms, clean bedding is supplied. There is a well-equipped kitchen and living area with log burning stove (logs provided). 
Dogs: this is a dog-friendly weekend but the limit is 4 dogs. There is no extra charge, but the following is important. Dogs have to be kept off furniture and beds and because there are many wild animals and ground-nesting birds around, they must be on a lead when out and about. It may be lambing time too, so an added risk! If you would like to bring a dog, let the Leader know and the first 4 well-behaved dogs and owners can come!! If you are afraid of, or allergic to, dogs, this event is not for you. Sorry.
All photos courtesy of me, Rob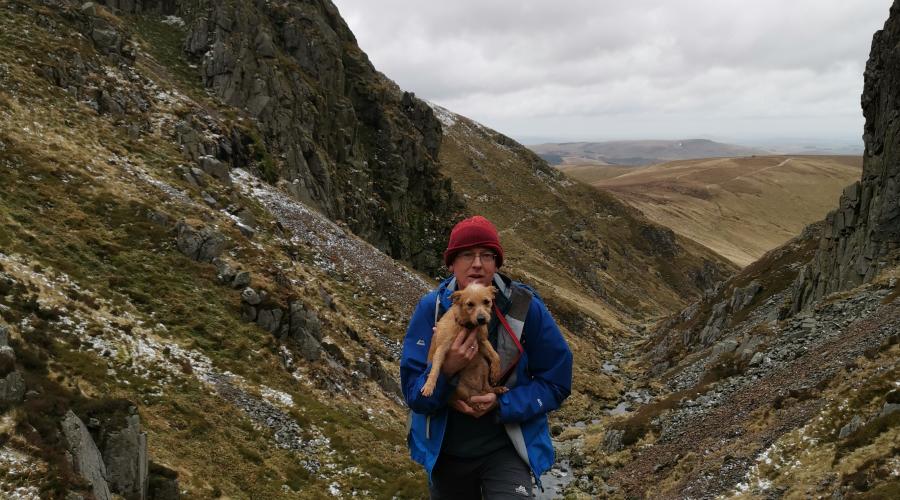 What to bring
Water: bring at least two litres in a water bottle, or better still, a hydration bladder
Medicines: ESSENTIAL - bring any medication you may be on, plus if you have hay fever, diabetes, minor ailments etc.
Day Rucksack: typically 20-30 litres, they are comfortable to wear and allow you to use your arms freely
Waterproof bags: keep spare clothing, electronics and anything else dry even when your rucksack leaks by using Ziploc type food bags or, better still, outdoor activity waterproof bags
Boots:  waterproof and breathable hiking boots with good ankle support
Gaiters: recommended for wet weather or boggy conditions
Socks: proper walking socks will keep your feet dry and help prevent blisters, and carry a spare, dry pair
Walking Poles: always optional, love them or hate them, but give them a try and decide for yourself
Layered clothing: lets you quickly adapt to changes in the weather and body temperature. Go for a base layer (vest or t-shirt) and a mid layer (a micro fleece or shirt) and in cooler weather add an outer layer (a windproof jacket or thick fleece)
Trousers: no jeans as they become heavy and cold in the rain, breathable fabrics are more comfortable and dry and on warm days shorts are OK
Waterproof jacket: essential when hiking in all but the calmest of weather, breathable fabrics are more comfortable and dry.
Gloves: Windproof, or better still, waterproof gloves are the best choice, bring a spare pair if expecting rain. 
Hat or cap: stay warm in winter and shaded in summer
Sunglasses: for any sunny day, even in winter
Sun cream: can be useful even on cloudy and winter days
Snacks: bring biscuits, energy bars, gels, bananas, chocolate or dried fruit for example and put them somewhere easy to get hold of
Lunch: bring a packed lunch unless otherwise stated
Emergency equipment: the walk leader will bring any emergency equipment required for the group, but you are welcome to bring any that you have, such as additional high energy food, a survival bag, a whistle, a medical kit, a torch and something to make fire (either storm proof matches or a firelighter
Map and compass: the walk leader will have these, but if you like map reading or want to develop your skills, bring yours along
Mobile Phone: keep it in a waterproof bag for use in emergencies, and a spare battery/charger is a good idea
Food & drink
Bring food for the Friday night buffet to share. Breakfasts and Saturday evening dinner are included, as are tea and coffee throughout.
Bring your own lunches, snacks, drinks for the evening (nearest shop is probably 10 miles away in Wooler.)
Meeting & times
Aug 13 - pm