Steeton to Ilkley - Leeds Pride LGBT Sport Fringe Festival Walk
16 people attending
4 places left
Moorland walk, ascent of 303 metres
This is an 8 mile linear walk from Steeton to Ilkley, returning by train. This walk traverses the western side of Rombalds Moor from Airedale to Wharfedale passing through pleasant pastoral scenery before finishing on a high route offering expansive views of the southern edge of the Yorkshire Dales. It also takes you past the Doubler Stones - rocks weirdly shaped by the elements, and other well known rocky landmarks. Rombalds/Ilkley Moor is well known for its cup and ring and other ancient rock art. We will finish the walk in Ilkley, a former spa town, now known for its interesting shops and cafes where we will have a drink and/or something to eat before catching the train back to Steeton or Bradford or Leeds. 
We are delighted that this walk is part of Leeds Pride LGBT Sport Fringe Festival. As a festival activity the walk is an inclusive event and we are being joined by members of 'The Hills Have Gays' - a Leeds-based LGBT friendly walking and social activity group, and 'Leeds Girls Can' - an inclusive woman's activity group. Both of these groups will have their own event leaders.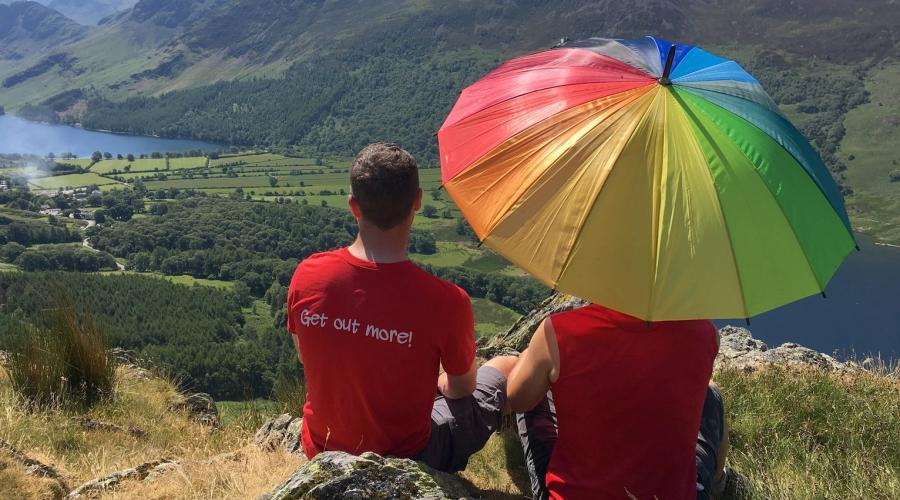 What to bring
Water: bring at least two litres
Medicines: if you have hay fever, diabetes, minor ailments etc.
Day rucksack: typically 20-30 litres, they are comfortable to wear and allow you to use your arms freely
Boots:  waterproof and breathable and designed for hiking, trainers are OK if the ground is dry and there's little chance of rain
Gaiters: recommended for wet weather or boggy conditions
Socks: proper walking socks will keep your feet dry and help prevent blisters
Layered clothing: lets you quickly adapt to changes in the weather and body temperature. Go for a base layer (vest or t-shirt) and a mid layer (a micro fleece or shirt) and in cooler weather add an outer layer (a windproof jacket or thick fleece)
Trousers: ideally no jeans as they become heavy and cold in the rain, breathable fabrics are more comfortable and dry and on warm days shorts are OK
Waterproof jacket: essential when hiking in all but the calmest of weather, breathable fabrics are more comfortable and dry
Gloves: Windproof, or better still, waterproof gloves are the best choice, bring a spare pair if expecting rain
Hat or cap: stay warm in winter and shaded in summer
Sunglasses: for any sunny day, even in winter
Sun cream: can be useful even on cloudy and winter days
Snacks: bring biscuits, energy bars, gels, bananas, chocolate or dried fruit for example and put them somewhere easy to get hold of
Lunch: bring a packed lunch
Food & drink
Please bring snacks, packed lunch and drink with you. It is unlikely that shops will be open in Steeton, there are a range of shops in Ilkley at the end of the walk. It is likely that we will go for a drink or something to eat in Ilkley at the end of the walk, please bring money for this.
Meeting & times
Jul 22 - am