South London to Brighton via Ashdown Forest
9 people attending
3 places left
52 mile, 1153 m asc OR 42 mile, 850m asc
Fancy escaping the smog of the city and riding to the seaside? Then join us for this 50 mile / 80 km road ride from South London to Brighton, taking a quieter route than the official London to Brighton ride where possible and skipping the more urban bits of London, allowing us to enjoy the beauty of the Ashdown Forest and the Sussex countryside while having a good workout.
This ride is still relatively challenging with 1000 m of climbing and still including the legendary/dreaded Ditching Beacon climb on the approach to Brighton, so you should be reasonably fit to join this ride. We're aiming to have fun rather than fly around the route though and are more than happy to wait for people at the top of climbs so we can catch our breath & replenish our sugar levels before continuing.
Alternative Shorter Route
For those who may find the distance or climbing too much of a challenge, David will be leading a shorter 42 mile route with 850m of climbing in parallel to the 52 mile ride. Whilst still challenging, this route runs closer to the London to Brighton railway line and so has regular escape points until we approach Ditchling Beacon and is good for those wishing to give the ride a go at a more relaxed pace. Both routes are included in the Location Details below.
Keep In Touch
If you'd like to hear about future cycling events when we publish them then join our Facebook group at https://www.facebook.com/groups/OutdoorLadsCycling/
For the more competitive riders we also have our Outdoor Lads Strava group here.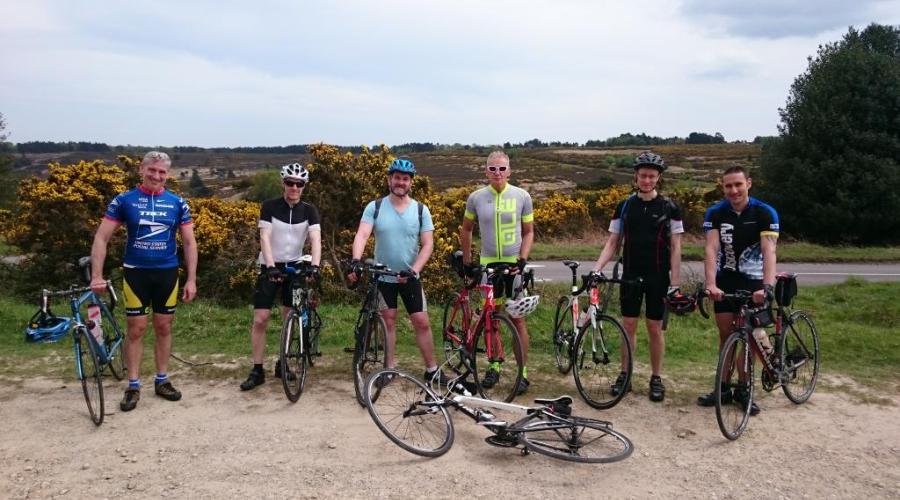 What to bring
Bike: a road bike or road hybrid
Helmet:  OutdoorLads requires you to wear one
Clothing: lightweight and layered, colourful and/or reflective clothing will make you more visible to other road users
Footwear: suitable for your bike and pedals
Gloves: cycle gloves help avoid blisters, and are good in the cold
Punctures: spare inner tube, bike tyre pump and tyre levers
Tools: any special tools that your bike needs
Small snacks: such as chocolate or energy bars
Plenty of water: in bottle/s on your bike or in a daysack/bladder
Medicines: if you have hay fever, diabetes, minor ailments etc.
Eye protection: avoid getting grit or insects in your eyes, sunglasses are OK if they are not made of glass and not too shaded
Sun cream: take care, even on overcast days
Bike lights: be seen and safe
Storage: small day-sack or a bag on your bike
Mobile Phone: keep it in a waterproof bag for use in emergencies
Food & drink
Bring a packed lunch with you to give us flexibility as to where we stop. There are very few shops along the route as we're out on country lanes so please buy before catching the train. We'll have refreshments near Brighton Pier at the end of the ride.
Please ensure you have plenty of water and snacks to keep your energy levels up along the way as there's a lot of climbing on this route.
Meeting & times
Sep 07 - am