'By the Sleepy Lagoon' - Selsey, Sidlesham and Sussex at its Southernmost
23 people attending
7 places left
Distance is 18 km (11 miles); relief is near-flat (a total of 74m of climbing); terrain is tarmac, concrete, beach shingle, dirt and grass.
'Manhood', the name of the peninsula stretching down to Selsey Bill, tends to raise a titter. For example, changing under a towel on Selsey Beach is all fun and games until the towel falls and one's manhood is exposed. Never mind; here's what you'll definitely experience on the walk, the good, the bad and the ugly. The Good: panoramic views, oceanic skies, bountiful wetlands, characterful villages. The Bad: For non-car users, a short bus ride to and from the walk, but at least the service is frequent. The Ugly: Selsey makes up for in personality what it sometimes lacks in prettiness, and the sea views are fab. (Plus the Curious: Europe's largest coastal realignment scheme and largest caravan park.)
The bonus:
The lovely Adam Cooper will be leading this walk in his bid to become a Lowland and Hill Walk leader for OutdoorLads. I'll just be assisting.
The sights:
The Manhood Peninsula: Stretching down to Selsey Bill, part of the Sussex coastal plain. Bordered to the west by Chichester Harbour and to the east by Pagham Harbour. Its name comes from the Old English maene-wudu meaning "men's wood", i.e. common land.
Medmerry: One of Europe's largest coastal realignment schemes, it involved the deliberate demolition of failing sea defences in 2013 and the flooding of low-value farmland to create intertidal lagoons, salt marshes and shingle banks. Taken altogether, a major new SSSI where avocet, lapwing, skylark and wheatear congregate.
Selsey: Once an important Saxon town, but since that time half-lost to the sea. Once also virtually an island with a ferry linking it to the mainland until land reclamation drained the saltmarshes in the 19th century. The main street, which has some nice old cottages, just runs down to the sea and stops abruptly without pier or promenade. Lots of bungalows and caravan parks, one reputed to be Europe's largest. Medmerry Mill is a tower windmill of the early 19th century, its sweeps intact. Selsey supplied crabs and lobsters to the best London restaurants. Inspired by the view across the sea to Bognor Regis, composer and resident Eric Coates wrote the light music classic 'By The Sleepy Lagoon', which became the signature tune of 'Desert Island Discs'. Selsey Bill is the southernmost point of mainland southeast England. Popular references to it include the song "Saturday's Kids" by The Jam: "Save up their money for a holiday/To Selsey Bill, or Bracklesham Bay" and the Madness song "Driving in My Car": "I drive up to Muswell Hill, I've even been to Selsey Bill". 
Church Norton: Just the chancel remains from an old church, simple C13, with some fine tombs. The setting is the remarkable thing: surrounded by trees and almost on the shore, the leafy, isolated locale is rare on the Sussex coastal strip. The remote yet adjacent shingle spit is an unofficial nudist beach where manhoods may well be seen.
Pagham Harbour: A glorious, tranquil area of saltmarsh, mudflats and shallow lagoons. Precious for wildlife as it is an SSSI, a Local Nature Reserve and a Ramsar Site. You could see curlew sandpiper and shelduck on the mudflats and long-tailed tit and willow warbler in the hedges. The RSPB Site Visitor Centre has a cafe. 
Sidlesham Quay: Situated beside Pagham Harbour, and looking like a miniature Bosham with a mill and thatched and weatherboarded cottages. The historic Crab & Lobster pub has a lovely garden.
The route:
Setting off from the car park at Pagham Harbour nature reserve, we'll use broad tracks to Medmerry where we'll walk along the embankment before heading into Selsey. We'll walk right around Selsey Bill and have lunch and an optional swim at the hinge of Pagham Harbour Spit before heading towards Pagham Harbour and Church Norton. After a look at the church we'll walk around Pagham Harbour's western edge. Following the line of the Selsey Tram we'll then walk on to reach pretty Sidlesham Quay. We could also have a drink at the Crab & Lobster pub. Footpaths will then take us back to the car park and bus stop.
Dogs:
I love having dogs on my walks and this walk is suitable for them apart from during very hot weather. There is sea for them to splash in but no shade. A dog off the lead must be obedient.
(Picture credits: Shingle spit north of Selsey: Photo © Stefan Czapski (cc-by-sa/2.0); Shingle beach south of Pagham Harbour: Photo © Stefan Czapski (cc-by-sa/2.0); Track to Porthole Farm Photo © Peter Holmes (cc-by-sa/2.0); Fishing Boat, East Beach: Photo © Simon Carey (cc-by-sa/2.0); Footpath, East Beach: Photo © Simon Carey (cc-by-sa/2.0); Carriage House at Selsey: Photo © John Bayes (cc-by-sa/2.0); A Several - one of several: Photo © Stefan Czapski (cc-by-sa/2.0); Pagham Harbour: Photo © Robin Webster (cc-by-sa/2.0); Shingle Spit: Photo © Robin Webster (cc-by-sa/2.0); Sidlesham Quay: Photo © Simon Carey (cc-by-sa/2.0). All pictures are copyrighted but are licensed for reuse under Creative Commons CC-BY-SA 2.0 and are here attributed to their copyright holders.)
IMPORTANT! - Participation Statement
You MUST complete a Participation Statement, in addition to booking your event space before attending an OutdoorLads event. You only need to complete this Participation Statement once, not for each event you attend.
COVID-19 – IMPORTANT, Please read the following before you sign up to this event:
Anyone with COVID-19 symptoms, even if they are extremely mild, or who lives or is in a support bubble with someone showing symptoms, is asked not to attend. This is in line with the

government's coronavirus advice.

You must also immediately self-isolate and not attend the event if you or someone in your household or support bubble shows coronavirus symptoms or tests positive. Read the

NHS self-isolation guidance.

OutdoorLads strongly encourages all attendees to take a rapid lateral flow test immediately prior to attending an event. This will help to keep everyone safe. Order free Rapid Lateral Flow Tests.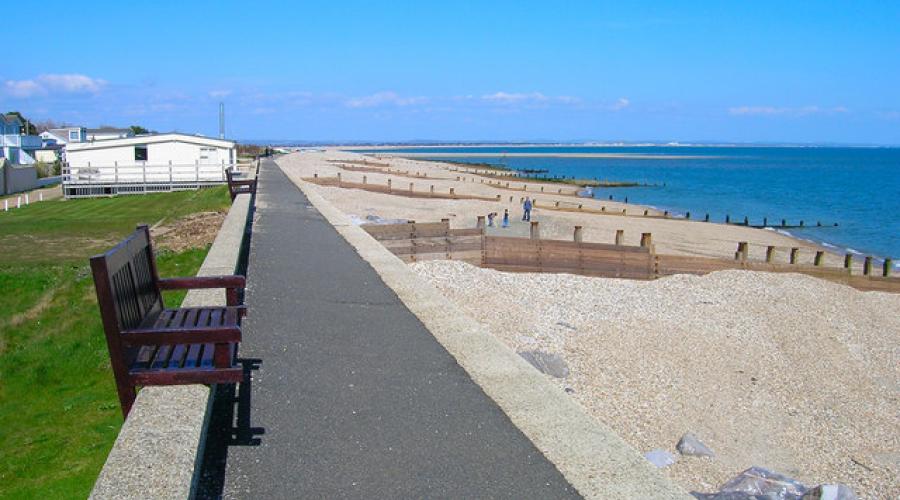 What to bring
You will need walking boots or shoes, as it is quite a long walk albeit on the flat, and on tarmac, concrete, grass, dirt and beach shingle. There is no climbing apart from some shingle banks.
You may need suncream and perhaps a sunhat if sunshine is forecast as the route offers little shade. Bring a light waterproof coat if rain is forecast.
Bring swimwear and a towel if you want to swim.
You will need a bus fare if coming by bus from Chichester. Cards are accepted.
Food & drink
You could bring a packed lunch and plenty to drink if you want, but there will be opportunities to buy ice creams, chips, snacks, and hot and cold and alcoholic drinks. 
I intend to have lunch at about 13.30 on the beach adjacent a shack selling chips and burgers.
Meeting & times
Jul 31 - am