Romantic Meres and Gigantic Spheres
30 people attending
10 places left
Distance is 21 km (13 miles); total ascent is 256 m; terrain is undulating with two small ascents and descents; surfaces are dirt, sand, grass and tarmac.
The landscape of northeast Hampshire is so special and varied that on the map it seems like an arm of the South Downs National Park has reached out from the main body of hills to shield it. And so as the seasons change, we'll depart to discover its delights: the tree-lined, trough-like trackways; the sweeping splays of the Downs; the distinguished dwellings; the productive pastures; the peaceful pools. Amid all this classic downland scenery are numerous oddities which include the ancient wood-pasture landscape of Binswood, the ghostly remnants of the abandoned village of Hartley Mauditt, and the giant radome globes and dishes of RAF Oakhanger.
The sights:
Holybourne: Almost a suburb of Alton, but a village with its own character. Red brick and timber-framed houses. Andrews Endowed Primary School, 1721-30, remodelled late C18. Neatham Manor Mill, C18 and C19.
Wyck: A pretty hamlet of thatched cottages and imposing malmstone houses. At the core of Wyck Plaxe is an C18 house, surrounded by a Victorian one of 1876.
King John's Hill: Near East Worldham, an iron-age hill fort with shallow defences which was subsequently the site of a hunting lodge for King John. The lake at the bottom is pretty and the views sublime.
Binswood: The Woodland Trust writes: 'One of only a few lowland woodland pastures that are maintained by the traditional method of grazing by commoners' stock. A wonderful mosaic of woodland and grassland. A fantastic range of fungi and lichens cling to the ancient trees...If you want to see how the medieval landscape might have looked, this is the place to visit.'
Shortheath Common: A local nature reserve, Site of Special Scientific Interest and ancient common land of 58 hectares with a range of habitats, principally heathland and woodland and a wet valley mire. We'll have our lunch here at just over the halfway point.
Oakhanger: A hamlet between the hangers of Alton and the heaths of Bordon. St Mary Magdalene Church, a brick-built chapel of 1873. We'll have a drink here at The Hangers Inn.
RAF Oakhanger: Built in 1954 for the use of experimental space communications and tracking Skynet forces satellites. Bought out by a private company, EADS Astrium, in 2003 and now privately run to track communication satellites. I believe that one of the four radomes (globes) has been converted into a Bond villain-style home.
Hartley Mauditt: The church of St Leonard is on its own by the village pond, but stood up until the 18th century beside the manor house and village, now all lost. Church dates from 1125 and in a transitional Norman-Gothic style, rebuilt in the 13th century. Tales of ghosts abound, including that of the miller who emerges from the pond on his horse. In 1790, the baronet of the village, sold the manor to someone who pulled down the manor house in 1798. After the demolition of the house the village declined, and eventually left the church as one of the few remaining buildings on the site of the settlement.
The Worldhams: Sturdy, solid homes and two 13th-century churches: St Mary with richly-moulded arches at East Worldham, and St Nicholas which has an all-in-one nave and chancel at West Worldham. 
Dogs:
I love having dogs on my walks and this walk is very suitable for them. It is of moderate length and has no fields with livestock. However, there will be four stiles and some roads to negotiate. A dog must be obedient if it is off the lead. 
The route: 
A route out of Alton along the old London Road and through Holybourne will lead us over the River Wey to Neatham. Footpaths and lanes will take us into the South Downs National Park to Wyck, and then, heading south parallel with Wyck Lane, we'll reach East Worldham and cross the B3004 to King John's Hill and Binswood. We'll then head east past Rookery Farm to Shortheath for lunch by its pond. We'll then head to Oakhanger village for a drink at The Hangers. A loop along footpaths around the RAF base will lead us back to the lane to Hartley Mauditt which we'll follow past Hartley Wood to the church and village pond. Finally, at West Worldham, we'll walk back to Alton. We'll walk past Kiln House, under the A31, and along the B3004 back to the starting point. 
IMPORTANT! Participation Statement:
You MUST complete a Participation Statement, in addition to booking your event space before attending an OutdoorLads event. You only need to complete this Participation Statement once, not for each event you attend. 
Anyone with COVID-19 symptoms, even if they are extremely mild, or who has recently tested positive for Covid-19, is asked not to attend.
(Image credits: Hangers Way to King John's Hill: Photo © Peter S (cc-by-sa/2.0); Golfballs in the landscape: Photo © Colin Smith (cc-by-sa/2.0); Neatham Mill: Photo © Graham Clutton (cc-by-sa/2.0); Making use of that extra hour (28): Photo © Basher Eyre (cc-by-sa/2.0); View down Worldham Hill: Photo © David Martin (cc-by-sa/2.0); Poles leaning against an oak tree near King John's Hill, East Worldham: Photo © N Chadwick (cc-by-sa/2.0); King John's Hill, East Worldham: Photo © Peter S (cc-by-sa/2.0); Shortheath Pond: Photo © Colin Smith (cc-by-sa/2.0); Dish and dome: Photo © Colin Smith (cc-by-sa/2.0); At the Chalkface: Photo © Colin Smith (cc-by-sa/2.0); Hillside by Candovers: Photo © Colin Smith (cc-by-sa/2.0); Thatched Cottage, Hartley Mauditt: Photo © Colin Smith (cc-by-sa/2.0); St Leonard's Church, Hartley Mauditt: Photo © Mike Searle (cc-by-sa/2.0). These images are copyrighted but are above credited to their copyright holders and are licensed for further reuse under Creative Commons Attribution-Share Alike CC BY-SA 2.0.)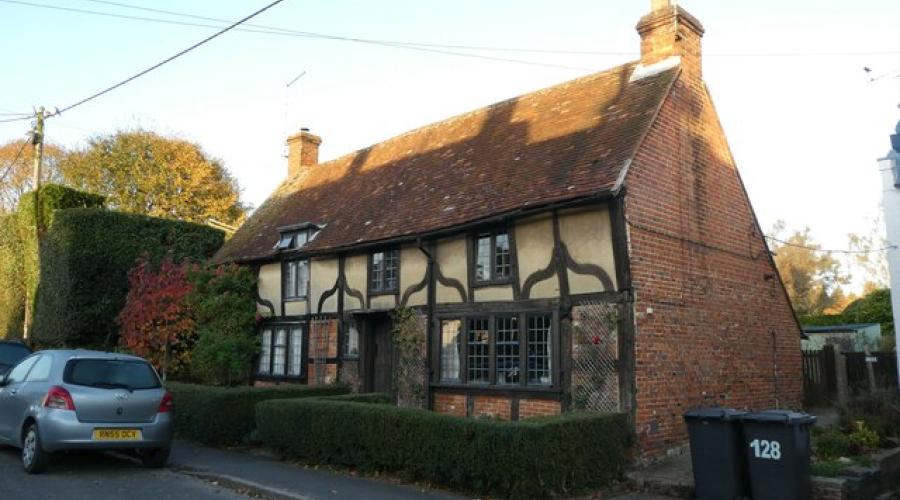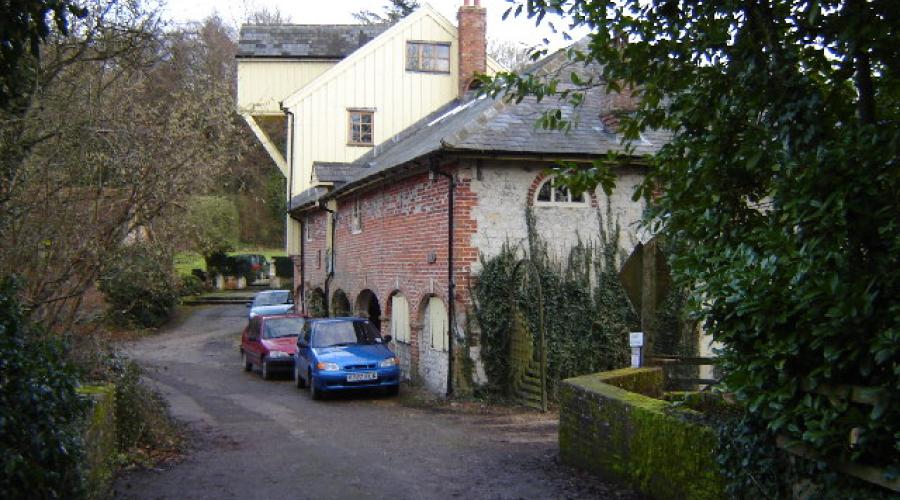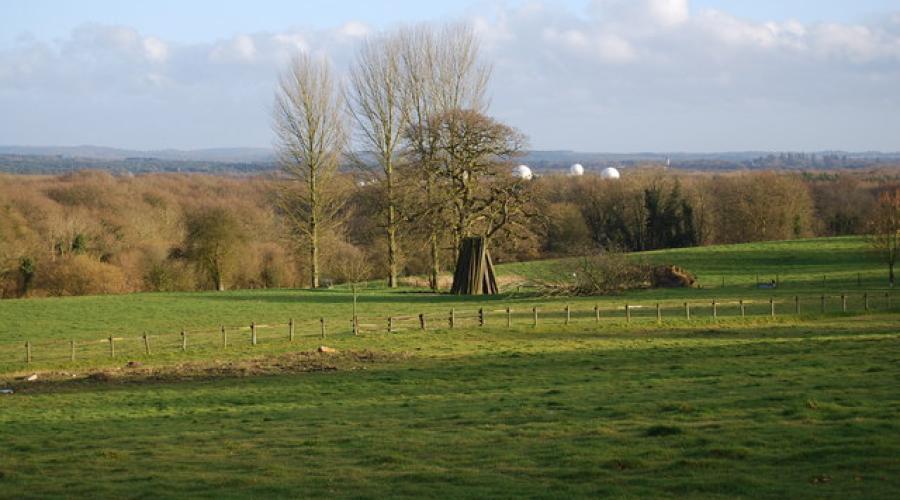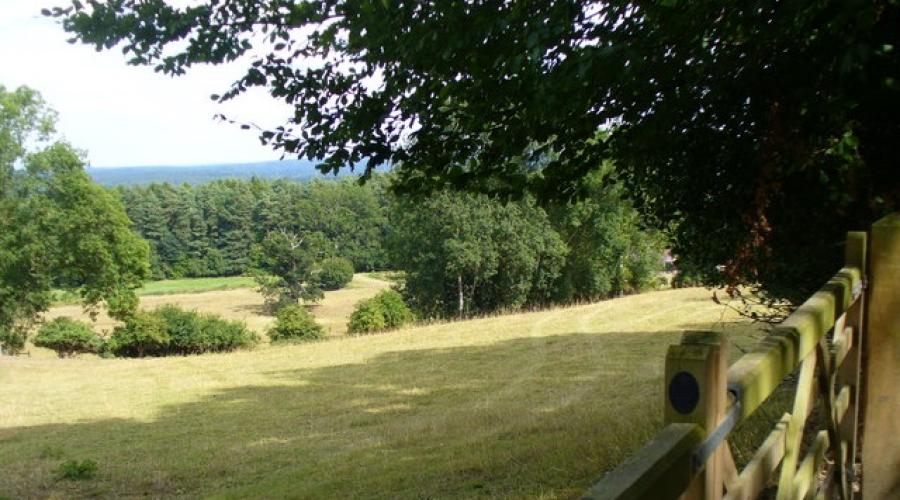 What to bring
Walking boots which are sturdy and waterproof might be essential if the early autumn has been quite wet. Otherwise walking shoes are fine. Bring a raincoat if rain is forecast. Bring something waterproof to sit on too.
Food & drink
Please bring a packed lunch with drink or get these at the Waitrose adjacent the station. There will be nowhere to buy these items once on the walk. Lunch will be by the pond on Shortheath Common with a pub stop at The Hangers in Oakhanger.
Meeting & times
Sep 24 - am