POSTPONED - A Perfectly Legal Trespass!
20 people attending
0 places left
9 people waitlisted
Although parts of the route are flagstoned the climb up isn't and is quite steep, if the weather is wet then add in muddy and slippery to the mix too.
Join Rich as we retrace this cracking 9-mile route of the famous 1932 mass trespass onto Kinder Scout (633m). Heading up William Clough, the Pennine Way is followed along the plateau edge, passing the dramatic Kinder Downfall and visiting Kinder Low before returning by an old pack-horse route. 
...
The Mass Trespass 
The mass trespass onto Kinder Scout started from Bowden Bridge on 24th April 1932, with 400 walkers heading up William Clough. Scuffles with gamekeepers at Sandy Heys led to several arrests, with five of the walkers being subsequently imprisoned. However, public reaction to their harsh treatment led to the 1939 Access to Mountains Act, and in 1955 the first access agreement was signed for Kinder Scout. The car park - a former quarry - is home to a bronze plaque commemorating the mass trespass. 
...
Starting from Bowden Car Park - we pretty much start climbing straight away up past Kinder Reservoir, then onto the William Clough path. While the path is stony, it is initially quite accommodating. However, after crossing and re-crossing the fast-flowing stream several times, it starts to degenerate. Eventually, rough stone steps and a line of cairns lead to a crossroads of routes, where we then will join the Pennine Way. We then follow the Pennine Way along the western edge of the Kinder plateau until we arrive at Kinder Downfall. At Kinder Downfall, the tiny River Kinder falls dramatically over the edge of a Millstone Grit shelf at the head of a steep-sided clough. When strong winds funnel up the valley, the waterfall actually spurts upwards.
From Kinder Downfall we'll continue weaving along the path heading south-south-west towards Kinder Low, which will be the summit of the day (thou technically the OS Trig point isn't the official summit of Kinder, but, it will save us wading through inaccessible peat bogs).
Then we'll head down off the mountain via Millstone Grit (where the path become flagstones again, and we follow the way down (previously an old pack-horse route) heading back to the car park and maybe pop to the local pub for a well earned pint.
Dogs are more than welcome if kept under control esp as there are some steep edges and big steps to get up.
Image Credits:
Image 3 - Bowden Bridge mass trespass plaque © Copyright Dave Dunford and licensed for reuse under this Creative Commons Licence; 
Image 4  – Kinder Way car park, Bowden Quarry © Copyright Katy Walters and licensed for reuse under this Creative Commons Licence;
Image 5 - William Clough from Kinder Scout © Copyright Katy Walters and licensed for reuse under this Creative Commons Licence.

All other images provided by myself and permission is granted to OutdoorLads for their use.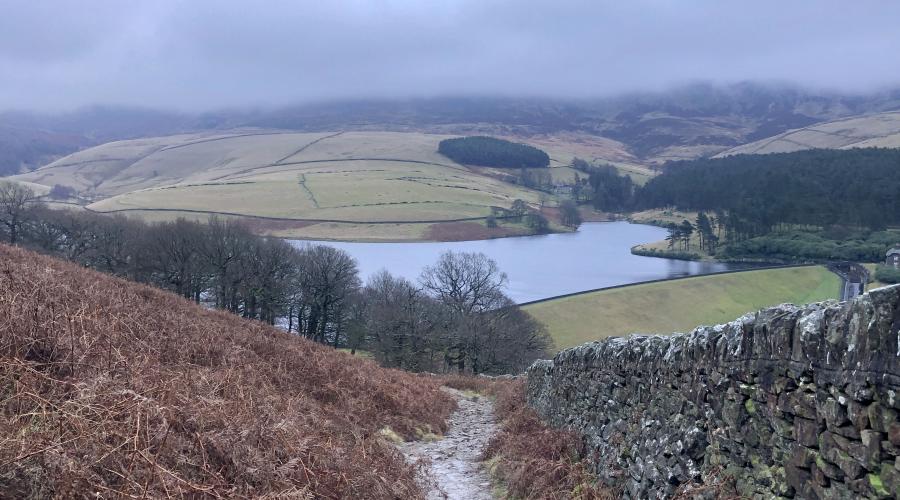 What to bring
Water: bring at least two litres in a water bottle or a hydration bladder
Medicines: if you have hay fever, diabetes, minor ailments etc.
Day Rucksack: typically 20-30 litres, they are comfortable to wear and allow you to use your arms freely
Waterproof bags: keep spare clothing, electronics and anything else dry even when your rucksack leaks by using Ziploc type food bags or, better still, outdoor activity waterproof bags
Boots:  waterproof and breathable hiking boots with good ankle support
Gaiters: recommended for wet weather or boggy conditions
Socks: proper walking socks will keep your feet dry and help prevent blisters, and carry a spare, dry pair
Walking Poles: always optional, love them or hate them, but give them a try and decide for yourself
Layered clothing: lets you quickly adapt to changes in the weather and body temperature. Go for a base layer (vest or t-shirt) and a mid layer (a micro fleece or shirt) and in cooler weather add an outer layer (a windproof jacket or thick fleece)
Trousers: no jeans as they become heavy and cold in the rain, breathable fabrics are more comfortable and dry and on warm days shorts are OK
Waterproof jacket: essential when hiking in all but the calmest of weather, breathable fabrics are more comfortable and dry.
Gloves: Windproof, or better still, waterproof gloves are the best choice, bring a spare pair if expecting rain.
Hat or cap: stay warm in winter and shaded in summer
Sunglasses: for any sunny day, even in winter
Sun cream: can be useful even on cloudy and winter days
Snacks: bring biscuits, energy bars, gels, bananas, chocolate or dried fruit for example and put them somewhere easy to get hold of
Lunch: bring a packed lunch unless otherwise stated
Emergency equipment: the walk leader will bring any emergency equipment required for the group, but you are welcome to bring any that you have, such as additional high energy food, a survival bag, a whistle, a medical kit etc...

Map and compass: the walk leader will have these, but if you like map reading or want to develop your skills, bring yours along
Mobile Phone: keep it in a waterproof bag for use in emergencies, and a spare battery/charger is a good idea
Food & drink
You'll need to bring lunch with you and snacks to keep the energy up.  Don't forget to eat breakfast!! :)
There are no shops or places to buy lunch or snacks enroute.
Please also bring plenty to drink for the walk. A hot flask is a good idea especially if the weather is a bit chilly on the day. Should you want to bake cakes for the group to share... well, you'll make friends for life :)
There will be an optional pub stop at the end.
Meeting & times
Mar 21 - am