Pen-yr-Ole-Wen and the Carneddau Mountains
3 people attending
5 places left
Min. 7hrs walk. Approx 17km & c.1,200m ascent
As well as aiming to tick off 3 of the Welsh 3,000`s we'll also hopefully spend some time pondering the architecture, history and geology of the Carneddau as we pass through some of the oldest mountains of Snowdonia.
From the east-end of Llyn (lake!) Ogwen valley, we'll climb, gently at first, but becoming increasingly steadily, up towards glacial cwm below Pen yr Ole Wen's Eastern ridge, along which the ascent becomes steeper still until we reach the first of three summits, (Pen yr Ole Wen 978m); where we'll pause to appreciate the views back to Tryfan and the Glyderau, and maybe Yr Wyddfa (Snowdon!) beyond (assuming the cloud is above us). From here the route is more undulating, dropping a little but with a bit of a steep pull up onto Carnedd Dafydd (1044m), along the top of a prominent edge and then a narrower ridge before for a final slog up onto Carnedd Llewelyn (1064m) from where, weather and progress permitting, we'll ponder how and when the mountain landscape around us was formed. With almost all the uphill behind us, the descent is fairly short and sharp down to Ffynnon Llugwy Reservoir before picking up a tarmacked track back down in to the Ogwen valley, and along a briddleway back to the starting point.
This will be a challenging days walk taking in Wales' highest mountain after Snowdon. We'll cover about 17km (10½miles) with around 1,200m of ascent. Sections of the route are quite poorly defined and boggy, especially at the start, and there are a couple of rock-steps to be tackled; one on the ascent, the other, a slab, to be down climbed (see the last of the photo's above!). Neither are technical or particularly exposed (but a slip wouldn't end well!) but do require some Hands-on-rock for balance while you stretch your leg muscles a little more than usual! Anyone anxious or in experienced on this type of terrain should carefully consider this before signing up, as neither can be easily avoided!
(All images copyright of Sieh - walk leader.)
IMPORTANT! - Participation Statement
You MUST complete a Participation Statement, in addition to booking your event space before attending an OutdoorLads event. You only need to complete this Participation Statement once, not for each event you attend. 
Anyone with COVID-19 symptoms, even if they are extremely mild, or who has recently tested positive for Covid-19, is asked not to attend.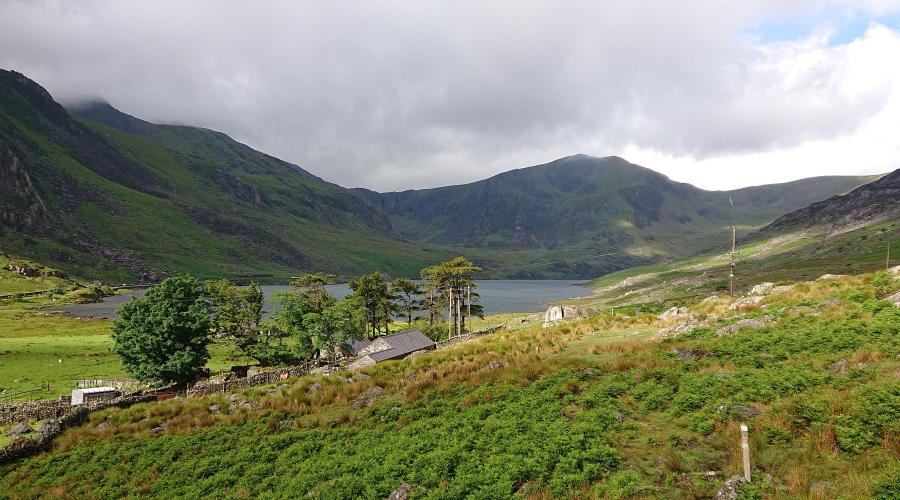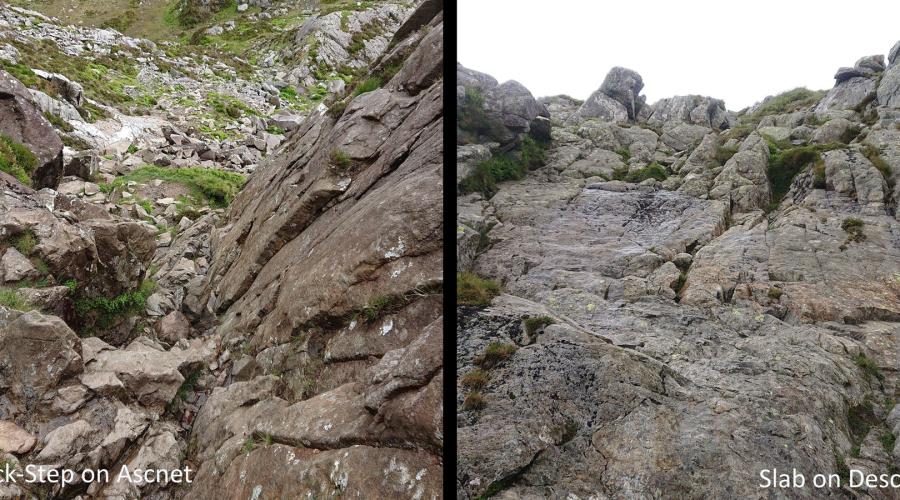 What to bring
This is a full mountain day - in Snowdonia; so the weather should hold no surprises! You will need sturdy, waterproof walking boots (not trainers). It may be summer but you may well need waterproofs (including trousers), Warm, layered clothing (to suit changing body temperature as we climb steeply and rest) and some spare layers too, along with hat or Cap (to stay warm, or shaded in sun) and it might even be worth throwing a pair of gloves in your bag too! But let's be optimistic and remember the sun-cream too!
Rucksack, with waterproof bags/drybags to keep everything dry - including a waterproof bag for your phone.
Don't forget walking Poles - if you have them and prefer to use them; there are some steep sections of ascent and descent. 
As well food and water, don't forget any personal medication you may need during the day. 
If you're interested in map-reading & Navigating: OS Explorer OL17 (1:25,000) or Landranger 115 (1:50,000) cover the full walk.
Food & drink
Please bring enough food; lunch and snacks, as well as water (ideally 2Litres) for a full day on the hill, as we won't be passing anywhere for buying food or drink on the walk.
Meeting & times
Aug 06 - am
Location
53.125047656888, -3.9918807399073