NW Highlands Winter Mountaineering
7 people attending
1 place left
Winter mountaineering
North West Highlands - 3 nights
Join us for our annual winter mountaineering weekend walking in what is known as 'The Great Wilderness', an area of Scotland that contains mountains, moor, deer and a rare collection of trees.
Please remember that this is a winter mountain environment and we will be a small group. As such you should have a good level of fitness and be comfortable hiking in challenging terrain, using ice axes and crampons, as it is intended that we will be doing mountaineering in snow. If in doubt please message the event leader for guidance. The exact nature of activities on offer will be dictated by the weather conditions on the day - in the advent of adverse weather we will be doing low level walks in the local area as being on the mountain tops is not a place to be in wild weather!
Staying at a bunkhouse built in 2009, we have a couple of days walking in the area for there is plenty to go and see. An undoubted target will be An Teallach, a "Page 3 of a Munro", which is only a short drive west - a mountain which has great views, an amazing scramble along its pinnacles and is a full on challenge in winter conditions. Alternatively there is a remote day out which starts a mile north at Inverlael taking in four Munros of the Lael Forest, among many other mountains in the area.
Or if the weather takes a turn we could explore the Inverpolly National Nature Reserve, peer into the depths of Corrieshalloch Gorge or have a wander around Lael forest garden, an arboreta with examples of 200 different species of tree from around the world; as well as many lower level walks.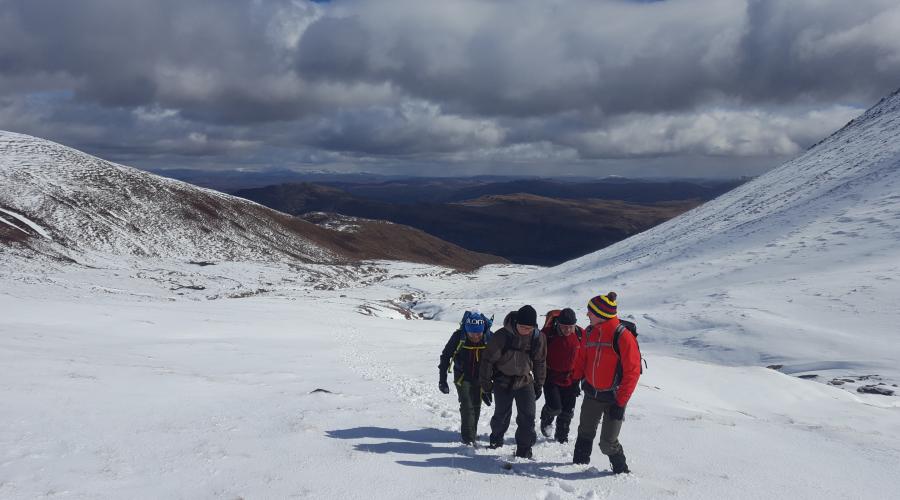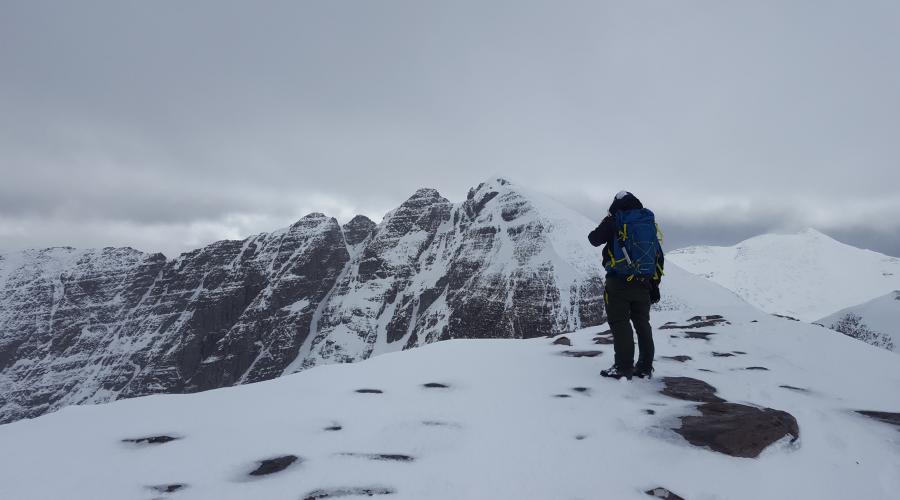 What to bring
The main activity planned for the weekend is to do winter mountaineering, suitable mountain boots that can take crampons are a must along with clothing for any weather. Packing additional layers is recommended as average daytime temperatures usually hover around freezing point.
Boots:  Hiking boots are arguably the most essential piece of kit when hiking just about anywhere.  Walker's should make sure that their boots are both waterproof and breathable, and provide good ankle support.  Boots should also be in good condition and crampon rated.
Crampons & Ice Axe: You will require crampons that are suitable for your boots. Boots are rated B1-B3 and crampons C1-C3, generally the numbers match for suitability. You should also bring an ice axe that is in good condition.
Socks: A good comfy pair of walking socks is essential really; they keep your feet warm and drier than normal socks.
Gaiters:  Gaiters attach to the bottom of walking boots and extend to just under the knee.  They provide waterproofing for the bottom half of the leg.  They are not essential to have but you will feel the difference if you have them when walking through muddy or boggy ground - which is almost guaranteed in Scotland - as well as keeping the snow from entering your boots.
Walking Trousers:  You should have a suitable pair of trousers for walking in, ideally you should have a pair of winter trousers that will keep your legs warm - the standard walking trouser is normally of thinner material which will get cold quickly. Alternatively you could wear leggings underneath your trousers.
Waterproof Trousers:  Waterproof trousers are essential in case of wet weather. They are also good to be worn as a second layer as they can act as a windproof barrier, keeping the legs warm. 
Base Layer: A breathable base layer should be chosen in order to let sweat escape from the body.  This could be a cheaper sports top or you could go top of the range with a merino top, as cotton T-Shirts can become damp and uncomfortable when climbing a mountain.
Other Layers: On top of your base layer, you can have a variety of options such as a micro fleece or a fleece jacket.  Having one or two additional layers gives you flexibility when the weather is changeable – the more layers, the more flexible you can be in adapting to the weather.
Waterproof Jacket:  A good waterproof jacket is one of the most important pieces of kit you will require when hiking.  Walkers should look for a jacket that is both waterproof and breathable in order for them to be protected from sweat.  Materials such as Gore-tex are often the best choices but they can be expensive unless you shop sensibly, don't forget your OutdoorLads discount for Full Members at Cotswold outlets.
Hat: As most heat is lost through the head a good hat is essential. 
Gloves: Gloves are essential, windproof or better still waterproof gloves are the best choice.
Goggles: In winter spindrift can blind you when the wind picks up and carries the snow about, having a pair of ski-ing goggles in your bag could make a difference to your day.
Rucksack: A good Rucksack that is comfortable to wear is essential, and required to carry both food and equipment.  Day sacks should have a capacity of around 30 litres.  As an option you could store your items in waterproof bags inside just in-case or ensure the bag has a waterproof bag to pull over the top.
Emergency Equipment: The leader of the group will normally carry some emergency items, but you are welcome to bring your own such as spare energy food, survival bag, personal first aid kit, head torch and a whistle.  It is not essential that you bring all or any of these items but it will do no harm if you do bring.
Map & Compass: If you want to learn to be a leader or you just like to know where you are, then you can bring a map that covers the area.  If you are not sure which map to bring, just message the leader.  It is best to bring your map either in a map case or purchase maps which are waterproof.
Mobile Phone: If you choose to bring your phone, then you are well advised to buy a waterproof bag or if that is not possible a simple food/freezer bag will suffice.
Food & drink
Friday evening - please bring an item for the buffet
Please be imaginative with what you bring, we are a small group therefore most of us bringing a pizza may not be an ideal start to the weekend.
Saturday & Sunday breakfast and dinner along with Monday breakfast are included in the event cost.
Saturday & Sunday lunch - you will need to bring with you.
Tea & coffee is provided at the hostel over the weekend.
Meeting & times
Feb 14 - pm
Location
57.783042517869, -5.038690580512