Nomansland - Lover Circular
15 people attending
5 places left
Distance is 17.5 km (11 miles); terrain is gently undulating; surfaces are grass, dirt and tarmac; total climb is 279m.
Everyone knows that the New Forest is in Hampshire, but its characteristic landscape of wood pasture with scattered cottages and farms actually stretches into Wiltshire. This walk eschews the crowds of Lyndhurst and Brockenhurst in the southern forest to explore the remote northern forest that straddles the border of these counties. Indeed, although a good portion of the walk is in Hampshire, the curiously-named hamlets of Lover, Bohemia and Nomansland aren't. Predictably, the Lover post office used to do much business around Valentine's Day, as items posted there were postmarked "Lover". 
Everyone also knows that the New Forest is neither new, nor a forest, and much of William the Conqueror's Nova Forestra hunting ground is in reality ancient yet semi-open wood pasture. That said, the northwest portion of the forest, the bit in Wiltshire, is actual forest with dense pine plantations. It takes the route (click on the link to see it) to return to Hampshire for the land to open up into the classic scenery of pasture, marsh and stands of oak and beech. This is before the dense mixed and ancient woodland of Eyeworth and Bramshaw return for the close the walk, providing delightful dappled shade from flaming June's sun. 
Everyone furthermore knows that the New Forest is perfect for reconnecting with nature and enjoying timeless tranquility without travelling far from the city. This wasn't so until a century ago when the ancient woods were being felled and what was left of them reverberated to the noise of the Schulze gunpowder factory. Abundant types of waterfowl (including the brightly-coloured mandarin duck) now glide across the surface of Eyeworth Pond which was dug in 1871 to provide a head of water to drive the factory's mills. Now, Eyeworth Pond and Eyeworth Wood where the gunpowder mill was situated are the habitat highlights of this lovely walk.
Dogs are welcome to join us on this event but we do ask the following: Please ensure you adhere to the Countryside Code at all times (see Keeping Dogs Under Effective Control) If your dog is uncontrolled and strays in open land frightening other animals or livestock, the leader is supported by the OutdoorLads board of trustees to ask you to leave the event as this is not acceptable behaviour.
IMPORTANT! - Participation Statement
You MUST complete a Participation Statement, here, in addition to booking your event space before attending an OutdoorLads event. You only need to complete this Participation Statement once, not for each event you attend. 
COVID-19 – IMPORTANT, Please read the following before you sign up to this event:
Anyone with COVID-19 symptoms, even if they are extremely mild, or who lives or is in a support bubble with someone showing symptoms, is asked not to attend. This is in line with the government's coronavirus advice.
All are required to practice social distancing – staying 2m (not 1m) apart at all times, including the lunch stop.
Unfortunately, there won't be any planned pub / café stops en route or at the end, and please don't share sweets or snacks with others – we're sorry!
Please bring your own hand sanitising gel for your own use throughout the day. Use of face coverings is at your own choice, but please bring one with you just in case it's needed. 
Each person can only attend one OutdoorLads micro event a week. (Leaders to leave at least three days between events they lead.)
On walks, one person to hold open gates and allow everyone to walk through – so minimising surfaces that multiple people touch. 
Be aware that opportunities for toilet stops may be minimal if facilities are closed.
Please, please cancel at your earliest opportunity if you are unable to attend or are unwell, so that we can allow others to take up these valuable event spaces.
Much as it's difficult - no handshakes or hugs!
Participation Statement
OutdoorLads draws your attention to the fact that travelling and being away from home increases the risk of receiving and transmitting Coronavirus, whilst it is present in the UK. You are likely to choose not to participate in OutdoorLads events whilst there is a risk of Coronavirus transmission. However, should you choose to participate in OutdoorLads events whilst the risk is present, you must be aware of and follow the law and government guidelines, both when travelling to and from events as well as when participating in events.
Please note that every person participating should be aware of (and accept) that those members perceived as 'in charge' or leading the event are not experts,  do not need to be experts, and are not regarded by OutdoorLads, or themselves as experts, but are amateurs with some experience in the event type and who are happy to impart their knowledge.  Any advice given should be considered with this in mind by the recipient.
By signing up to and attending an OutdoorLads micro event, you are confirming that you have read, understood and accept the content of this statement.
(Picture credits: Claypits Bottom looking North by Mike Faherty; Bramshaw Wood, track by Mike Faherty; Quar Hill Plantation by Jim Champion; Tethering Drove by Stefan Czapski; Eyeworth Wood by Val Pollard; Thatched cottage south of Burnt Ground Wood by Stuart Logan; Eyeworth Pond, Fritham by Stuart Buchan; Longcross Pond by David Martin; These images are designated as 'Free to share and use' under Creative Commons CC BY-SA 2.0. The last two images were taken by the leader and OutdoorLads has permission to use them.)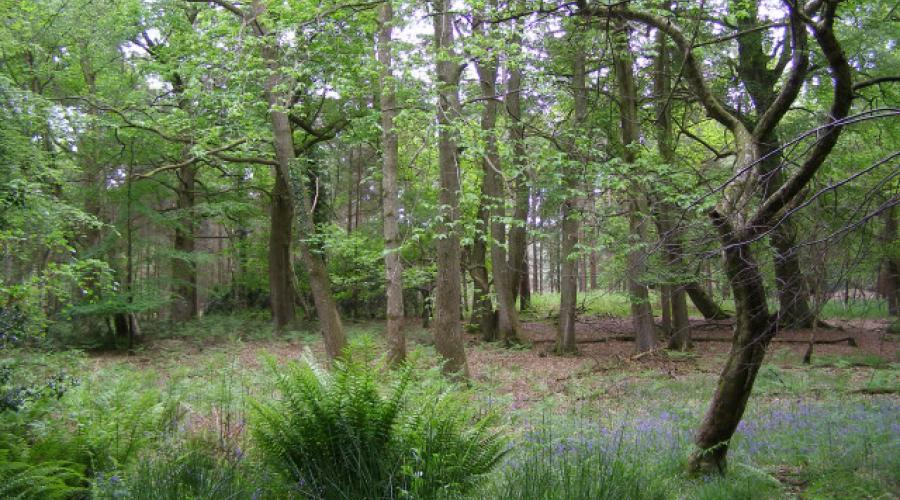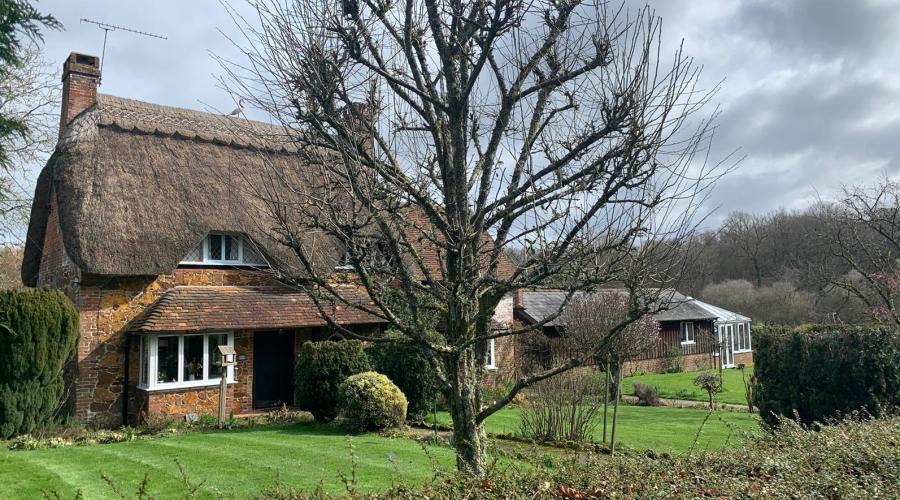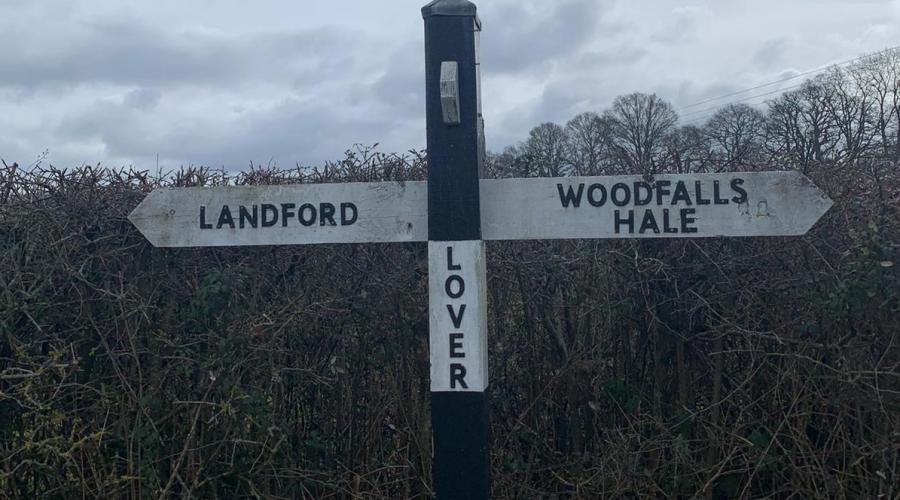 What to bring
Hand sanitiser and a face covering: whilst we are living with Covid-19, please bring your own to events to help keep everyone safe
Water: bring at least two litres
Medicines: if you have hay fever, diabetes, minor ailments etc.
Day rucksack: typically 20-30 litres, they are comfortable to wear and allow you to use your arms freely
Boots:  waterproof and breathable and designed for hiking, trainers are OK if the ground is dry and there's little chance of rain
Gaiters: recommended for wet weather or boggy conditions
Socks: proper walking socks will keep your feet dry and help prevent blisters
Layered clothing: lets you quickly adapt to changes in the weather and body temperature. Go for a base layer (vest or t-shirt) and a mid layer (a micro fleece or shirt) and in cooler weather add an outer layer (a windproof jacket or thick fleece)
Trousers: ideally no jeans as they become heavy and cold in the rain, breathable fabrics are more comfortable and dry and on warm days shorts are OK
Waterproof jacket: essential when hiking in all but the calmest of weather, breathable fabrics are more comfortable and dry
Gloves: Windproof, or better still, waterproof gloves are the best choice, bring a spare pair if expecting rain
Hat or cap: stay warm in winter and shaded in summer
Sunglasses: for any sunny day, even in winter
Sun cream: can be useful even on cloudy and winter days
Snacks: bring biscuits, energy bars, gels, bananas, chocolate or dried fruit for example and put them somewhere easy to get hold of
Lunch: bring a packed lunch
Food & drink
Please bring a packed lunch and plenty to drink. There may be a chance to stop a The Lamb Inn at the end of the walk, regulations permitting.
Meeting & times
Jun 12 - am
Location
50.954448664551, -1.6398824035659