My First Ascent of Snowdon - Bunkhouse Weekend
20 people attending
4 places left
This is aimed at people who want to ascend their first mountain, or who want to further develop their confidence, we'll stick to the well-made paths, it's a straightforward though strenuous walk, anyone who has the ambition to get to the top will do so.
Ever wanted to get to the top of one of the UK's most loved mountains but not had the confidence? 
Do you feel like the other mountain walking events are for more experienced hikers? 
Well, this could be the trip you've been waiting for.
This weekend event is designed especially for those with less experience of hiking up mountains, or wishing climb their very first mountain.
We'll be heading up Snowdon, taking the gentler path, and at a pace to ensure we all get to the top and back again in one piece and have a great day out.
Even if you've done Snowdon or other mountains before but want a great weekend away and a more relaxed walk up to the peak, you'll have a great trip too.
We'll be staying in a well equipped bunkhouse in the valley, from where we are well placed to tackle this challenge.  We'll definitely be avoiding the steep ridges of Crib Goch, and instead we'll take the Llanberis Path up - this is the shortest route to the summit, on a well made path, however this is no stroll in the park - there are still some short, steep sections.  Nothing dangerous or precipitous, and the ruggedness of the nature and the stunning mountain scenery will keep you motivated throughout.
At the top, the Snowdon summit awaits us with stunning views across the valleys below. There is a cafe at the top where you might wish to buy a drink etc, but you MUST bring water and your own full packed lunch as well, as it is often busy and there is no guarantee of there being anything left when we arrive.
Depending on the group, and how ambitious or not people are feeling, there are options for the route down and we can split the group if people what to do different things. You can chose to retrace our steps and head down the Llanberis Path and back to the bunkhouse, or if anyone is feeling more ambitious, there's also the option to take the Miners' Path, a well trodden course that goes down a different aspect of Snowdon, with a steeper walk down followed by gentle finish that passes the lakes on the way down. From the bottom of the Miners' Track there's a regular shuttle bus back the bunkhouse (for which you'll need £2 cash to buy a ticket from the driver). Whilst waiting for the bus there's a cafe and a bar where you can get some refreshments. 
If on the morning of our walk you do not feel comfortable to head up the mountain, taking the Snowdon Mountain Train both up and down to the summit might be a possibility (you'll need to make your own way to/from the mountain train station and "buy on he day" tickets are often scarce).
There are several other options for days out in the area too, including the Electric Mountain Tour, Bounce Below, or a trip to the coast. You'll need to make your own arrangements to do any of these, but we'll help you sort them out on the day if you decide you'd rather do something other than hike up Snowdon.
The Bunkhouse
We'll have exclusive use of a well equipped bunkhouse for the weekend.   
The Bunkhouse has 4 rooms with 3 double bunks in each, a lounge for relaxing in, a well equipped kitchen, hot showers, toilets and a drying room.
There are power sockets throughout. 
There's usually no mobile signal at the bunkhouse, but there is free WiFi.
Food
Unlike most other OutdoorLads hostel events, Friday night dinner will be provided and is included in the price. It will be something designed to be eaten whenever you arrive, so don't worry if that's going to be late, we'll keep food ready for you. 
Saturday breakfast, Saturday dinner and Sunday breakfast are included.
Please make sure you have set your dietary requirements in your My Account profile.
Bring your own lunches, snacks and any evening drinks/snacks you require.
There is a pub in the nearby village of Nant Peris, a short drive or a 15min walk away.
What to Bring
See the detailed section below about what you'll need to head up to the top of Snowdon and to be safe and protected. We can help if there are things on the list that you don't have, but you will need everything on the list to take part in the walk to the top of the mountain. 
Dogs
Due to the small size of the accommodation and nature of the event we are unable to accommodate dogs (except assistance dogs)
Parking and Car Sharing
Parking -  there is quite a lot of parking space directly in front of the Bunhouse - depending on numbers, we may need to be efficient with the space.
Car Share - please use the comments boxes at the bottom of the event page to offer lift sharing if you're able to, or to request a lift.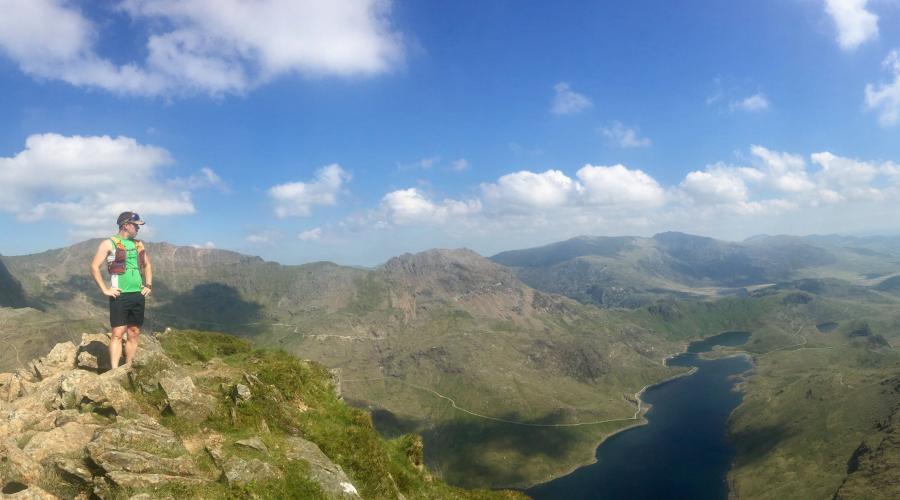 What to bring
Please make sure you have everything on the list below.
If you don't own some of these things, and can't arrange to borrow them from someone, please let us know by messaging Jonathan or Stuart. We'll try to find someone who can lend you what you need, or if that's not possible, we can help you to arrange to hire any of these things from Plas-y-Brenin mountain training centre which is nearby. Please contact us in advance to arrange this though, as it will be too late if you leave it until you arrive at the event.
Money: We'll need to get to the start of the walk on Saturday, The most likely option is to take 6 cars to the Nant Peris car park (£5/day) one mile up the road from the bunkhouse, from where we can get the shuttle bus to the start of the walk (£2 per person each way). The costs of this are not included in the event cost so please bring some change to pay for the bus and your share of the car parking.
Water: bring at least two litres in a bottle or any other container
Small Rucksack: big enough for your lunch, waterproofs, water and snacks
Boots:  you definitely need walking boots, trainers are just not good enough for this (and you won't be able to take part in the ascent in trainers)
Socks: warm thick socks will keep your feet dry and help prevent blisters, and ideally carry a spare, dry pair with you
Layered clothing: lets you quickly adapt to changes in the weather and body temperature. Go for a base layer (such as a vest or a t-shirt) and a mid layer (a fleece or  a shirt) and an outer layer (a windproof jacket or thick fleece)
Trousers: no jeans as they become heavy and cold in the rain, breathable fabrics are more comfortable and dry and on warm days shorts are OK
Waterproof jacket: essential for the ascent of Snowdon, the weather can change rapidly, breathable fabrics like GoreTex are more comfortable and dry.
Gloves: bring a pair, even if it looks sunny when we set off, it will be colder up high
Hat or cap: stay shaded if it's sunny, and useful also as it can be much colder at the summit than in the valley
Sunglasses: if it looks like we might get sunshine
Sun cream: again, if it's a scorching day
Snacks: bring biscuits, energy bars, gels, bananas, chocolate or dried fruit for example and put them somewhere easy to get hold of
Lunch: see suggestions under Food and Drink section
Medicines: if you have hay fever, diabetes, minor ailments
Food & drink
The event price includes:
- dinner on Friday night (this is provided instead of the more usual OutdoorLads buffet arrangement)
- breakfast on Saturday morning
- dinner on Saturday night
- breakfast on Sunday morning
- tea and coffee throughout the weekend
Please bring for yourself:
- packed lunch for the main walk on Saturday
- packed lunch for the additional walk on Sunday (if you are taking part in that)
- anything else you wish to eat or drink over the weekend
For packed lunches - a sandwich, crisps, chocolate, fruit, muesli bar etc is a good combo for a day in the mountains. Alternatively, you can find tasty products that don't need fridge space so instead of bringing a sandwich, try something like the John West, Jamie Oliver, Merchant Gourmet or supermarket own brand pouches with things like salmon, tuna, rice, couscous, and sauce all included. Just bring a fork to eat them.
If you've got a thermos type flask, then you can take coffee or tea up with you which can be reviving if it's a cold day.
Meeting & times
Aug 09 - pm
Location
53.1080957, -4.0971884000001