MTB Surrey Hills - new route!
4 people attending
4 places left
16 miles 5 hours
Join Alex on a new for ODL single track route in the Surrey Hills, covering some of the best single tracks in the South East of England. The full route covers some 25km with 675m of climbing and can be viewed here.
This route covers a variety of blue trails in and around the Hurtwood, including Yoghurt Pots, Squirrely, Barry Knows Best, Charlie Bronson, Lovely Legs, El Capitan, T0,1,2,3,4 (John the Baptist) before ending on Supernova and JWTSNDH ending back at the car park.
We will meet at the Peaslake Hurtwood Car Park 2 (Walking Bottom). If arriving by train, the 9:30 arrival into Gomshall from Guildford (where you can change from London Waterloo) will allow you to cycle to the car park for the 10am meet time.
This is a great day out and a chance to experience some awesome single tracks.  
We welcome competent riders that want to advance their single track skills. Each of the single track sections can be taken at your own pace and faster riders can bomb it down and for the more relaxed riders can cruise down the single tracks.  Where we come across more challenging sections, such as at the end of El Capitan, I will warn the group so that you can walk your bike past the trail feature if preferred.
If you are new to single tracks but want to give it a go, feel free to sign up; as long as you have good physical fitness you will be fine. I would recommend wearing knee pads if you have them.
Specialized mountain bikes can be hired from a local shop here for £75 all day (return by 4pm).
OutdoorLads Events Calendars
You can now go directly to our events calendar pages by bookmarking the follow links:
Looking for LGBTQ+ mountain biking groups in the UK? Read our full guide on gay mountain biking groups
IMPORTANT! - Participation Statement
You MUST complete the Cycling Participation Statement in addition to booking your event space before attending a cycling event.
Anyone with COVID-19 symptoms, even if they are extremely mild, or who has recently tested positive for Covid-19, is asked not to attend.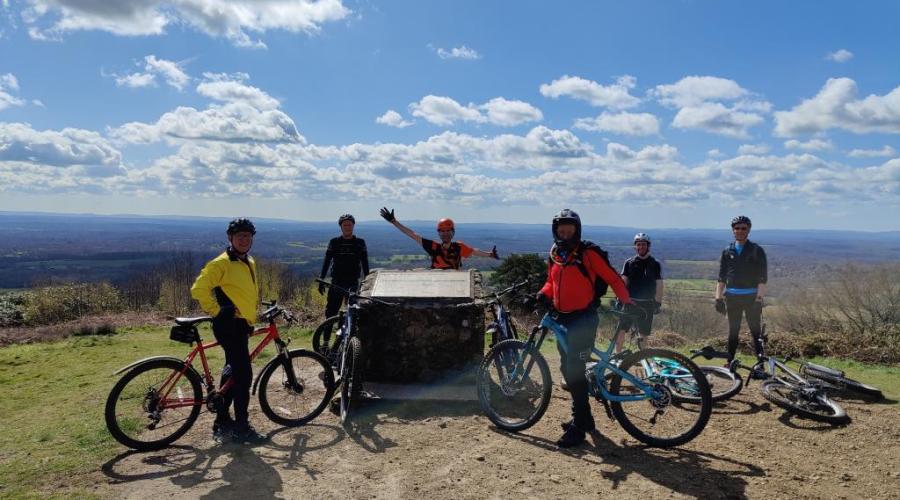 What to bring
You will need a Mountain Bike or Mountain Bike Hybrid plus a helmet and spare inner tube.
NON-ESSENTIAL
Elbow & Knee guards/protection
Sunscreen
A mountain bike with suspension is essential. Hard tail or Full Suspension are suitable. Hybrids or Road Bikes cannot be used on this event.
Appropriate clothing for the expected weather - synthetic or man-made materials are recommended as they dry quickly - avoid cottons/denim. Shoes should provide good grip of your pedals. Keep in mind that you'll be warm when cycling but you cool down quickly when you stop. 
Consider a change of clothes & shoes for afterwards as you may be muddy and wet.
Food & drink
Please bring a packed lunch or some snacks to keep you going and plenty of water. We do pass through the village of Peaslake a couple of times, so there are food options there, and I'll probably head to the pub for food afterwards.
Meeting & times
Jan 28 - am