15 people attending
0 places left
5 people waitlisted
Event booking closes on Aug 6 at 20:00:00
Distance is 23 km (14.5 miles); total ascent is 298 m; terrain is undulating with one gradual ascent and descent; surfaces are dirt, gravel, grass and tarmac.
Whether on the neolithic Dorset Cursus, the Roman Ackling Dyke or the modern A354, people have crossed this area where Hampshire, Dorset and Wiltshire meet for centuries. But they have also known the value of lingering in this lovely locale, whether for a lifetime in the timber-framed cottages and stone-built mansions that outnumber the modern houses, or for eternity in the burial mounds. Our crossing and lingering will last just six hours as we complete this enjoyable summer saunter (please see the route at the Ordnance Survey site by clicking on the link here).
The archaeology in this area is prodigious. Wor Barrow is a large neolithic (3500-2500 BCE) long barrow. Ackling Dyke is the Roman Road from Dorchester to Old Sarum and the most impressive and best-preserved stretch of Roman road in Southern Britain. The agger (embankment) is over 2 metres high in places and the width is over 15 metres. It crosses the Dorset Cursus (a neolithic processional path associated with ancestor-worship) near the route of the walk. There are almost a hundred barrows (bowl, bell and disc) dotted all around, dating from the neolithic to the bronze age (1500-800BCE). Bokerley Dyke (or Ditch) is a bronze age cultural boundary, cut through by the later Ackling Dyke.
Martin Down Nature Reserve is, according to the Hampshire County Council billing, '350 hectares of unspoiled chalk downland where flowers and insects flourish and rare birds sing. The insects are attracted to the ancient sweeping grasslands that have dozens of different species of wildflower. Birdsong comes from cuckoos, yellowhammers, skylarks and even turtle doves. Although the landscape is not dramatic – a gentle rising vista of open meadows, scrub and ancient hedges - it feels ancient. The great Bokerly Ditch runs along one side while mysterious mounds and dells hint that this was once a populated area in forgotten ages. Now sheep have the run of it.'
The settlements include the village of Sixpenny Handley, known as just Handley until the mid-19th century, a pretty place with a mostly Victorian church (St Mary, 1877) and some handsome houses despite a fire which ravaged the place in 1892. Pentridge is a smaller village, just a scatter of houses along a lane but with a church. Prettiest of all is Martin itself, a mellow assemblage of whitewashed cottages with a Norman and 13th-century church. It was the location for the shooting of the Doctor Who story The Awakening in 1984. 
Dogs are welcome to join us on this event but we do ask the following: Please ensure you adhere to the Countryside Code at all times - see (Keeping Dogs Under Effective Control) If your dog is uncontrolled and strays in open land frightening other animals or livestock, the leader is supported by the OutdoorLads board of trustees to ask you to leave the event as this is not acceptable behaviour.
IMPORTANT! - Participation Statement
You MUST complete a Participation Statement, here, in addition to booking your event space before attending an OutdoorLads event. You only need to complete this Participation Statement once, not for each event you attend. 
COVID-19 – IMPORTANT, Please read the following before you sign up to this event:
Anyone with COVID-19 symptoms, even if they are extremely mild, or who lives or is in a support bubble with someone showing symptoms, is asked not to attend. This is in line with the government's coronavirus advice.
All are required to practice social distancing – staying 2m (not 1m) apart at all times, including the lunch stop.
Unfortunately, there won't be any planned pub / café stops en route or at the end, and please don't share sweets or snacks with others – we're sorry!
Please bring your own hand sanitising gel for your own use throughout the day. Use of face coverings is at your own choice, but please bring one with you just in case it's needed. 
Each person can only attend one OutdoorLads micro event a week. (Leaders to leave at least three days between events they lead.)
On walks, one person to hold open gates and allow everyone to walk through – so minimising surfaces that multiple people touch. 
Be aware that opportunities for toilet stops may be minimal if facilities are closed.
Please, please cancel at your earliest opportunity if you are unable to attend or are unwell, so that we can allow others to take up these valuable event spaces.
Much as it's difficult - no handshakes or hugs!
Participation Statement
OutdoorLads draws your attention to the fact that travelling and being away from home increases the risk of receiving and transmitting Coronavirus, whilst it is present in the UK. You are likely to choose not to participate in OutdoorLads events whilst there is a risk of Coronavirus transmission. However, should you choose to participate in OutdoorLads events whilst the risk is present, you must be aware of and follow the law and government guidelines, both when travelling to and from events as well as when participating in events.
Please note that every person participating should be aware of (and accept) that those members perceived as 'in charge' or leading the event are not experts,  do not need to be experts, and are not regarded by OutdoorLads, or themselves as experts, but are amateurs with some experience in the event type and who are happy to impart their knowledge.  Any advice given should be considered with this in mind by the recipient.
By signing up to and attending an OutdoorLads micro event, you are confirming that you have read, understood and accept the content of this statement.
(Picture credits: Martin Down Rifle Ranges: Photo © Mike Faherty (cc-by-sa/2.0); Path on Martin Down: Photo © David Martin (cc-by-sa/2.0); Memorial on the green at Martin: Photo © David Martin (cc-by-sa/2.0) Farmland view above Church Bottom; Photo © David Martin (cc-by-sa/2.0); Fox Covert: Photo © Colin Smith (cc-by-sa/2.0); Garston Wood information Photo © Nigel Freeman (cc-by-sa/2.0); Sixpenny Handley, village store: Photo © Mike Faherty (cc-by-sa/2.0); Track on Martin Down: Photo © David Martin (cc-by-sa/2.0); Bokerley Ditch: Photo © Maigheach-gheal (cc-by-sa/2.0). All pictures are copyrighted but are licensed for reuse under Creative Commons CC-BY-SA 2.0 and are here attributed to their copyright holders.)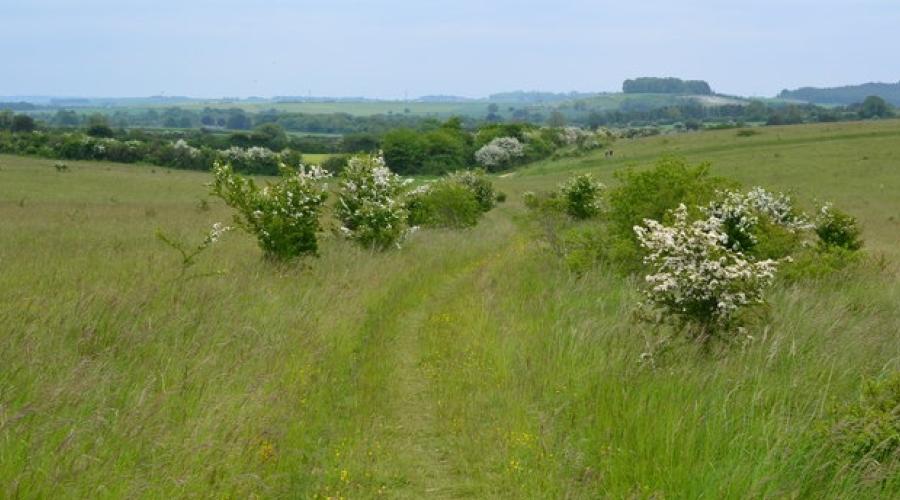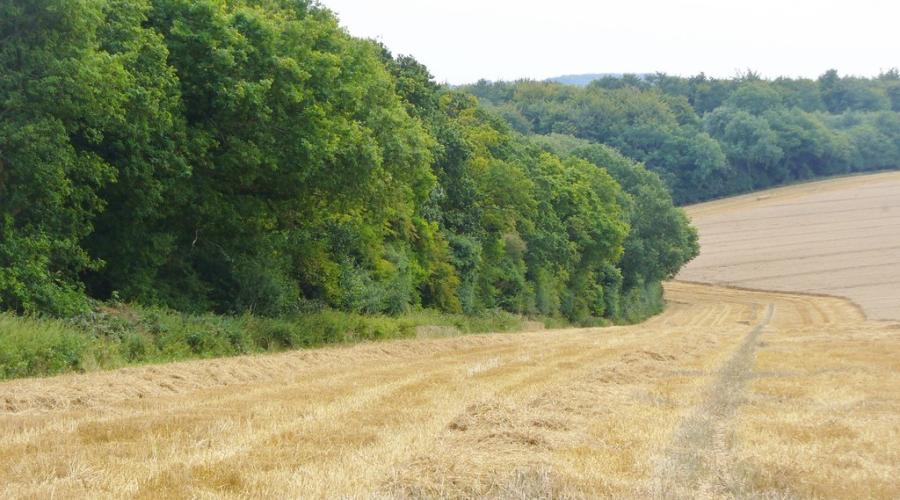 What to bring
Hand sanitiser and a face covering: whilst we are living with Covid-19, please bring your own to events to help keep everyone safe
Water: bring at least two litres
Medicines: if you have hay fever, diabetes, minor ailments etc.
Day rucksack: typically 20-30 litres, they are comfortable to wear and allow you to use your arms freely
Boots:  waterproof and breathable and designed for hiking, trainers are OK if the ground is dry and there's little chance of rain
Gaiters: recommended for wet weather or boggy conditions
Socks: proper walking socks will keep your feet dry and help prevent blisters
Layered clothing: lets you quickly adapt to changes in the weather and body temperature. Go for a base layer (vest or t-shirt) and a mid layer (a micro fleece or shirt) and in cooler weather add an outer layer (a windproof jacket or thick fleece)
Trousers: ideally no jeans as they become heavy and cold in the rain, breathable fabrics are more comfortable and dry and on warm days shorts are OK
Waterproof jacket: essential when hiking in all but the calmest of weather, breathable fabrics are more comfortable and dry
Gloves: Windproof, or better still, waterproof gloves are the best choice, bring a spare pair if expecting rain
Hat or cap: stay warm in winter and shaded in summer
Sunglasses: for any sunny day, even in winter
Sun cream: can be useful even on cloudy and winter days
Snacks: bring biscuits, energy bars, gels, bananas, chocolate or dried fruit for example and put them somewhere easy to get hold of
Lunch: bring a packed lunch
Food & drink
Please bring a packed lunch and plenty to drink with you as there is nowhere to get lunch on the walk although a pub stop and a village shop visit may be in the offing. Bring enough to drink (2 litres minimum is recommended) if the weather is hot. 
Meeting & times
Aug 07 - am
Location
50.971805485173, -1.9193887710571