Manchester Bouldering - All Abilities welcome! (23.10.19)
11 people attending
9 places left
Suitable for all abilities, Including beginners!
Bouldering is a form of climbing where instead of long high routes, the 'problems' as they are referred to tend to be shorter and focus on technique, balance, body positioning and sometimes power. Because of this different emphasis, bouldering doesn't have the hassle of climbing with ropes, harnesses and belaying, which makes the activities excellent for newcomers to the sport. For this reason, it is often regarded as the 'purest' form of climbing.
If you're a seasoned climber you won't need convincing about the benefits of bouldering, but for those who've never climbed more than a staircase, the benefits are wide ranging: from the physical - improved strength, tone, balance, power and coordination; mental - problem solving, focus, concentration and body awareness; to the emotional - relaxation, a sense of achievement and a feeling that mind and body are working together perfectly ('feeling psyched'). On top of all this, bouldering tends to be a very social sport where you can hang out with mates and each have a go as you feel regardless of what level you climb at.This event is for members of all levels of experience and all are welcome to come along to any of the sessions.If you have not been to the centre before and can climb unsupervised you can save time when you arrive at the centre by registering online. Go to www.rockoverclimbing.co.uk/adults and use the 'register online' link to begin the process.To come along, you will need to register via the event page, and to climb you will need to pay an entry fee directly to the centre when you arrive. We have negotiated a group discount for our regular bouldering sessions on wednesday evenings: Let the staff at the centre know you are with outdoorlads and you can get entry for the discounted price of £5 (provided you are a member of rockover bouldering wall).
 
DO I NEED A GUIDED SESSION?
If you have been to a bouldering or climbing centre before then you will not need a guided session. If you have never tried bouldering before it is recommended that you have a guided session from the event leader, who will go through everything you will need to know to boulder safely.
 
PARTICIPATION STATEMENT
Please note that every person participating should be aware of (and accept) that those members perceived as 'in charge' or leading the event are not necessarily qualified, do not need to be qualified, and are not regarded by OutdoorLads, or themselves as 'technical experts' but are amateur climbers with some experience and who are happy to impart their knowledge. Any advice given should be considered with this in mind by the recipient. All those attending the event must also be aware of the centre's own terms and conditions of participation and abide by them, along with any instructions given by the centres staff. Everyone must also take responsibility for their own safety while participating in Indoor climbing events.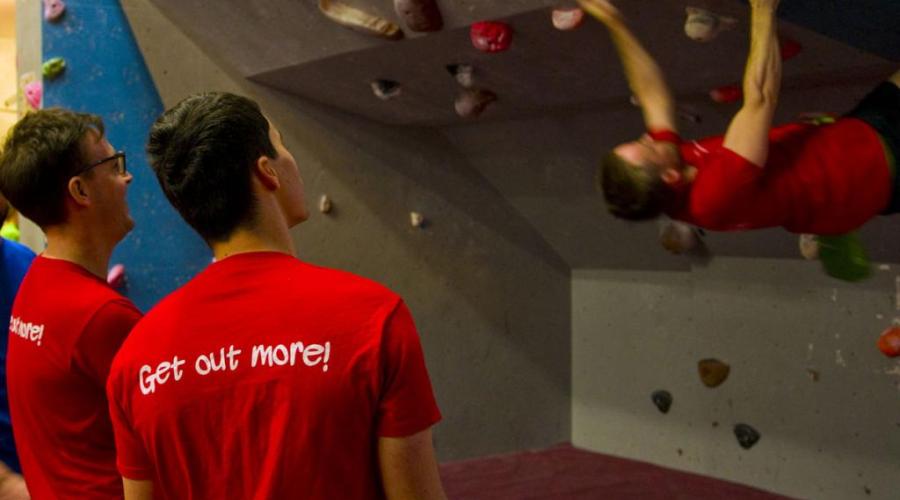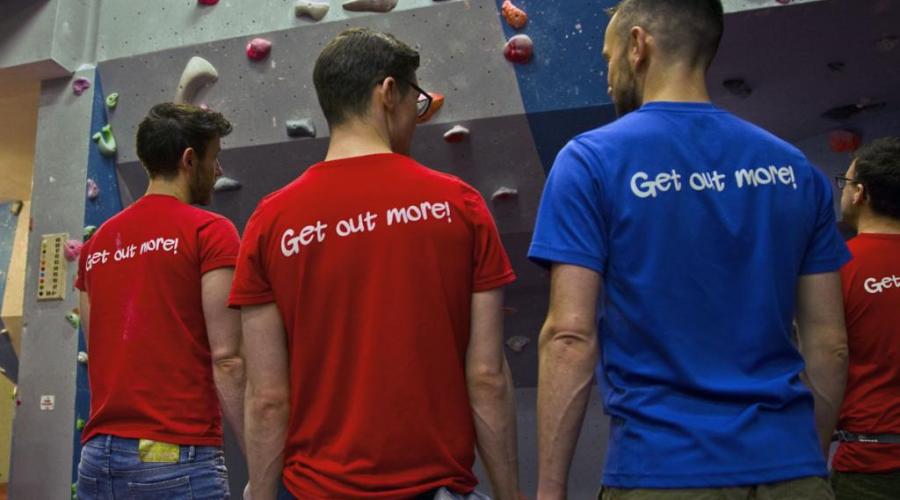 What to bring
You don't need much equipment for bouldering at all, which is another part of its appeal. The only specialist kit you will need are (rock) climbing shoes which can be hired from the centre if you haven't got your own. kit hire prices can be found at: www.rockoverclimbing.co.uk/about/opening-times.

A Padlock will also be required to secure any belongings in the on-site lockers (Padlocks can also be bought/hired at the centre).

What to wear

It is best to wear either shorts, combats or tracksuit bottoms. No jeans or any form of trouser which hampers movement. A t-shirt or vest is also suitable. If you have any OutdoorLads branded clothing then please try and wear this as it will give the group a good level of visibility. Any jewellery such as rings, watches, chains or bangles should be removed before beginning the session to prevent injury.
Food & drink
There is a cafe area at the centre where hot and cold drinks along with snacks can be purchased. Bottled drinks can also be purchased here.
Meeting & times
Oct 23 - pm