London Indoor Climbing Evening - beginners
1 people attending
2 places left
With a range of easier climbing routes ideal for beginners, you can decide how far to push yourself. You will also be taught basic climbing rope skills to keep another climber safe.
Want to learn the ropes and give indoor climbing a go? Then why not join OutdoorLads for this beginners climbing session, where you will be taken through all you need to know for your climber's journey, as well as having a fun, sociable evening with our other members on the experienced session.
Indoor climbing centres offer the challenges of climbing that you'll find on natural outdoor structures - simply indoors! It's a fun way to stay fit, you'll quickly begin to develop arm, back, finger and core strength as a result of the many reaches and holds that are repeated through to the completion of a climb. It's a great upper-body workout!
What will happen in this guided session?
Apart from having lots of time to climb walls under supervision, in the guided sessions the event leader will teach you all you need to know to get started, from putting on a climbing harness correctly, tying yourself to a rope and basic climbing techniques. On top of this, you will be taught how to belay another climber and lower them back off the wall safely. The leader can teach two people, so the session can be completely tailored to your skill level and ability.
Do I need a guided session?
If you can answer Yes to the following three questions:
1. Can you tie the correct knots (double figure of 8 and stopper knot)?
2. Can you fit a harness correctly?
3. Can you belay correctly and confidently?
Then you do not need a guided session and can sign up to any of the Experienced climbers/all ability events. Please check the event listing pages for details of the next event, or use the link: http://odl.to/climbing.
If you answer No to any of the questions, then don't worry and please don't be put off. All this means is you will need to be signed in to the centre by the event leader who will then provide you with an evening's tuition on the above techniques, which will be at a ratio of 2 novices to 1 leader.
How many guided sessions will I need?
Everybody's climbing experience is different, but typically after two guided/beginner sessions the event leader(s) will let you know whether you are able to enter the centre unsupervised.
In order to help you progress your climbing, it is recommended that you ideally book two consecutive sessions.
Once you are able to sign yourself into the centre as an unsupervised climber, you'll be able to sign up to any of the 'experienced climbers' events listed on the website. Please check the event listing pages for the next available 'experienced'  or 'all abilities' event.
Don't worry if you do not progress at the same time as others, everybody's journey to becoming a climber is different and our leaders make sure your own journey is set at the best pace for you.
Participation Statement
Please note that every person participating should be aware of (and accept) that those members perceived as 'in charge' or leading the event are not necessarily qualified, do not need to be qualified, and are not regarded by OutdoorLads, or themselves as 'technical experts' but are amateur climbers with some experience and who are happy to impart their knowledge. Any advice given should be considered with this in mind by the recipient.
All those attending the event must also be aware of the centre's own terms and conditions of participation and abide by them, along with any instructions given by the centre's staff. Everyone must also take responsibility for their own safety while participating in Indoor climbing events.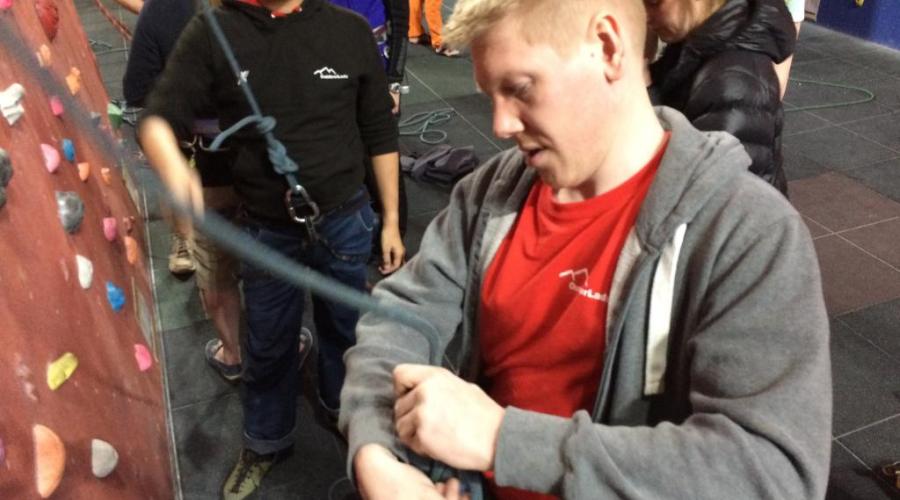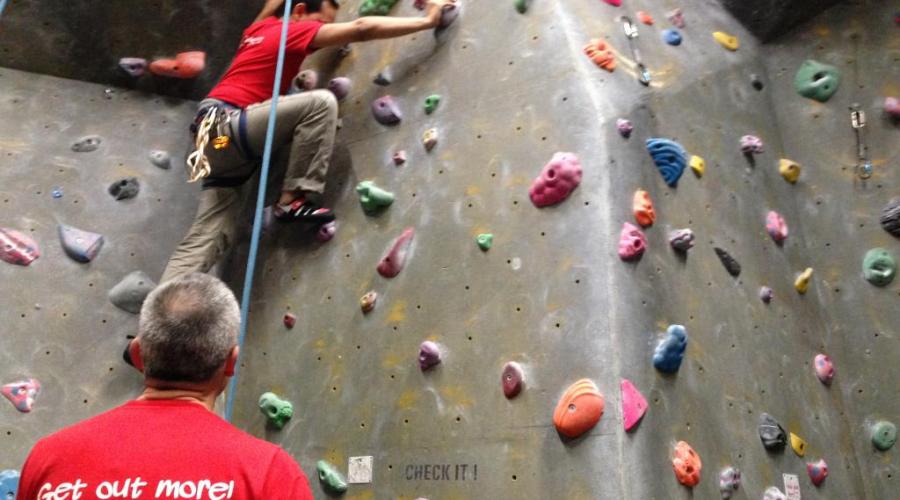 What to bring
If you have your own climbing gear i.e. harness, shoes, chalk-bag, Belay plate and screw-gate karabiner, climbing rope, you can bring this along, but please make sure it is in good condition.
If you don't have any of the above, don't worry - you can hire everything you need from the climbing centre on the night. The leader will take you through the equipment you need and how to use it correctly.
What to Wear
It is best to wear either shorts, combats or tracksuit bottoms with a t-shirt or vest. No jeans or any form of trouser which hampers movement. If you have any OutdoorLads branded clothing then please try and wear this as it will give the group a good level of visibility.
Any jewellery such as rings, watches, chains or bangles should be removed before beginning the session to prevent injury.
Food & drink
Halfway through the event we'll have a break in the cafe, which sells hot and cold drinks along with food and snacks. Water to refill your bottles is available for free from filtered water dispensers dotted around the centre. After we finish climbing we usually have a short social session at a nearby pub.
Meeting & times
Jul 17 - pm