Lakes Activity Week: Jack's Rake and the Langdale Pikes
11 people attending
1 place left
Grade 1 Scramble
Day walk linked with the Lake District Activity Week including a Grade 1 scramble from Stickle Ghyll National Trust Car Park. The route ascends Jack's Rake, one of the most well known scrambles in the Lake District, shortly after passing the beautiful Stickle Tarn. This will involve a combination of walking and some steep sections involving hands to ascend, so will need some confidence with heights and climbing too. We will then take in the summits of Pavey Ark (702m) and Pike o' Stickle (709m) and Harrison Stickle (736m) before descending back to the campsite/pub...
Please note: due to the nature of this activity, a good level of fitness and climbing ability is recommended if participating on this event. Please get in touch if you're unsure at all :)
IMPORTANT! - Participation Statement
You MUST complete a Participation Statement, in addition to booking your event space before attending an OutdoorLads event. You only need to complete this Participation Statement once, not for each event you attend. 
Anyone with COVID-19 symptoms, even if they are extremely mild, or who has recently tested positive for Covid-19, is asked not to attend.
As a BMC Affiliate member, Outdoorlads draws your attention to the fact that climbing/abseiling is an activity with a danger of personal injury or death. You should be aware of and accept these risks and be responsible for your own actions and involvement.
Please note that every person participating should be aware of (and accept) that those members perceived as 'in charge' or leading the event are not necessarily qualified, do not need to be qualified, and are not regarded by OutdoorLads, or themselves as 'technical experts' but are amateur climbers with some experience and who are happy to impart their knowledge.  Any advice given should be considered with this in mind by the recipient.
Image 1 (and cover): "Stickle Pike" by clooty dumpling is licensed under CC BY-NC-SA 2.0.
Image 2: Simon Percy (2022).
Image 3: "Day 2490: Pavey Ark via Jack's Rake" by Manic Street Preacher (no licence needed - reuse permitted)
Image 4: "Jack's Rake (5)" by Richard Sunderland is licensed under CC BY-NC-ND 2.0.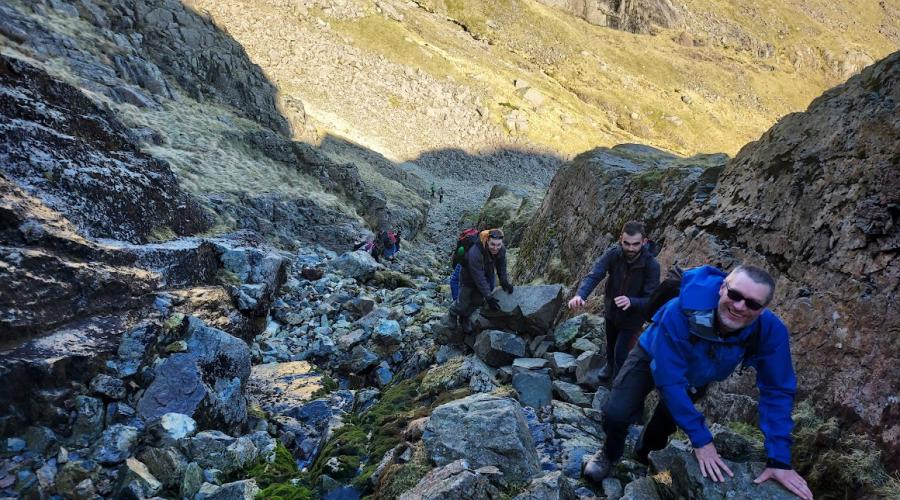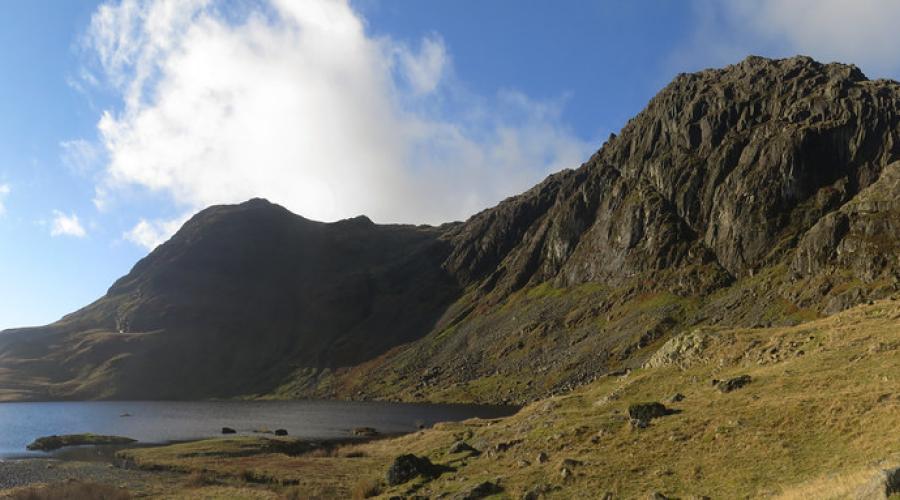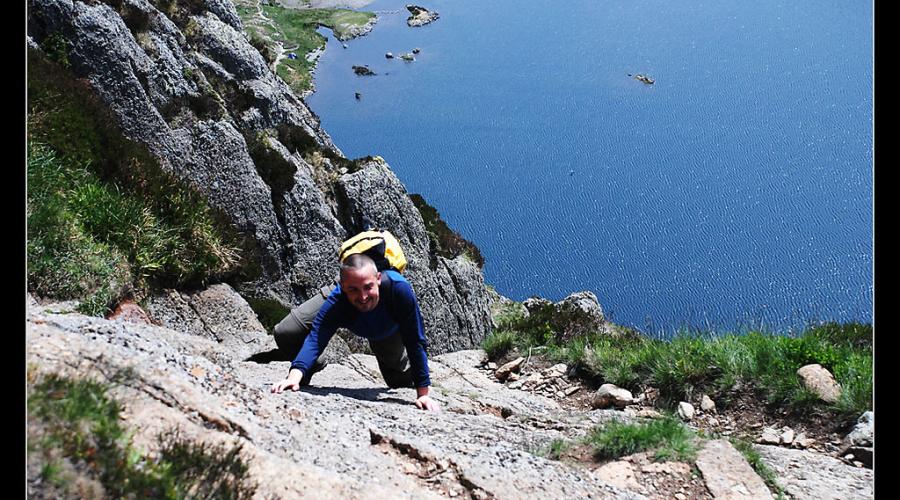 What to bring
Please make sure you have the following for the walk:
Rucksack: Or any other bag...
Footwear:  Hiking boots are a must for this walk. Make sure you also have long socks to avoid blisters.
Waterproof jacket and trousers: Breathable fabrics are more comfortable and dry
Hand sanitiser and a face covering: Whilst we are living with Covid-19, please bring your own to events to help keep everyone safe
Medicines: If you have hay fever, diabetes, minor ailments etc.
Layered clothing: Lets you quickly adapt to changes in the weather and body temperature. Go for a base layer (vest or t-shirt) and a mid layer (a micro fleece or shirt) and in cooler weather add an outer layer (a windproof jacket or thick fleece)
Trousers: Ideally not jeans which become heavy and cold in the rain, breathable fabrics are more comfortable and dry.
Hat and Gloves: Having a spare pair of gloves in case of rain is also a good idea.
Sunglasses and suncream: You may be surprised...!
Other personal equipment you may use (walking poles, whistle, jelly babies...) and remember your bright and happy selves!
Maps can be provided, but feel free to bring your own. If you'd fancy doing some navigation then a compass may also be useful. You may also want to have a spare change of clothes on return to the car park. I will have all the group safety equipment such as First Aid, Emergency Shelter, etc. Please let me know of any medical needs I should be aware of to keep you healthy and safe.
You may be advised not to walk if you have equipment that would compromise the safety of yourself or the group (i.e. inappropriate footware/waterproofs). Please ask if you have any questions or need advise on equipment.
Food & drink
Lunch: Bring a packed lunch to eat on the hill. I'd advise having high energy goodness aswell such as biscuits, energy bars, gels, bananas, chocolate or dried fruit. Jelly Babies are a definite energy booster! There is also a watering hole for food and drink following the end of the walk in the form of a pub...
Water: Bring at least a litre. A flask may also be a great idea too if you have one. It may get chilly on the tops.
Meeting & times
Jul 07 - am