Indoor Climbing - Stockport
5 people attending
5 places left
Suitable for all abilities and beginners are welcome!
Come and join OutdoorLads at one of the best Climbing Centres in the North West
Located within the old engine house of Pear mill in Lower Bredbury, on the edge of Stockport, the Awesome Walls climbing centre has over 100 lines of climbing available as well as an extensive bouldering area, with grades for all abilities any climber will enjoy the routes here. It is also a great place to start climbing, so if you want to take the step into the world of climbing this is the place to try it.
To come along, you will need to register via this event page and to climb you will need to pay an entry fee directly to the climbing centre when you arrive, please see their website for their price (OutdoorLads members qualify for the concessionary rate). It is important that all members sign up through the event page to make sure the event leader has all information of the members attending.
I've never climbed before, can I come along?
If you've never climbed before, just let us know so we can arrange for you to be signed into the climbing centre as a supervised climber so that you can come and give it a try. If you enjoy your climbing experience, and would like to come climbing more regularly, we will also happily show you the ropes and teach you everything you need to know to climb safely.
Do I need to be Supervised as a Climber?
If you're unsure whether you need to be signed in as a supervised climber or not, if you answer NO to any of the following three questions, then you will need to arrange to be supervised. If you can answer YES to all these questions, you can sign up to this event as normal:
1. Can you fit a climbing harness correctly?
2. Can you tie yourself to the end of a rope using the correct knots?
3. Can you belay another climber correctly and confidently?
If you need to arrange a supervised session, please message the event leader before you sign up to this event to check availability for this session. Please note that the climbing centre limits the number of novice climbers we can supervise, so if you do not do this unfortunately we can't guarantee that we can sign you in to take part on the day (you can still sign yourself in to go bouldering though).
What other Climbing events do OutdoorLads Run? We run regular indoor climbing and bouldering events across the North West - Click here to see all the current events. We also have a private Facebook Group where we post about new events as well as social and other climbing stuff too, feel free to sign up to it! 
Participation Statement
Please note that every person participating should be aware of (and accept) that those members perceived as 'in charge' or leading the event are not necessarily qualified, do not need to be qualified, and are not regarded by OutdoorLads, or themselves as 'technical experts' but are amateur climbers with some experience and who are happy to impart their knowledge. Any advice given should be considered with this in mind by the recipient. All those attending the event must also be aware of the centre's own terms and conditions of participation and abide by them, along with any instructions given by the centres staff. Everyone must also take responsibility for their own safety while participating in Indoor climbing events.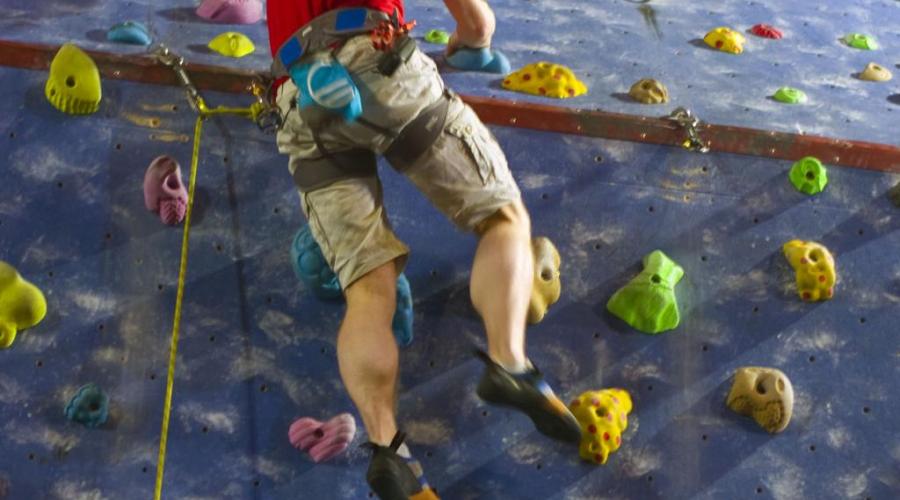 What to bring
If you have your own climbing gear i.e. harness, shoes, chalk-bag, Belay plate and screw-gate karabiner, climbing rope, you can bring this along, but please make sure it is in good condition. As a minimum you will need the use of a climbing harness and a belay device (belay plate and a screw-gate karabiner, or a gri-gri if you have one). If you do not have your own, you will be able to hire what you need directly from the centre. There is a changing area at the Climbing Centre and lockers are available, although you will need to provide your own padlock to secure it.
What to Wear
It is best to wear either shorts, combats or tracksuit bottoms. No jeans or any form of trouser which hampers movement. A t-shirt or vest is also suitable. If you have any OutdoorLads branded clothing then please try and wear this as it will give the group a good level of visibility. Any jewellery such as rings, watches, chains or bangles should be removed before beginning the session to prevent injury.
Food & drink
The Climbing centre sells a selection of snacks, cakes, hot & cold drinks and we usually have a short break half way through the evening. 
Meeting & times
Mar 05 - pm
Location
53.414059531171, -2.1328282356262