7 people attending
8 places left
14 miles6 hours
A 14 mile circular route starting and finishing in Hebden Bridge.  From our start point at the White Lion Hotel we will leave Hebden Bridge behind and ride north.  After a fairly tough, but short climb, initially on a minor road, we'll gently head up to Hardcastle Crags skirting Hebden Dale.  From there we'll continue on an easy track crossing Hebden Water via the picturesque arched bridge close to Walshaw Dean .  We'll then continue our journey steadily and gently up to Gorple Lower Reservoir which marks the halfway point of our ride.  A lovely scenic location and an ideal point to stop for our lunch.  After the reservoir, an uphill straight takes us over Heptonstall Moor.  Next after a short flat section the route climbs steeply from Jack Bridge to the top of Blackshaw Head.  All the day's hard work culminates in a rewarding steep, and all too short, technical descent to Callis Bridge.   The last leg of our journey is a gentle warm down ride along the Rochdale Canal which will take us back to Hebden Bridge for some well-deserved refreshment for those wishing to participate.    I guarantee the memories will last longer than the tired legs.  Bring your camera to capture some of the best scenery in the South Pennines.
Want to make a weekend of it ? then clink on the links for further details:- 
Looking for LGBTQ+ mountain biking groups in the UK? Read our full guide on gay mountain biking groups
OutdoorLads Events Calendars
You can now go directly to our events calendar pages by bookmarking the follow links:
Participation Statement
You MUST complete the Participation Statement at https://outdoorlads.events/CyclingParticipation in addition to booking your event space before attending a cycling event.
Photos: Taken by event leaders and used by OutdoorLads with permission. 
Anyone with COVID-19 symptoms, even if they are extremely mild, or who has recently tested positive for Covid-19, is asked not to attend.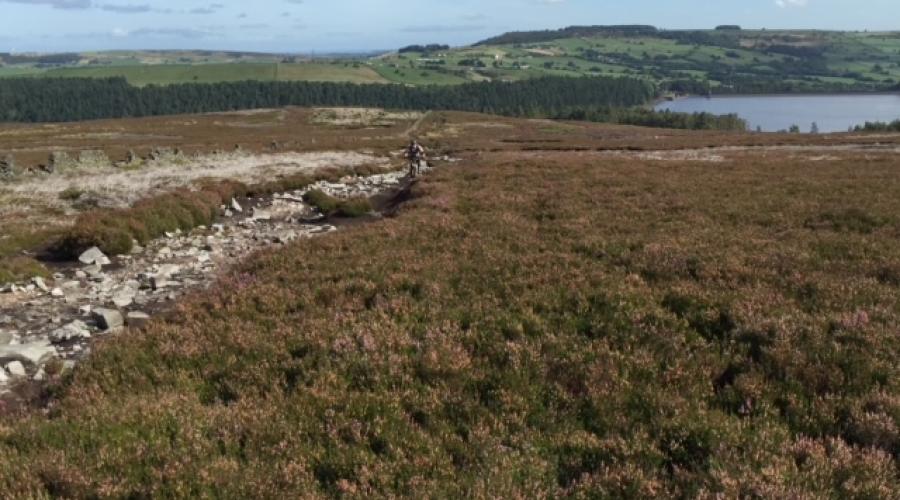 What to bring
Your bike: This ride is off road and takes in some rocky/ steep descents. Because of this your bike needs to have front suspension, knobbly tyres and working (preferably disc) brakes
Eye protection - impact from a bee, grit or even a fly at speed is extremely unpleasant, sunglasses may do if not made of glass.
Clothing: choose suitable clothes and footwear for the weather forecast and time of year. You will be exercising so lightweight layered clothing is best. Shorts are best even in rain, as they allow free movement of your legs. Jeans are useless if it rains but tracksuit bottoms need to be not too baggy or they may snag in the chain and cause an accident. You'll need trainers or similar with grippy soles for standard pedals.
Cyclist's Helmet - Outdoorlads policy asks you to wear a helmet on this event.
Bag you will need a small day-sack to carry essential clothing, water and an emergency
Puncture repair kit (or better still a spare inner tube) and tyre levers. Also any special tools that your bike needs.
If it's sunny remember sun cream.
Food & drink
Please bring a packed lunch – there is no chance to buy food en route.  After the ride there are many Cafes/Bars in which we can reflect on the day's activity for those wanting some refreshment. 
Meeting & times
Sep 24 - am