74 people attending
0 places left
10 people waitlisted
Event booking closes on Oct 25 at 12:00:00
The weekend itself is as easy as can be. Separate events will be graded accordingly.
We've been spooked out of our usual haunt, Borwick Hall. This year, we're in Ironbridge for Halloween!
Our venue in Ironbridge is the perfect venue for getting back in to the Halloween spirit. We'll be in a Grade II listed former Literary and Scientific Institute surrounded by industrial archaeology, as well as tea rooms and pubs. It's a venue we love and have used many times, and we're sure you'll love it too!
The area we'll be staying in, Coalbrookdale, had become the foremost industrial area in the world by 1785. It was particularly celebrated for its first iron things: the first iron bridge, the first iron boat, and the first iron rails on top of which they put the first steam locomotive (probably also iron).
The area is great for getting out and about, and for anyone who likes a bit of culture, the area boasts several excellent museums showcasing industrial heritage to explore. 
Food
The cost of the hostel includes breakfasts on Saturday and Sunday, and Saturday's evening meal. On Friday evening, we ask everybody to bring enough food for 1-2 people, and we'll have ourselves a traditional OutdoorLads buffet. For more info, see 'food and drink' below.
Evening Entertainment
Halloween 2022 might not technically be a BIG event, but as you've waited so long we think you deserve some of the luxuries of a BIG Event. Danny and Andy will bring the pop-up bar, and DJ Dan will bring his disco balls! Fancy dress is optional, but we know our members love the chance to get dressed up for Halloween! No specific theme this year, just Halloween, however you wish to interpret it!
Events
Watch this space for events taking place over the weekend. There are so many walking and cycling options in this area, so expect to be spoilt for choice!
Venue Information
There is limited (if any) phone reception in Coalbrookdale.
IMPORTANT! - Participation Statement
You MUST complete a Participation Statement in addition to booking your event space before attending an OutdoorLads event. You only need to complete this Participation Statement once, not for each event you attend.
Anyone with COVID-19 symptoms, even if they are extremely mild, or who has recently tested positive for Covid-19, is asked not to attend.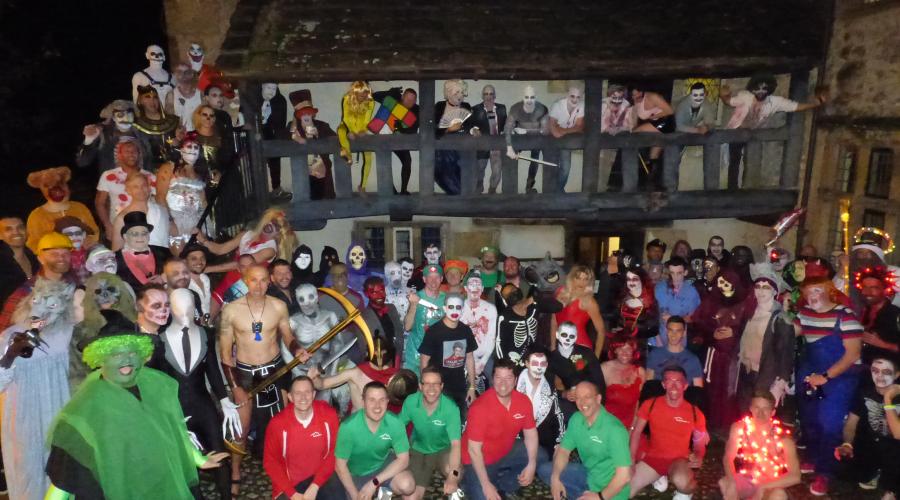 What to bring
In addition to the kit lists relevant to any activities you may be doing, please bring:
Towel and wash kit
Clothes for wearing about the venue - OutdoorLads branded t shirts and other apparel are most welcome
Fancy Dress costume - if partaking in a bit of dressing up. Entirely optional of course.
All bedding is provided, but feel free to bring an additional pillow.
Food & drink
The OutdoorLads Bar will be on site for service all weekend, serving a range of draught lager, cider and hand pulled local ale. Further stock items include an extensive gin menu, other spirits, plus wines, prosecco, non-alcoholic options and soft drinks. All served chilled and with a smile - what more could you want!
Please pay with card or contactless at the bar.
Food
The cost of the hostel includes breakfasts and Saturday's evening meal.
Friday - The OutdoorLads Buffet! Please bring an item enough to feed one person only to reduce food waste. It can be a starter, main, side or dessert. If it's homemade and/or not beige, it'll be a winner!
Saturday Breakfast - Breakfast will be available from 7.30am and this will be a selection of cereals, toasts and jams.
Packed Lunches will be available at additional cost if you want to save yourself the hassle. 
Saturday Dinner - A two-course meal will be served from 7pm in this dining hall.
Sunday Breakfast - Breakfast will be available from 7.30am and this will be a selection of cereals, toasts and jams.
Meeting & times
Oct 28 - pm