Gran Canaria Adventure Week
Other Events Outside the UK
43 people attending
57 places left
You can make this week as easy or difficult as you like - you are in control of the activities you book.
Think you know Gran Canaria? Think again!
Let your next (or first!) visit to Gran Canaria be one filled with outdoor adventures. While the island is known as a year-round party destination for LGBTQ+ visitors, this trip is an opportunity to experience something different: take part in outdoor activities; experience the beauty of the "real" Gran Canaria; and meet friends from around the world.
We are partnering with CanCanaria to bring you a full week of fun and adventurous activities. CanCanaria is a gay-owned and run company based on Gran Canaria, using their extensive local knowledge and the island's magnificent natural beauty to create a programme of excursions and trips that'll leave you with unforgettable memories and stories to tell. At the helm is former OutdoorLads' Chairman Patrick, so you know you will be in good and welcoming hands. Patrick and his team use trusted local guides and instructors who are LGBTQ+ friendly and who hold appropriate insurance and qualifications where necessary.
The CanCanaria Adventure Week is a new festival dedicated to outdoor activities, combining adventures with a holiday in the sun. Expect Hiking, Climbing, Sailing, Surfing and Scuba Diving alongside socials, restaurants, bars, a pool party and a boat trip.
How do I sign up?
Sign up to this OutdoorLads event in the usual way. This doesn't get you a place on the CanCanaria event, but it will enable us to see how many of our members are attending, make arrangements together and share details and information easily in the run up to the trip.
Sign up to the CanCanaria Activity Week on their website by following this link. This step is free and simply gets you a place on the overall event. It will also enable CanCanaria to contact you with details of the activities as they become available.
Sign up to whatever combination of activities and parties you fancy via the various pages on the CanCanaria website, and pay the individual fees for each activity. Select "Adventure Week 23" at the top of the page to filter the activities to show those which are part of this event. Not all activities have a page yet, so keep checking back. As each page is added we will aim to keep the links updated below to help you find them more easily. Some pages are currently for a general activity "type" (e.g. Hiking)* and pages for individual trips will be available once numbers are known.
Activities
Monday 22nd January
09:00 Rainforest Tour
09:30 Scuba Diving
09:30 Surfing
09:00 Red Canyon Tour
18:00 Welcome Party 
21:00 Social – Wunderbar
Tuesday 23rd January
08:30 VW Beetle Convertible Island Tour
09:00 Via Ferrata 
09:30 Scuba Diving
09:30 Surfing
09:00 Hiking – Ageate 
10:30 The Volcano Heart Tour
12:00 Sea Kayaking
21:00 Social – Vibe Bar
Wednesday 24th January
08:30 Mountain Buggy Tour
09:00 Canyoning 
09:30 Scuba Diving
09:30 Surfing
10:00 VIP Yacht
10:00 Hiking- Volcanic Centre of the Island
21:00 Social – Bar Junior
Thursday 25th January
08:00 Hiking – Gui Gui
09:00 The Rainforest Tour
09:30 Scuba Diving
09:30 Surfing
13:00 Naked Boat – Partner Event
21:00 Social – Mardi Gras
Friday 26th January
09:00 Canyoning 
09:00 The Red Canyon Tour
09:30 Scuba Diving
09:30 Surfing
10:00 VIP Yacht
11:30 Hiking The South Coast
20:00 Sunset BBQ
Saturday 27th January
09:00 Via Ferrata 
13:00 Vineyard Adventure
21:00 Social – Barack Café
Sunday 28th January
12:00 Closing Pool Party
It is entirely up to you whether you come to Gran Canaria for some or all of the week, or indeed whether you arrive earlier or leave later to make it part of a longer trip.
Accommodation
Gran Canaria has accommodation to suit a variety of budgets, from basic self-catering apartments, to full service hotels and villas.
CanCanaria has partnered with some hotels, including Villas Blancas (please use booking code VBACTIVE on their website) and Axel Beach. As further information about accommodation partners becomes available we will add it here.
You are welcome to message the event leader or Patrick at CanCanaria for accommodation ideas, and to use the event page comments to arrange sharing. In due course we will also set up an OutdoorLads Whatsapp group too.
Flights & Transfers
Gran Canaria is easily accessible from various UK airports, with a flight time of around 4 hours. The transfer from the airport to Playa del Ingles is straight forward, either by public bus, taxi or pre-arranged holiday transfer service. 
Please note: This is not an OutdoorLads event and is arranged by an external organisation, CanCanaria. The OutdoorLads refund policy does not apply and your contact is with Cancanaria. No insurance is provided by OutdoorLads. This is simply an event page to enable members to co-ordinate their holiday and activities together. 
IMPORTANT! - Participation Statement
You MUST complete a Participation Statement, in addition to booking your event space before attending an OutdoorLads event. You only need to complete this Participation Statement once, not for each event you attend. 
Anyone with COVID-19 symptoms, even if they are extremely mild, or who has recently tested positive for Covid-19, is asked not to attend.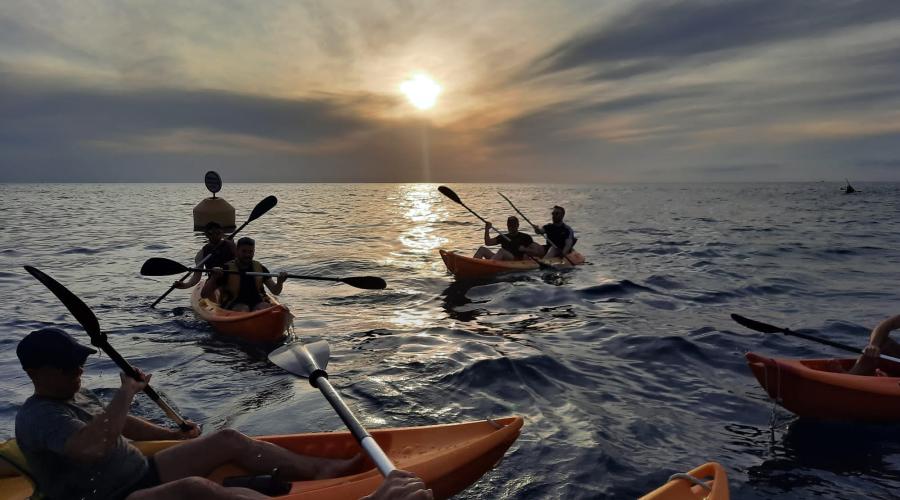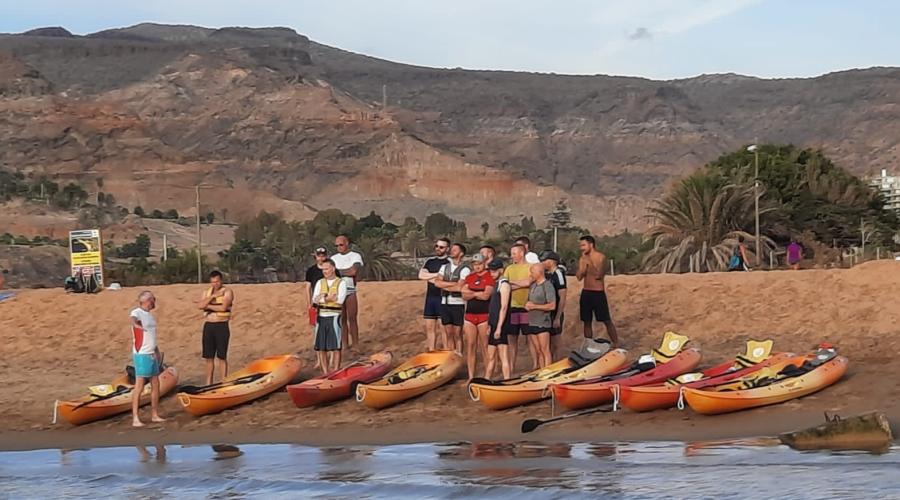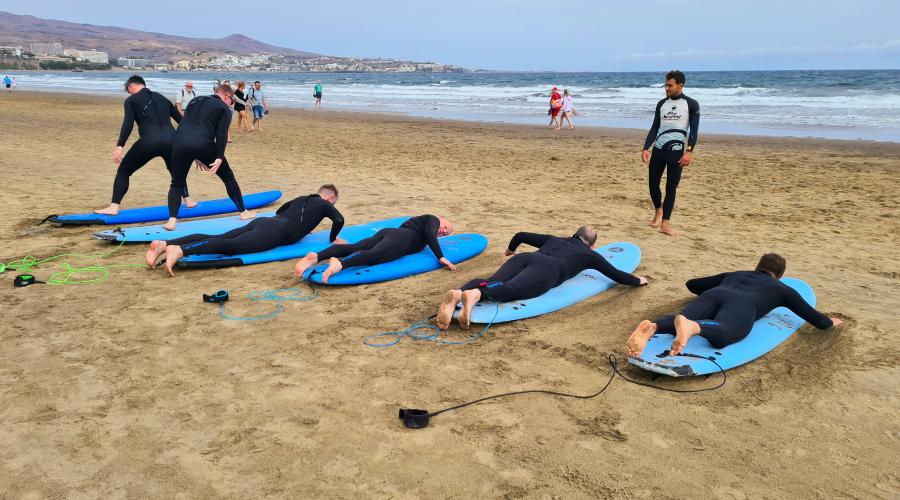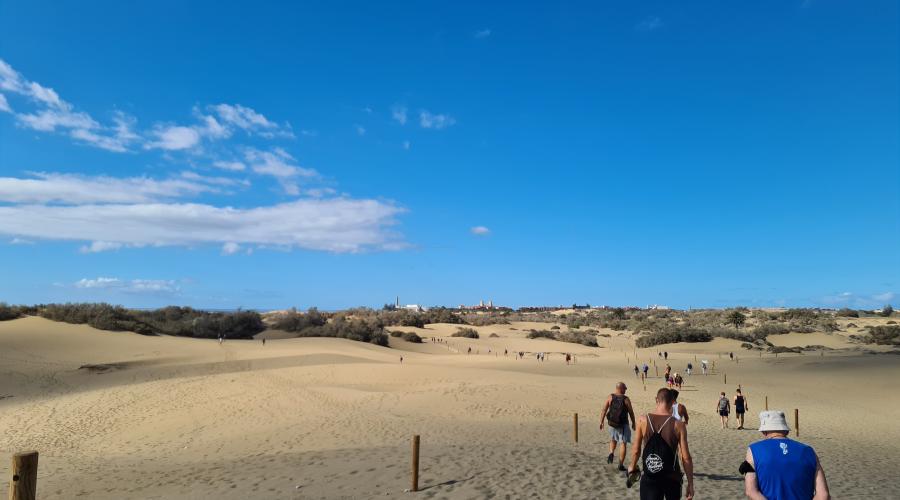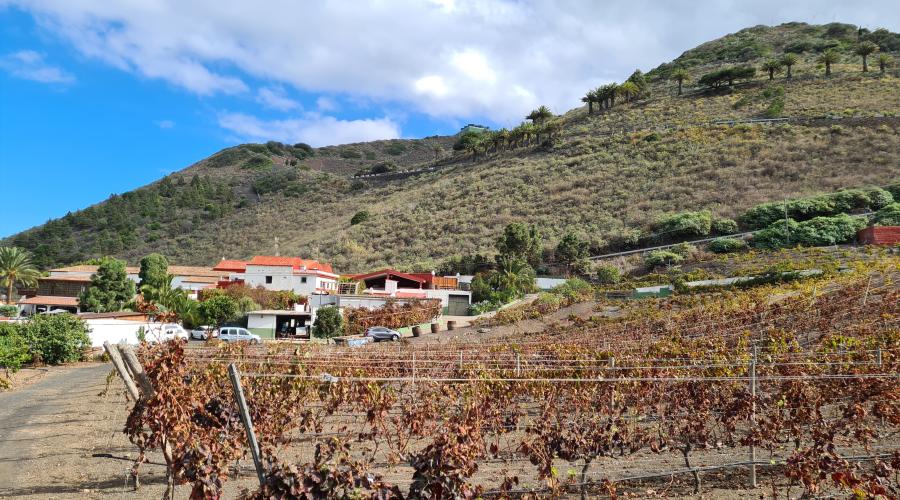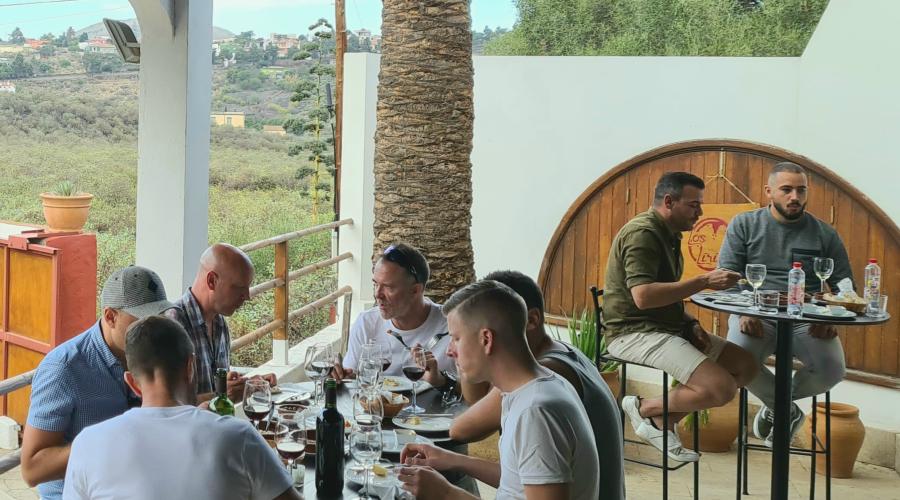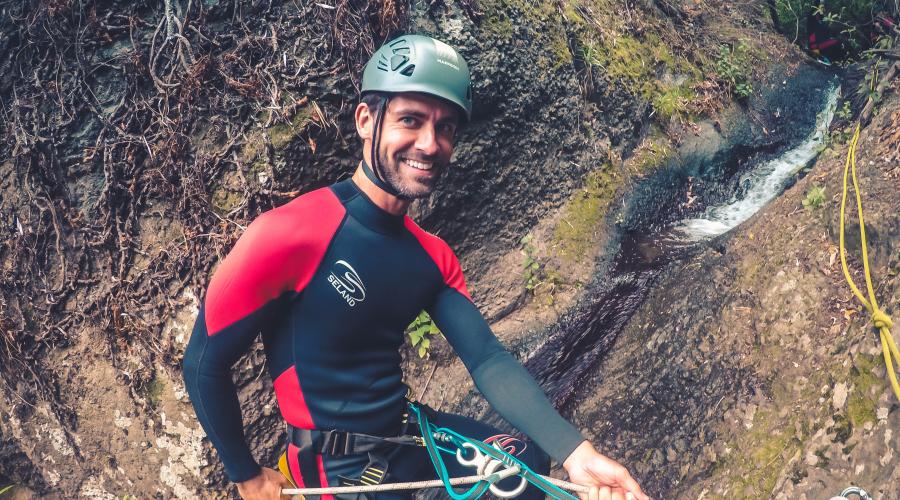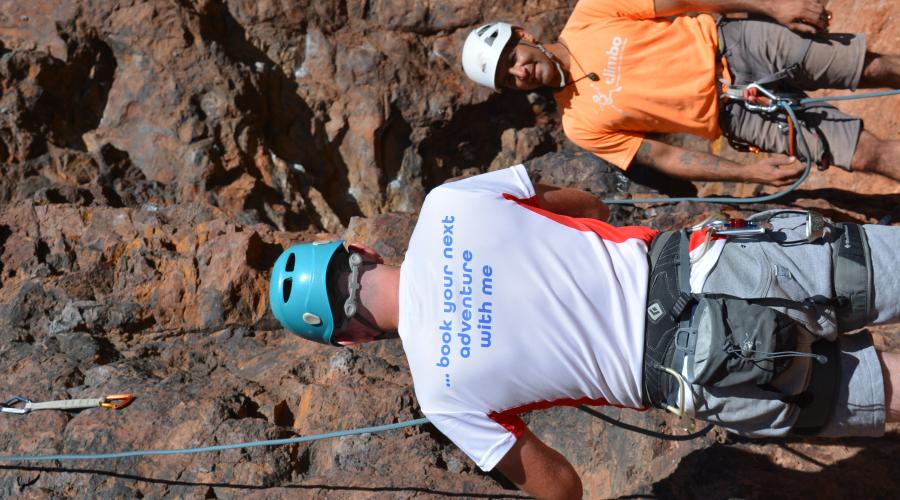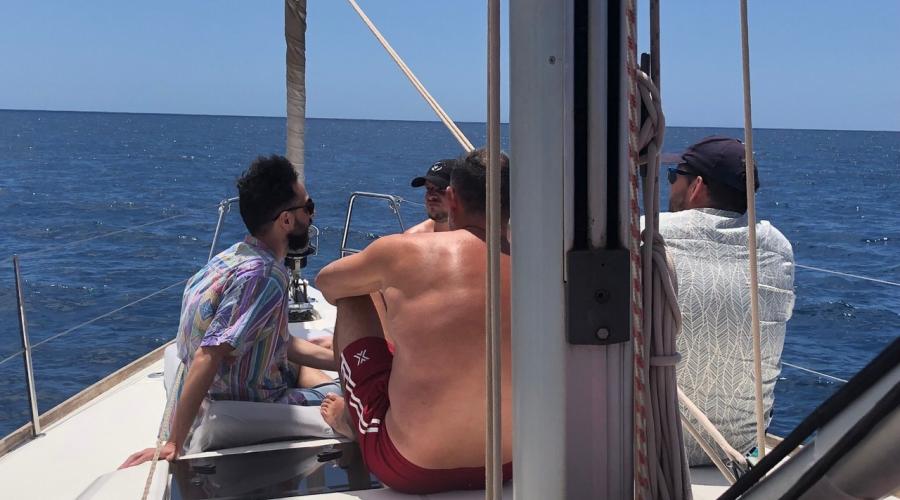 What to bring
You will need to add to your usual summer holiday packing list with any outdoor gear you would usually require for the various activities on offer. In anything specialist is required you will be notified.
It is worth bearing in mind that Gran Canaria can be a little cooler at this time of year (especially in the evenings and away from the coast). For those hiking or in the mountains, it can get particularly cold out of the sun and it might rain. The weather isn't as bad as the UK, but hikers and climbers should bring waterproofs and layered clothing so they can adjust their gear as the day goes on, while remaining safe and comfortable. 
Food & drink
Playa Del Ingles has a huge choice of places to eat and drink, along with several good supermarkets.
There will also be the option to sign up to food and drink activities as part of the event.
Meeting & times
Jan 23 - pm