A Grade 3 Classic Scramble Day in Eryri - Midweek
3 people attending
0 places left
1 person waitlisted
Exposure, big drops, vertical climbing sections (mod-vdiff) but on good holds, loose rock, waterfall with wet slippery rocks and around 900 m of up (whichever route we do)
If you like your scrambling on the challenging side this could be the event for you, with a midweek Eryri (Snowdonia) Classic Grade 3 Scramble Day.
What is a Grade 3 Scramble?
This grade is a serious undertaking with big drops and vertical sections, and should only tackled by experienced scramblers who have the mindset for rock climbing. We will need to use a rope for some of the pitches of easy rock climbing (mod-Vdiff) where the exposure will be high, or where the scramble of a particular waterfall could be hazardous. The route could also contain steep grassy slopes which offer no hand-holds and a slip could be fatal. Escaping from these type routes can be problematic and only achieved by means of an abseil. Exposure will be high in many parts along the route.
Our scramble route selection will be made on the morning of the event at our meeting point over breakfast at the Siabod Cafe and will mainly be dependent on the weather conditions, but also what you want to do. The routes in-scope will be:
First Pinnacle Rib - Tryfan
Dolmen Ridge - Glyder Fach Main Face
Cneifon Arete via Idwal Staircase
Bryants Gully
All the routes are fabulous and and whichever one we choose you'll be given a day remember, however they are all BIG days and you will need to have a high level of physical fitness.
You will need to be an experienced scrambler/climber with some rock climbing skills, i.e. tie onto a rope, belay using a belay plate and be able to remove gear.  Along with the kit your would normally take for a day in the mountains, you will need to bring:
Harness & Helmet
Belay plate
Prussic
Nut key
Unfortunately, due to the technical nature of the day I can only take 2 people.
Please only click into this event if you have experience of at least completing Grade 2 scrambles comfortably and have the rock climbing skills/equipment listed above. If you have any questions or concerns about your experience/suitablity then please drop me a message.
Please note that the event may be liable to change or cancellation due to inclement weather.
Pictures by Andy Hewlett
-----------------------
IMPORTANT! - Participation Statement
You MUST complete a Participation Statement, in addition to booking your event space before attending an OutdoorLads event. You only need to complete this Participation Statement once, not for each event you attend. 
Anyone with COVID-19 symptoms, even if they are extremely mild, or who has recently tested positive for Covid-19, is asked not to attend.
Please note that every person participating should be aware of (and accept) that those members perceived as 'in charge' or leading the event are not experts,  do not need to be experts, and are not regarded by OutdoorLads, or themselves as experts, but are amateurs with some experience in the event type and who are happy to impart their knowledge.  Any advice given should be considered with this in mind by the recipient.
By signing up to and attending an OutdoorLads event, you are confirming that you have read, understood and accept the content of this statement.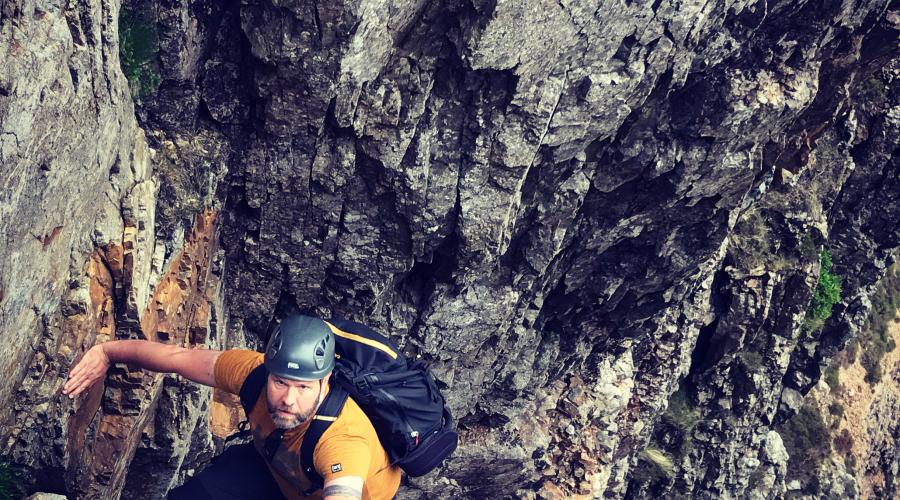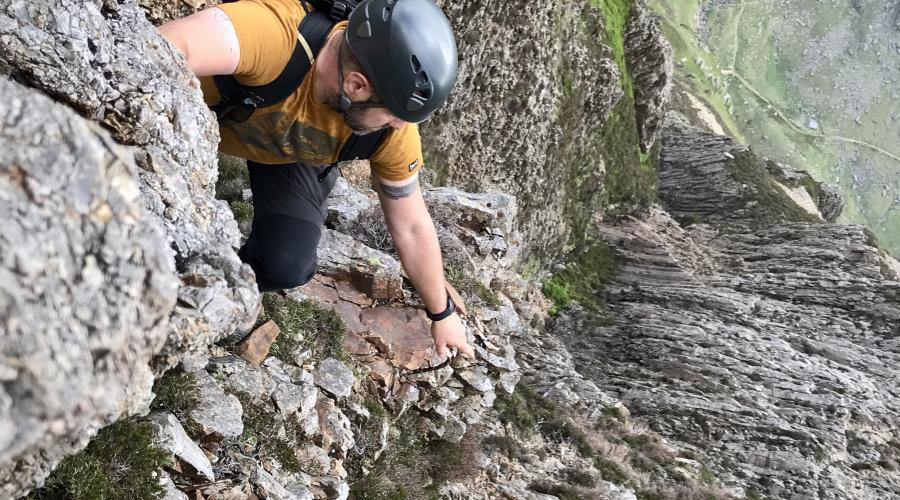 What to bring
Mountain Kit (waterproofs, personal first aid kit, spare layer, food/water, etc, but please pack lite), plus:
Harness & Helmet
Belay plate
Prussic
Nut key
Also, although this grade of scramble is possible in a walking boot, you will feel more secure with a firm soled scrambling boot (B2) or an approach shoe. If you are going to wear walking boots you may want to bring a pair of rock shoes for the challenging climbing sections
I will conduct a quick kit check before we set off to ensure everyone is suitably equipped.
Food & drink
Bring plenty of high energy food for a long day on the mountain
Arrive well hydrated so you can carry less water. 
Meeting & times
Jun 01 - am