Glyder Fawr & Glyder Fach via Bristly Ridge
8 people attending
0 places left
Distance: 8.6km Ascent: 900 meters Time: 5 - 6 hours Difficulty: Hard Maximum attendance: 5
Fancy a big day out in the mountains of Snowdonia?
The Glyderau range sits just north of the Llanberis pass and the Snowdon range, and with summits similar in height to the mighty Snowdon it forms a worthy, interesting and far less crowded goal for a winter hike. Our route up will take one of the best grade 1 scrambles in the area, Bristly Ridge, a thrilling journey 'off-path' the route starts in the forebodingly named Sinister Gully and leads up onto the pinnacles that form the upper part of this fabulous 3 starred route.
Bristly Ridge is challenging and exposed in places, and although you don't need technical rock climbing skills you will definitely need a head for heights, sure footedness and a sense of adventure. This route is best suited to members who have scrambled confidently before. 
Having championed the challenge of the ridge we will then get to explore the summit of Glyder Fawr and visit the improbable rock monolith of the Cantilever Stone,  before heading over to Castell y Gwynt (Castle of the Winds). The top of the mountain is fractured into a myriad of angled lichenous covered slabs which make traversing the summit challenging fun in the dry and requiring carefully foot placement in the wet.  We will then head over to the summit of Glyder Fawr, which stands at a height of 1001 meters, before descending via Devils Kitchen to return to our start point.
Please note that the event may be liable to change or cancellation due to inclement weather.
pictures taken by Andy Hewlett
-----------------------
IMPORTANT! - Participation Statement
You MUST complete a Participation Statement, in addition to booking your event space before attending an OutdoorLads event. You only need to complete this Participation Statement once, not for each event you attend. 
Anyone with COVID-19 symptoms, even if they are extremely mild, or who has recently tested positive for Covid-19, is asked not to attend.
Please note that every person participating should be aware of (and accept) that those members perceived as 'in charge' or leading the event are not experts,  do not need to be experts, and are not regarded by OutdoorLads, or themselves as experts, but are amateurs with some experience in the event type and who are happy to impart their knowledge.  Any advice given should be considered with this in mind by the recipient.
By signing up to and attending an OutdoorLads event, you are confirming that you have read, understood and accept the content of this statement.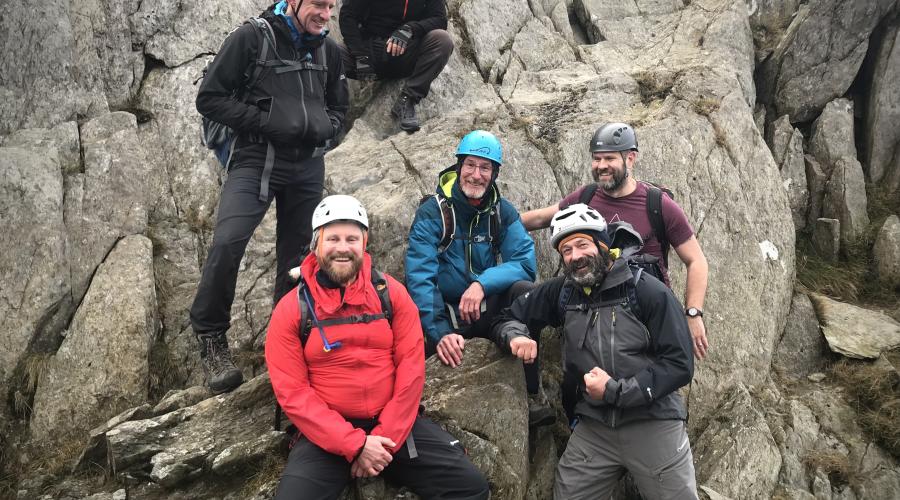 What to bring
Standard kit list for a mountain hike as below but I strongly recommend the addition of a climbing helmet for the scramble section (leader will provide these). 
Also, although the scramble section is possible with standard walking boots you would feel more secure with a firm soled approach shoe or a scrambling boot.
Water: bring what you need  1-2ltrs
Head torch: short days now so very useful for walking out at dusk
Medicines: if you have hay fever, diabetes, minor ailments etc.
Day rucksack: typically 30 plus litres, they are comfortable to wear and allow you to use your arms freely
Boots: see above. Waterproof and breathable and designed for hiking. NOT suitable for trainers. There will be muddy sections.
Socks: proper walking socks will keep your feet dry and help prevent blisters
Layered clothing: lets you quickly adapt to changes in the weather and body temperature. Go for a base layer (vest or t-shirt) and a mid layer (a micro fleece or shirt) and an outer layer (a windproof jacket or thick fleece)
Trousers: No jeans as they become heavy and cold in the rain, breathable fabrics are more comfortable and dry and on warm days shorts are OK
Waterproof jacket: essential when hiking, breathable fabrics are more comfortable and dry
Waterproof Trousers
Gloves: Windproof, or better still, waterproof gloves are the best choice, bring a spare pair if expecting rain
Hat or cap: stay warm in winter and shaded in summer
Sunglasses: for any sunny day, even in winter
Sunscreen in Spring, Summer and Autumn
Snacks: bring biscuits, energy bars, gels, bananas, chocolate or dried fruit for example and put them somewhere easy to get hold of
Lunch: bring a packed lunch unless otherwise stated
A good idea is to bring a change of clothing if the weather is cold and wet to change into for the ride home.
I will conduct a quick kit check before we set off to ensure everyone is suitably equipped for a winter's day in the mountains.
Food & drink
Bring plenty of high energy food for a long day in the cold. If the weather is poor, we're more likely to stop for short snack breaks than a long lunch. Pack accordingly. 
Arrive well hydrated so you can carry less water. 
Toilet and refreshments (tea, coffee, pasties, etc) are also available at the Ogwen Centre which is opposite our meeting point car park. For more information see: https://www.snowdonia.gov.wales/visiting/ogwen/information/ogwen-center 
Meeting & times
Oct 22 - am