Fri-Gay indoor bouldering night in Reading!
2 people attending
6 places left
Event booking closes on Oct 6 at 18:00:00
The centre has climbs at a wide range of grades (difficulties) to suit everyone from beginners to seasoned pros!
Join us for the monthly "Fri-Gay" night at The Climbing Hanger (TCH) in Reading!
The session is supported by one of the centre's own coaches giving you the opportunity to get some professional tuition. And is a great opportunity to connect with the wider LGBT+ community in the Reading area.
What is bouldering?
Bouldering is a style of climbing that involves short routes, called "problems", which can be tackled without the need for ropes and harnesses. This makes it an ideal place to start if you are new to climbing. The routes emphasise technique and problem solving so it's a workout for your brain as well as your body. As a result, bouldering is a very sociable activity - giving you the opportunity to catch-up and meet new people as you try out problems together. 
New to bouldering?
The only equipment you need to get started is a pair of climbing shoes. These can be hired from the wall for free. The event leader will be on-hand to get your started and give a few points on technique. So you'll quickly be climbing with the rest of the group.
Registering for Fri-Gay on the TCH website
Fri-Gay is a bookable session on the TCH website. Please book a place, in addition to this ODL event, using the link below so they know how many people to expect: 
Link to the Fri-Gay page on the TCH website
First visit to The Climbing Hanger?
If you have not visited The Climbing Hanger before, you will need to complete a waiver and an in-person induction with the centre staff. For Fri-Gay you can do the induction as part of the session! But make sure you book a place using the link above. 
IMPORTANT! - Participation Statement
You MUST complete a Participation Statement, in addition to booking your event space before attending an OutdoorLads event. You only need to complete this Participation Statement once, not for each event you attend.
Want to keep in touch with all things indoor climbing in the North West Home Counties (Berks/Bucks/Oxfordshire) area? Join our telegram group: https://t.me/+Vg8tIKhQMkdlZjI8
The event leader can provide advice however they are not formally supervising. All participants must take responsibility for their own safety and are expected to follow the rules of the centre at all times.
Images used were taken by OutdoorLads members and are used with permission.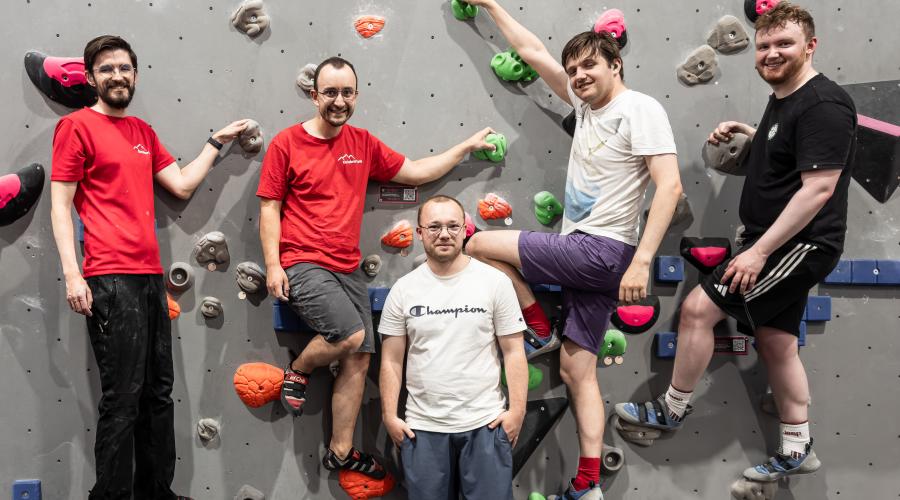 What to bring
The only specialist bit of equipment you need are climbing shoes. If you don't have your own, you can hire these from the centre for free. 
Lockers are also available however you will need your own padlock. 
Wear appropriate sports clothes: 
Shorts/tracksuits that are flexible and allow a range of comfortable movement.

Jewellery or accessories such as rings, watches, chains or bangles should be removed before beginning the session to prevent injury.
Food & drink
The first half hour of the Fri-Gay session (18:30 to 19:00) is a chance to catch-up with other attendees over a free tea or coffee. Then the climbing starts around 19:00. 
Drinks and snacks are available to purchase at the centre, and water fountains are available for refilling water bottles. 
Meeting & times
Oct 06 - pm