Forests, Forts and our Naval Force from the Foreshore
20 people attending
0 places left
Distance is 17 km (10 miles); total ascent is 70m; relief is flat; surfaces are almost wholly tarmac and concrete with a little dirt (mud) and beach shingle.
Last January, when we had to stay local to exercise, I explored the tip of the Gosport Peninsula. I was so surprised by its variety and interest that I wondered if a walk there would be worthy of the 'Lads. Mostly urban (and ten per cent of it through housing estates), our route will take in three conservation areas, nine Grade II* listed buildings, a hundred-plus Grade II ones (mostly defensive in nature), and three protected natural environments. These include shingle banks, heathland, reedbed and woodland (admittedly not the 'forest' of the title). Two thirds of the walk will be beside the sea (Portsmouth Harbour and The Solent) which will be teeming with ships military and civil, like the ferry we'll be using.
The sights:
Old Portsmouth and The Historic Dockyard: The most conspicuous buildings and objects of interest which will be viewed just from the crossing and from Gosport are HMS Warrior, the world's first armour-plated, iron-hulled warship when launched in 1860. The tall brick Semaphore Tower was 1820-4, but rebuilt in 1929. No. 10 Storehouse with a cupola and clock tower is 1776 and Grade I listed. The cupola (dome) on the central tower of the Cathedral is C17 (Grade I listed). Gunwharf Quays was developed 1998-2009 on the site of HMS Vernon weapons testing base. The Spinnaker Tower (HGP Architects) is 2001-5 and is 170m tall containing three observation decks. The elegant, cupolaed Grand Storehouse in Gunwharf (now called the Vulcan Building) is 1811-14. The Ben Ainslie Racing (BAR) Building (2015, also HGP Architects) is overbearing and out-of-keeping. It was thought to be one of the factors in Portsmouth's being ruled out of contention for the race to be the UK's next city of culture. 
Central Gosport: Holy Trinity Church was founded in 1696 and its position was enhanced by urban redevelopment in the 1960s. Rebuilt by 1829–30 in a classical style then again in 1887–89, giving the church its present Italianate/ Lombardic basilica style. The newly-restored organ came from Cannons, the demolished palatial home of James Brydges, 1st Duke of Chandos, and was regularly played by George Frideric Handel.
Haslar, Gosport: A former military then civilian hospital, being converted into retirement flats. On completion in 1753 it was the largest brick building in Europe. The isolated location, guard towers, high brick walls, bars and railings were all designed to stop patients, many of whom had been press ganged, from going AWOL. Dr James Lind (1716–1794), discovered a cure for scurvy at Haslar by giving patients limes (hence the US slur for Brits of 'limey'). It treated casualties from the Napoleonic Wars, Far East and Second World War. An excavation of the old cemetery revealed 7753 skeletons. The hospital established the country's first blood bank. Mostly Grade II listed, the Chapel of St Luke is Grade II*. The huge water tower is a familiar landmark. Nearby is the Submarine Museum with HMS Alliance, an Amphion-class submarine from 1945, raised out of the water and seen at a distance. The cream-coloured tower is for testing submariners' ability to escape a stricken craft at depth. On the other side of the hospital behind another high wall is the Gunboat Yard, built in 1856, where the boats were raised from the water on cradles and moved into sheds using the latest steam-powered traversers.
Clayhall, Gosport: Fort Gilkicker is a Palmerston fort built 1863 and 1871 as a semi-circular arc. Grade II* listed and on the Buildings at Risk Register owing to its poor state of repair. An attempt to convert it into flats was abandoned in 2018. 
Anglesey and Alverstoke, Gosport: Two conservation areas. The Crescent is the only piece of large-scale urban planning in Hampshire. Dated 1828-30. An elegant stuccoed terrace, slightly curving. The only completed part of a fashionable resort called 'Angleseyville' to be built. Alverstoke village centre is attractive. A tiny triangular 'square' with a thatched cottage and Victorian almshouses: 'a splendid piece of townscape in miniature'. St Mary's Church was C13 but the 1865 and 1885 rebuildings obliterated the medieval parts; the result is lofty and impressive. The tower is 1905. Grade II listed. The Old Rectory (1775, Grade II* listed) is adjacent. 
Browndown, Gosport: Browndown Battery is a former military coastal fort first erected in the mid-1840s, then modified until disarmed in 1905/6. Grade II listed. It houses a diving museum. Browndown Ranges is a shooting range. The adjacent greensward was used as an army camp. The site also includes Browndown SSSI, a shingle bank of sparse vegetation. The mothballed Browndown Barracks was also where Bad Lads' Army happened in the noughties, in which young tearaways were given a dose of 1950s National Service.
West of the River Alver: An 11.6-hectare Local Nature Reserve. It has a reedbed which is one of the largest in England and there are also three ponds and areas of grassland.
Brockhurst, Gosport: Fort Brockhurst is one of a ring of forts, itself built 1858-1862, to protect Portsmouth and its harbour against a French invasion that never occurred. Largely unaltered, the parade ground, gun ramps, moated keep, washrooms and armoury can be viewed when the fort is opened by English Heritage. Changes in artillery technology meant that the fort became obsolete before construction was complete as invading armies with artillery of greater range could just go round the back of the forts.
Hardway, Gosport: A suburb alongside Portsmouth Harbour with mostly 1930s semis and some 1980s flats, but great views across the harbour to Portsdown Hill. Multiple jetties and slipways, some quite dilapidated, and a modicum of jaunty, yachty atmosphere.
Priddy's Hard, Gosport: Started as a fort in the 1750s, and then became an armaments depot and massively expanded in the C19 and C20. Decommissioned in 1988, and now being part-developed for housing with an area retained as a museum. Forton Lake (a tidal creek) is home to around thirty wrecked C19 and C20 vessels. The footbridge was built in 2000 as part of the millennium project that revamped the harbourside. Burrow Island was the site of St James' Fort, the earliest fortification in Gosport, and was the burial place of convicts to whose bodies rats were attracted, thereby earning it the nickname Rat Island.
Royal Clarence Yard, Gosport: Established in 1828 as one of the Royal Navy's two principal, purpose built, victualling (foodstuffs provision) establishments. Named after the Duke of Clarence (later William IV). Occupies 20 hectares of land and comprises warehouses, a granary, slaughterhouse, bakery, brewery and cooperage. Redeveloped in the 2000s into a typical mixed-use waterfront enclave of apartments, bars and a gym. A conservation area due to being 'one of the first large industrial food processing plants in the country' and for the quality of the buildings in brick with stone dressings, several of which are listed. The Main Gate and Lodges from 1830 are Grade II* listed. 
The route (please click the link to go to the Ordnance Survey website):
The first leg follows The Solent Way heading southwest, over Haslar Bridge, and just detouring at Haslar to get to the waterfront. At Fort Gilkicker we'll head northwest along Anglesey Crescent to get to Alverstoke. We'll then head south to get to the seafront at Stokes Bay and proceed northwest again to Browndown. We'll cross this and then head mostly north through the West of the Alver and The Wild Grounds Nature Reserves. We'll then emerge into housing and walk east through Rowner, past Fort Brockhurst to get near Portsmouth Harbour. The coastal path heading southeast will take us to Priddy's Hard and Royal Clarence Yard having crossed Forton Lake. We'll then walk a little way along the A32 on its pavement to get back to the starting point.
Dogs:
I love having dogs on my walks and this walk is fairly suitable for them but it is mostly urban. There are some woods, beaches and heaths on which they could run free. A dog off the lead must be obedient.
IMPORTANT! - Participation Statement
You MUST complete a Participation Statement, in addition to booking your event space before attending an OutdoorLads event. You only need to complete this Participation Statement once, not for each event you attend.
COVID-19 – IMPORTANT, Please read the following before you sign up to this event:
Anyone with COVID-19 symptoms, even if they are extremely mild, or who lives or is in a support bubble with someone showing symptoms, is asked not to attend. This is in line with the government's coronavirus advice.
You must also immediately self-isolate and not attend the event if you or someone in your household or support bubble shows coronavirus symptoms or tests positive. Read the NHS self-isolation guidance.
OutdoorLads strongly encourages all attendees to take a rapid lateral flow test immediately prior to attending an event. This will help to keep everyone safe. Order free Rapid Lateral Flow Tests.
(Picture credits: Beach at Stokes Bay: Photo © Steve Daniels (cc-by-sa/2.0); Boats in Portsmouth Harbour: Photo © Paul Gillett (cc-by-sa/2.0); HMS Warrior, Portsmouth Historic Dockyard: Photo © David Kemp (cc-by-sa/2.0); Haslar Bridge: Photo © Peter Trimming (cc-by-sa/2.0); Royal Naval Hospital Haslar: Photo © Paul Gillett (cc-by-sa/2.0); The Anglesey Hotel Crescent Road Gosport: Photo © John Downs (cc-by-sa/2.0); Thatched cottage in the village: Photo © Barry Shimmon (cc-by-sa/2.0); Sun, sea and shingle: Photo © Barry Shimmon (cc-by-sa/2.0); Reed beds at Browndown: Photo © Margaret Sutton (cc-by-sa/2.0); View from the top of Junkett Hill: Photo © David Martin (cc-by-sa/2.0); Boardwalk across marsh area, Alver Valley Country Park: Photo © David Martin (cc-by-sa/2.0); The Moat around Fort Brockhurst: Photo © Steve Daniels (cc-by-sa/2.0); Salt marsh, Portsmouth Harbour: Photo © Robin Webster (cc-by-sa/2.0): Remains of Powder Jetty off Priddy's Hard: Photo © Robin Webster (cc-by-sa/2.0); Pathway at Hardway in Gosport; Photo © James Denham (cc-by-sa/2.0); Clarence Yard: Photo © gordon james brown (cc-by-sa/2.0). All pictures are copyrighted but are licensed for reuse under Creative Commons CC-BY-SA 2.0 and are here attributed to their copyright holders.)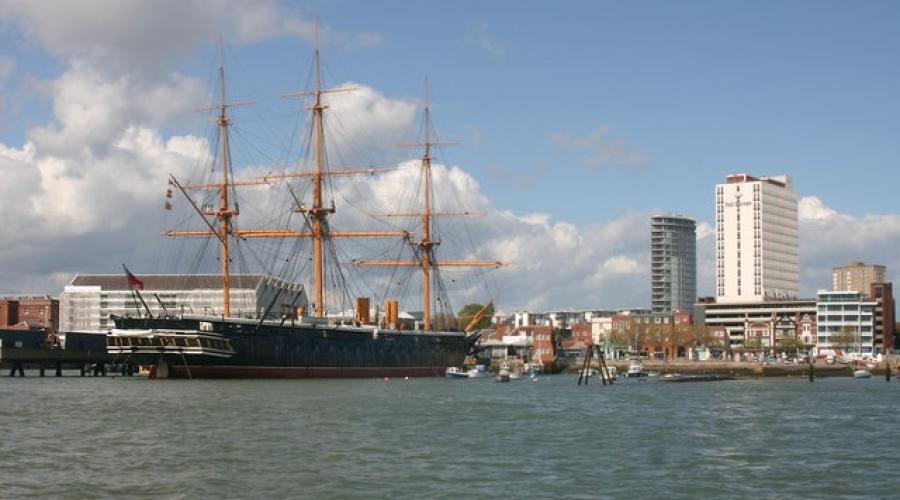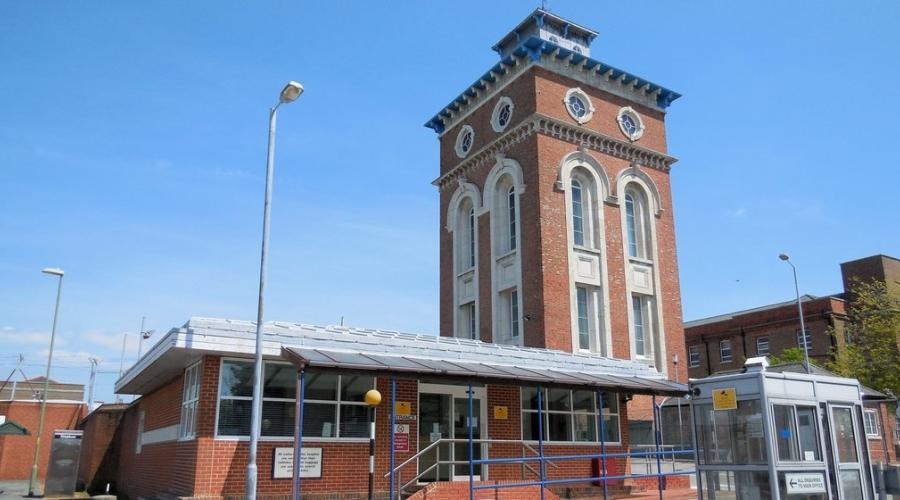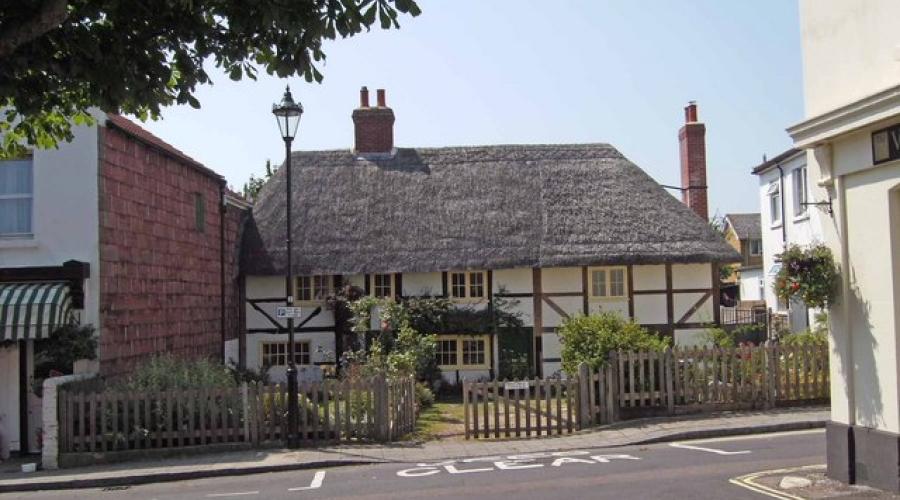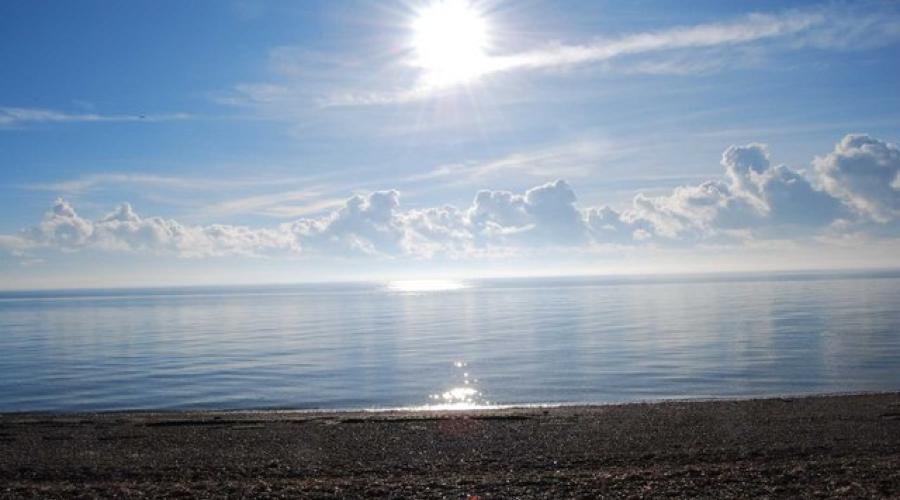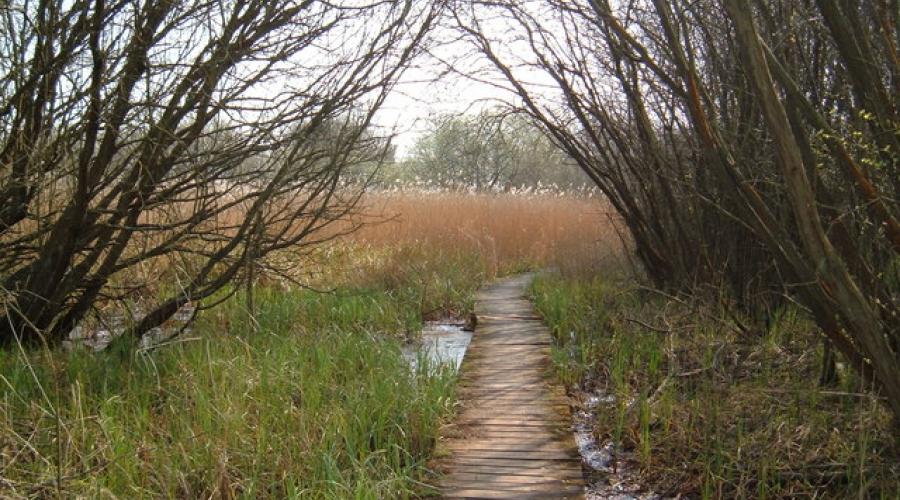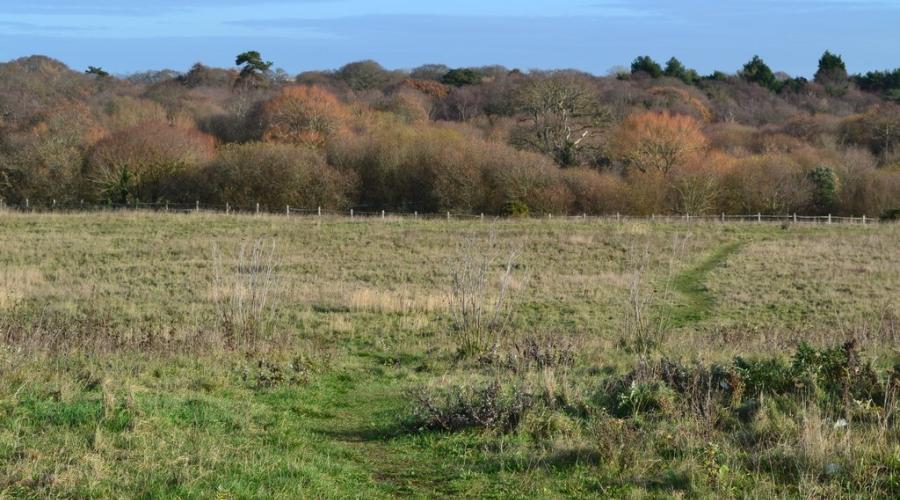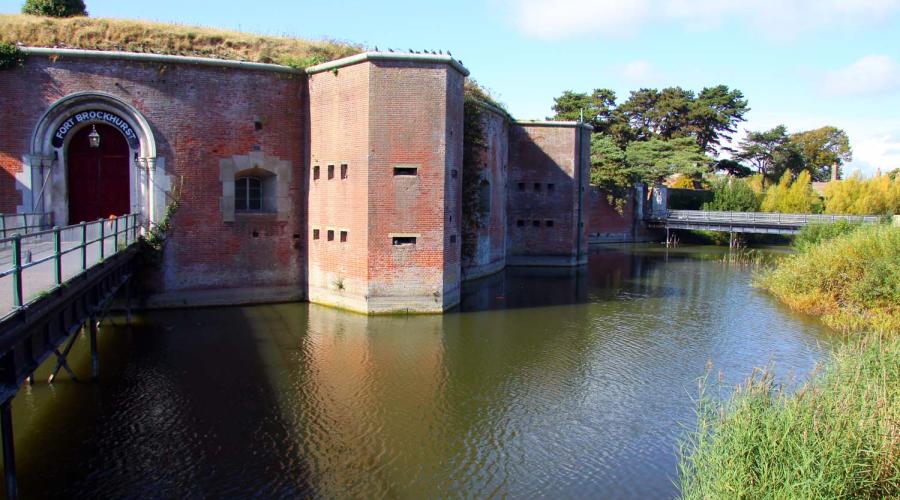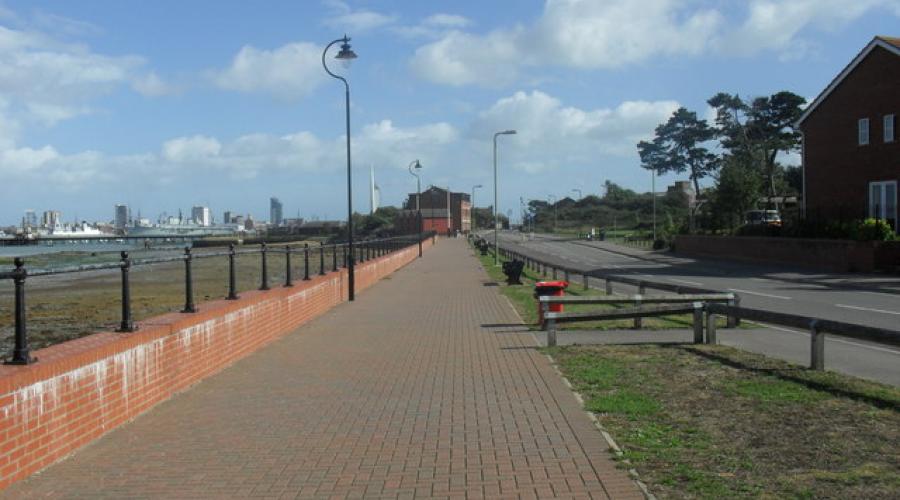 What to bring
Walking shoes are advisable although there are no climbs and almost all of the walk will be on tarmac with some beach shingle. Wear clothing appropriate to the weather including warm kit in case of cold weather and waterproof kit in case of rain. The nature reserve could well be muddy so you may want to wear walking boots.
If coming from the east to start the walk, you will need to get a ferry ticket to Gosport which is £3.90 return or £2.70 for seniors.
Food & drink
We'll get chips on the seafront at Stokes Bay at about 12.30. Please bring an alternative if you don't fancy this. Bring snacks and drinks too. 
There will be a pub/cafe stop in the afternoon and/or at the end of the walk.
Meeting & times
Jan 15 - am