Devon Triple, Day 3: Ilfracombe to Combe Martin
13 people attending
17 places left
Distance is EITHER 11.5 km (7 miles) and total ascent is 598m OR distance is 15 km (9.5 miles) and total ascent is 741m; relief is hilly with a number of short, steep ascents and descents; surfaces are grass, dirt, gravel and tarmac.
Introduction:
Last year it was a Dorset Double. This year it's a Devon Triple, replicating a scheme by the lovely Simon Ellicott but taking advantage of the four-day Platinum Jubilee weekend to have three days of events from which you can choose to do any number. Nearby campsites, hotels and B&Bs are plentiful, although they are booking up fast. I'll supply three day walks and other leaders will provide more according to demand, which may be reduced as Big Spring Camp will be running at the same time. Even so, I hope you can come and experience some of the finest cliffs, sandiest beaches, quietest valleys and darkest skies - and in the company of some of the greatest guys - in England.
Schedule:
Day 3: Ilfracombe to Combe Martin:
Taking the bus to Ilfracombe we'll head inland to have lunch at the winsome whitewashed village of Berrynarbor. We'll then head back to the coast, see coves and caves, and follow the South West Coastal Path into Combe Martin. Said to have the longest main street and most pubs in a village in England (one of which, the 'Pack o' Cards' has 52 windows, 13 doors and four floors), Combe Martin marks the edge of Exmoor. One subgroup can explore more of this (perhaps climbing Little Hangman (218m) and Great Hangman (318m)), while the other can descend to Wild Pear Beach to spend the afternoon there (clothing optional!). The bus will take us all back to Mortehoe.
The route: 
Having been dropped off in Ilfracombe, we'll walk round the harbour and head out to Hele. We'll then head east along Old Berrynarbor Road to Berrynarbor for lunch. We'll then head north along a lane to cross the A399 and follow the South West Coastal Path (SWCP) as it winds towards Combe Martin. Heading north out of the village we'll get to Lester Cliff where you can decide to go to the beach or, with another leader, carry on along the SWCP to head deeper into Exmoor and ascend Little Hangman and even Great Hangman. At a set time we'll all meet up and return to Combe Martin to catch the bus back. (Please click the words 'route' in red to see the either the shorter route with the beach visit or the longer route with more walking at the Ordnance Survey website.)
Dogs:
I love having dogs on my walks and this walk is suitable for them apart from during very hot weather. The sea will be more accessible but there will be little shade and some livestock. Dogs are permitted on Wild Pear Beach. A dog off the lead must be obedient.
Accommodation:
Campsites, caravan parks and motorhome parks: Check this website. North Morte Farm was popular with the 'Lads a few years ago and is closest to the village and events. There's also Easewell Farm which has the most facilities, and Damage Barton which was also popular.
B&Bs: Check Booking.com for places near Mortehoe.
IMPORTANT! - Participation Statement
You MUST complete a Participation Statement, in addition to booking your event space before attending an OutdoorLads event. You only need to complete this Participation Statement once, not for each event you attend. 
Anyone with COVID-19 symptoms, even if they are extremely mild, or who has recently tested positive for Covid-19, is asked not to attend.
(Picture credits: Near Girt Farm: Photo © T Eyre (cc-by-sa/2.0); Path below Great Hangman: Photo © Bill Boaden (cc-by-sa/2.0); View of Berrynarbor: Photo © Robin Drayton (cc-by-sa/2.0); Photo © Roger A Smith (cc-by-sa/2.0); Berrynarbor Village: Photo © Robin Drayton (cc-by-sa/2.0); St Peter's Church, Berrynarbor: Photo © Robin Drayton (cc-by-sa/2.0); Sandy Cove: Photo © Charles Kearton (cc-by-sa/2.0); Tidal Gap at Broad Strand: Photo © Rob Farrow (cc-by-sa/2.0); Combe Martin: Photo © Tony Atkin (cc-by-sa/2.0); Pack o'Cards, Combe Martin: Photo © Roger Cornfoot (cc-by-sa/2.0); Wild Pear Beach: Photo © Roger Cornfoot (cc-by-sa/2.0). All pictures are copyrighted but are licensed for reuse under Creative Commons CC-BY-SA 2.0 and are here attributed to their copyright holders.)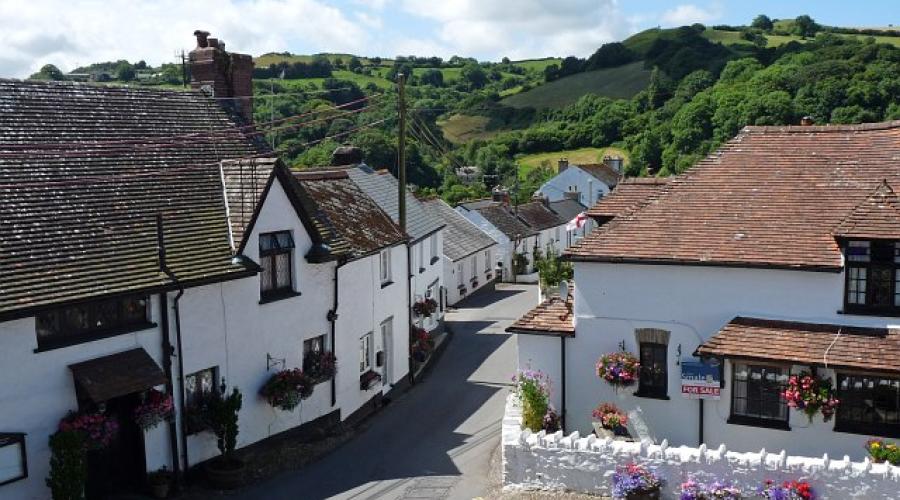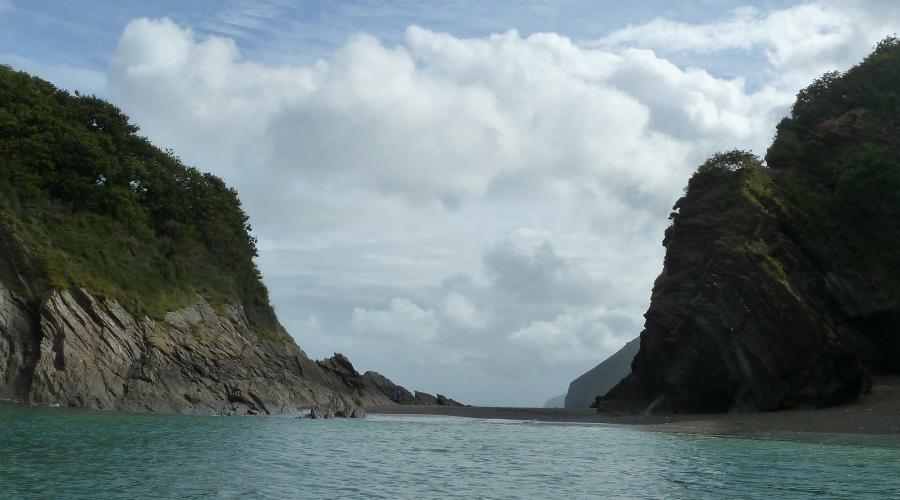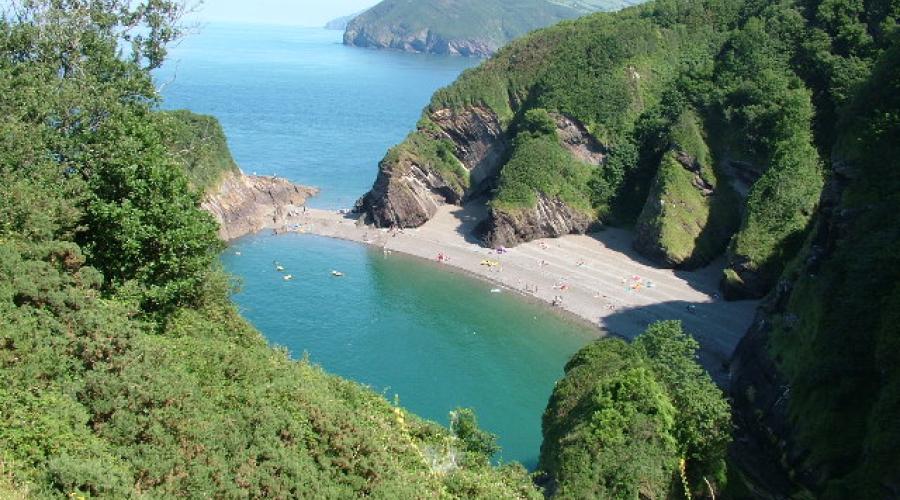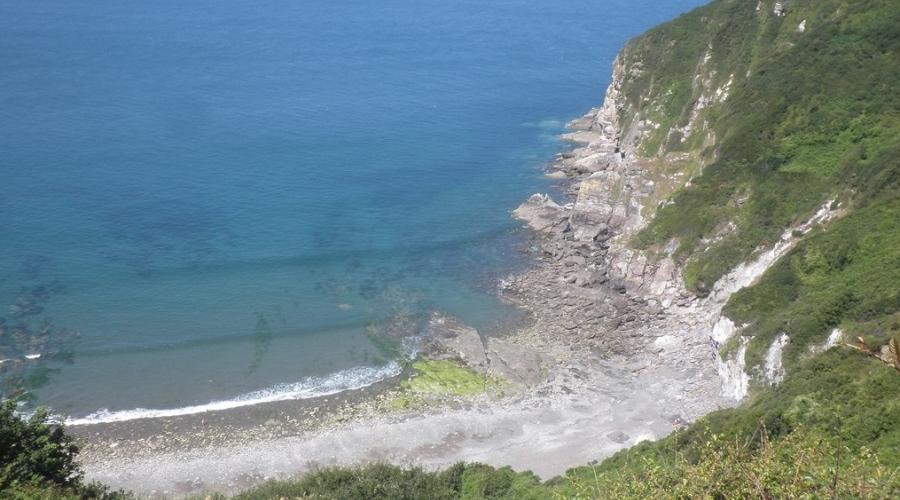 What to bring
Walking boots are essential to cope with the uneven, rocky and steep terrain.
You may need suncream and perhaps a sunhat if sunshine is forecast as the route is frequently exposed and offers sporadic shade. Bring a waterproof coat if wet weather is forecast.
Please bring swimwear and a towel (or just a towel as the beach is an official nudist beach) if you want to swim. Do bring flip-flops as the sand is coarse and a little rubbly. 
Food & drink
Bring plenty to drink (2 litres at least in warm weather) and snacks. Bring a packed lunch too, or get food in a shop or cafe at Combe Martin.
Meeting & times
Jun 04 - am