Chinley Churn and Eccles Pike
11 people attending
1 place left
Event booking closes on May 16 at 09:45:00
15.5 km, 680m ascent (~10 miles)
From Chinley you can explore the surrounding hills into the Peaks and the local industrial heritage. On this walk we will visit three hills: Eccles Pike, Chinley Churn and South Head. Climbing Eccles Pike gives 360-degree views across the Peaks, the Sett Valley, and towards Manchester. Approaching Chinley Churn we visit the rust-coloured crags of Cracken Edge, the remains of a gritstone quarry, with some remnants of the quarry equipment still present.
During the walk we will visit the bifurcating double railway viaduct at Chapel Milton. One section of the viaduct diverges and curves to the west whilst the other (built a little later) curves to the east. At one time the western section carried express trains from London (St Pancras) to Manchester Central Station as part of the Midland Railway, it now carries stone quarried from around Buxton.
 On our walk we will visit:
Chapel Milton Viaduct

Chinley Churn and Cracken Edge

South Head

Walk a section of the Pennine Bridleway

Eccles Pike
Image credits: All images for this event were taken by the event leader and are used here with permission.
IMPORTANT! - Participation Statement
You MUST complete a Participation Statement, in addition to booking your event space before attending an OutdoorLads event. You only need to complete this Participation Statement once, not for each event you attend. 
COVID-19 – IMPORTANT, Please read the following before you sign up to this event:
Anyone with COVID-19 symptoms, even if they are extremely mild, or who lives or is in a support bubble with someone showing symptoms, is asked not to attend. This is in line with the government's coronavirus advice.
You must also immediately self-isolate and not attend the event if you or someone in your household or support bubble shows coronavirus symptoms or tests positive. You can find the NHS self-isolation guidance here.
The main symptoms of COVID-19 are a high temperature, a new continuous cough, and a loss or change to your sense of taste and/or smell.
You may be subject to local lockdown restrictions, which you must fully comply with. Details of the location of these restrictions can be found here for England, Scotland, Wales, and Northern Ireland.   
We do not encourage car sharing to events during the pandemic. Please comply with the safety travel guidance for England, Wales, and Scotland. Face coverings should be worn on public transport.
OutdoorLads will support the tracing systems in place across the UK  and attendance at an OutdoorLads event is considered permission to use contact details for this purpose if requested by the appropriate authority.  
All are required to practice social distancing – staying 2m (not 1m) apart at all times, including the lunch stop. Remember: Face, Hands, Space.
Unfortunately, there won't be any planned pub / café stops en route or at the end, and please don't share sweets or snacks with others – we're sorry!
Please bring your own hand sanitising gel for your own use throughout the day. Use of face coverings is at your own choice, but please bring one with you just in case it's needed. Please bring any other PPE items required. Bring a disposable bag for any used PPE.
Members are advised to bring their own small first aid kit for personal use..
Be aware that opportunities for toilet stops may be minimal if facilities are closed.
Please, please cancel at your earliest opportunity if you are unable to attend or are unwell, so that we can allow others to take up these valuable event spaces.
Much as it's difficult - no handshakes or hugs!
COVID-19: Events Participation Statement
OutdoorLads draws your attention to the fact that travelling and being away from home increases the risk of receiving and transmitting Coronavirus, whilst it is present in the UK. You are likely to choose not to participate in OutdoorLads events whilst there is a risk of Coronavirus transmission. However, should you choose to participate in OutdoorLads events whilst the risk is present, you must be aware of and follow the law and government guidelines, both when travelling to and from events as well as when participating in events.
Please note that every person participating should be aware of (and accept) that those members perceived as 'in charge' or leading the event are not experts,  do not need to be experts, and are not regarded by OutdoorLads, or themselves as experts, but are amateurs with some experience in the event type and who are happy to impart their knowledge.  Any advice given should be considered with this in mind by the recipient.
By signing up to and attending an OutdoorLads event, you are confirming that you have read, understood and accept the content of this statement.
Please see our website for more information including an FAQ about our events.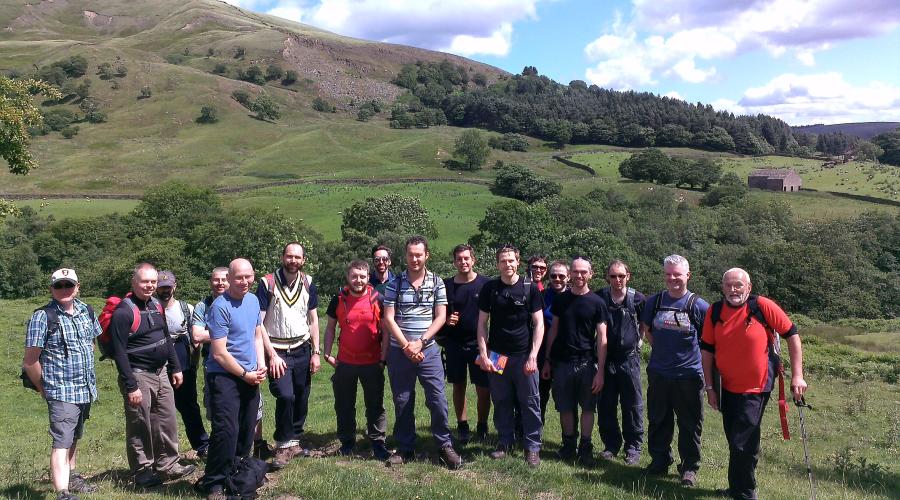 What to bring
Boots:  Hiking boots are arguably the most essential piece of kit when hiking just about anywhere.  Walker's should make sure that their boots are both waterproof and breathable, and provide good ankle support.  Boots should also be in good condition.
Socks: Walking socks are often overshadowed by those new to hiking, with many novices failing to invest in proper socks.  Good walking socks are essential in regards to keeping the feet dry, and in turn stopping the development of blisters.  Sports socks and other socks not designed for walking will often become waterlogged, or damaged which will in turn blister feet.
Walking Trousers:  Walking trousers should be of a windproof design and made of a rip stop material, that will stand up to walking through ferns and undergrowth.  They should also ideally be water resistant, or at least not gain weight, and lose their insulation properties when wet.  Jeans are therefore to be avoided, as they are heavy when wet and provide no protection from the elements.
Waterproof Trousers:  Waterproof trousers are essential in keeping the legs dry, as water resistant trousers will not keep out any significant rainfall.  Walker's should look for waterproof trousers that are breathable, in order to avoid being soaked with sweat.
Base Layer: A breathable base layer should be chosen in order to let sweat escape from the body.  This should ideally consist of a breathable synthetic, specially designed fabric, though a cotton T-Shirt is sufficient.
Mid Layer: A Mid Layer goes on top of the base layer and should consist of a 100 weight micro fleece, or a rugby typed thick shirt.  The layering system is important as it allows walkers to quickly adapt to changes in the weather as well as body temperature.
Waterproof Jacket:  A good waterproof jacket is one of the most important pieces of kit you will require when hiking.  Walkers should look for a jacket that is both waterproof and breathable in order for them to be protected from sweat.  Materials such as Gore-tex are often the best choices.
Hat: As most heat is lost through the head a good hat is essential.  The best hats are those of a fleece design, with wool also being acceptable.
Rucksack: A good Rucksack that is comfortable to wear is essential, and required to carry both food and equipment.  Day sacks should have a capacity of around 30 litres with equipment being placed in water proof bags inside.
Food & Water:  At least two litres of water should be brought for each day hiking..  Enough food for the duration of a walk should also be taken.  Food should be of the high energy variety.
Mobile Phone: A mobile phone should also be brought and kept in a waterproof bag for use in emergencies.
Food & drink
You will need a packed lunch plus snacks and also plenty of water (at least 2 litres).
Meeting & times
May 16 - am