BSC2023: Nantlle Ridge Circular (Sun 08:30)
6 people attending
6 places left
9 miles (15 km) and 1152m of elevation - approx. 7 hours walking
This is one of the events organised as part of Big Spring Camp 2023.
We will be walking along the spectacular Nantlle Ridge, one of the classic Eryri (Snowdonia) walks, which is a succession of 5 peaks overlooking the Nantlle Valley from the south.  Although not as high as its crowded neighbour, Yr Wyddfa (Snowdon), each peak is over 600m and affords some fantastic views out towards Anglesey, Caernarfon Bay and the Llyn Peninsula.
This is a challenging mountain walk - it involves some steep climbs and a bit of scrambling, over a total distance of about 15km / 9 miles, so you will need to be reasonably fit for this walk, and be prepared for some exposure on the ridge.
After reaching our 5th summit at Craig Cwn Sillyn, we will double-back a short way before returning via Cwm Dwyfor, along some of the old mine tramways, then through part of Beddgelert Forest, returning to our start point at Rhyd Ddu.
The start point is a relatively long drive from the BSC campsite at Llanrwst, and car-sharing to / from the start point will be necessary.  See below for details. 
IMPORTANT! - Participation Statement
You MUST complete a Participation Statement, in addition to booking your event space before attending an OutdoorLads event. You only need to complete this Participation Statement once, not for each event you attend. 
Image credits:  All images provided by ODL member L Russell and used with permission.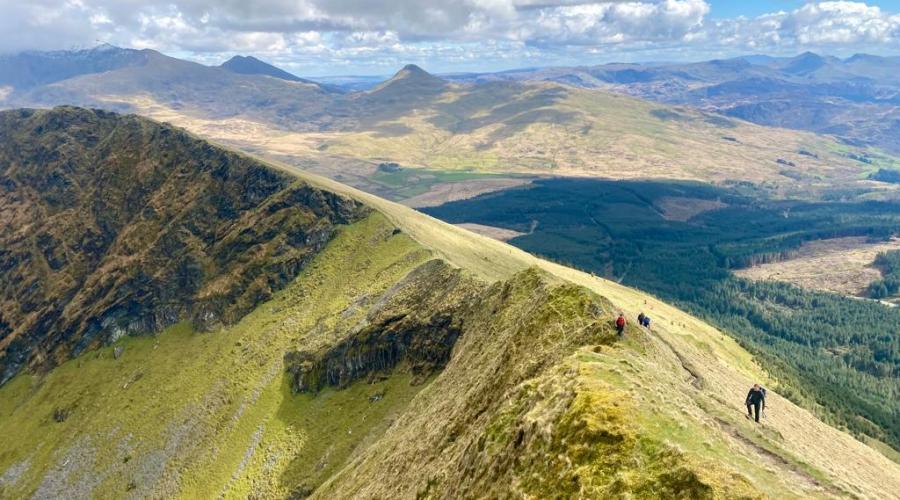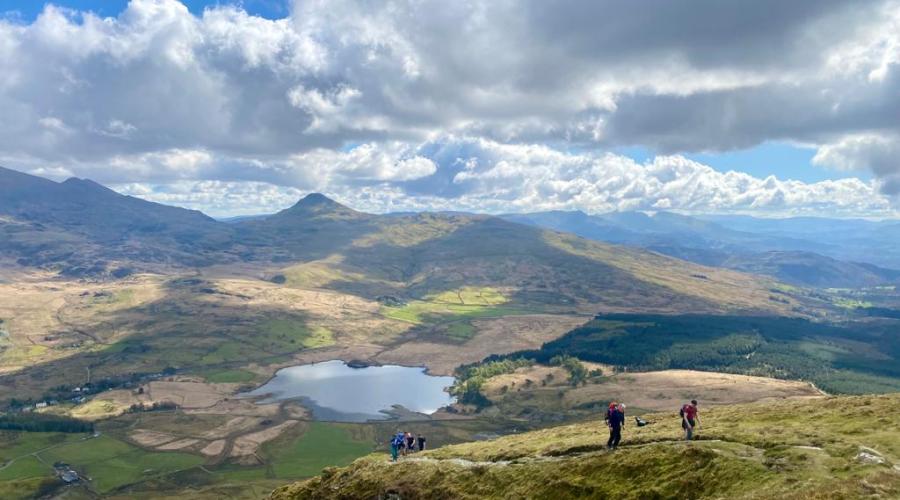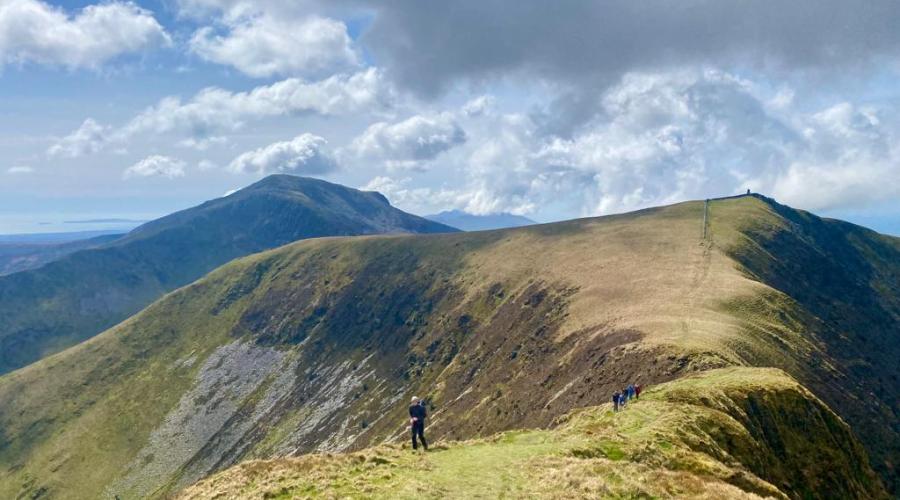 What to bring
It's spring but come prepared for all weather - this is a mountain walk!  Bring layers and waterproofs!
Boots:  A good pair of waterproof hiking boots will be essential for the walk, as we will be crossing some difficult terrain. Please make sure your boots are in good condition.
Socks: Walking socks are often overlooked by those new to hiking, with many novices failing to invest in proper socks.  Good walking socks are essential in regards to keeping the feet dry, and in turn stopping the development of blisters.
Gaiters:  Gaiters attach to the bottom of walking boots and extend to just under the knee, they provide waterproofing for the bottom half of the leg, and are essential in keeping the feet dry. Hopefully we won't need them in late July, but they're worth keeping with you just in case.
Walking Trousers:  Walking trousers should be of a windproof design and made of a rip stop material, that will stand up to walking through ferns and undergrowth.
Waterproof Over Trousers:  Waterproof over trousers are essential in keeping the legs dry in any significant rainfall, once again I hope we won't need them at this time of year, but pack them just in case.
Waterproof Jacket:  A good waterproof jacket is one of the most important pieces of kit you will require when hiking.  Walkers should look for a jacket that is both waterproof and breathable in order for them to be protected from sweat.  Materials such as Gore-tex are often the best choices.
Rucksack: A good two strap Rucksack that is comfortable to wear is essential, and required to carry both food and equipment.  Day sacks should have a capacity of around 30 litres with equipment ideally being placed in water proof bags inside.
Food & drink
You will need at least 2 litres of water and a packed lunch for this walk, plus any snacks that want during the day.
There are no shops either at the start point or en route, so you will need to make sure you have everything you need before we set off. 
Meeting & times
May 28 - am