Black Mountains 14 Summits Weekend Walk (South Wales)
8 people attending
0 places left
5 people waitlisted
Event booking closes on Jul 12 at 22:00:00
42km (26 miles) in 2 days
You need to have mountain walking experience, good equipment and a fairly  high level of fitness to carry your food, sleeping bag, sleeping mat and bivvy bag or small tent for more than 40km  and 1400m of ascent over sometimes boggy and sometimes rocky ground.
. Following a meal at 6pm in the Bear Hotel (High Street, NP8 1BW, which is less than 100m from the car park and chip shop) in Crickhowell, we will make sure we are ready to leave the car park at7:45pm. It will  then be a 5 minute drive to the secluded layby where we will leave our cars at the hike start point.  Then a steep ascent to the r amparts of the ancient Crug Hywel hill fort to get to the top of Table Mountain (451m), with late evening views over Crickhowell towards the Llangattock Escarpment. Another 340m of ascent will get us over Pen Cerrig-Calch (701m). It may be dark before we find a place to sleep (at an altitude of about 650m), so bring a low output head torch to use while walking and preparing to sleep.
In the morning we'll get to the top of Pen Allt Mawr (719m), for an early morning panoramic view across all of the Black mountains; followed by Pen Twyn Glas (646m) and Mynydd Llysiau (663m) to get to the highest summit Waun Fach (810m) for the first time. We will then go over Rhos Diron (713m), Lord Herefords Knob (690m) and Twyn Talycefn (702m) before heading down to the source of the Grwyne Fawr river to top up our water supplies (YOU NEED TO MAKE APPROPRIATE ARRANGEMENTS TO RENDER THE WATER FIT FOR YOUR CONSUMPTION).
We'll then climb Waun Fach for the second time and carry on to Pen y Gadair Fawr (800m) and Pen Twyn Mawr (658m) before finding a suitable place to spend our second night high in the mountains. The next morning we will only have Disgwylfa (540m), Crug Mawr (550m) and Blaen-yr Henbant (498m) to contend with, before descending to go over the Upper Cwm Bridge over the Grwyne Fechan, past the ancient church (first recorded in 1060) and into the village of Llanbedr and on to our cars.
Photo Credits: All photos taken by Paul Ridealgh; permission is granted to OutdoorLads for further use.
IMPORTANT! - Participation Statement
You MUST complete a Participation Statement, in addition to booking your event space before attending an OutdoorLads event. You only need to complete this Participation Statement once, not for each event you attend. 
Anyone with COVID-19 symptoms, even if they are extremely mild, or who has recently tested positive for Covid-19, is asked not to attend.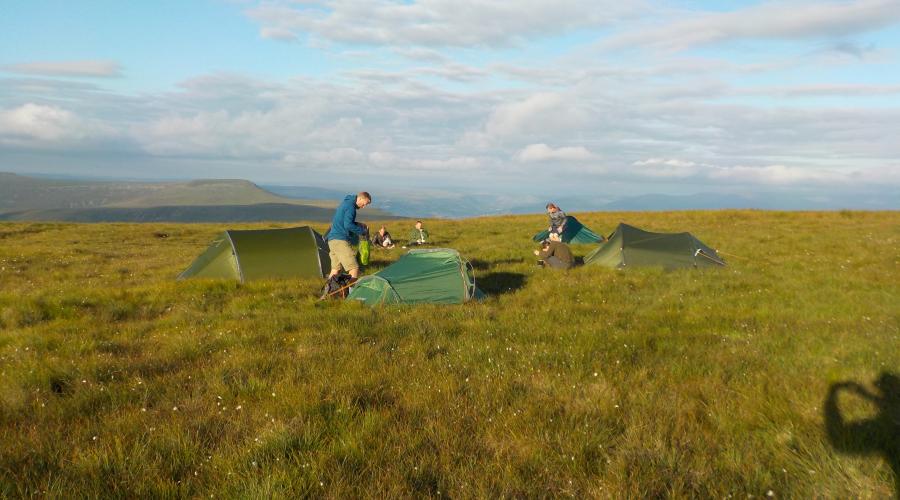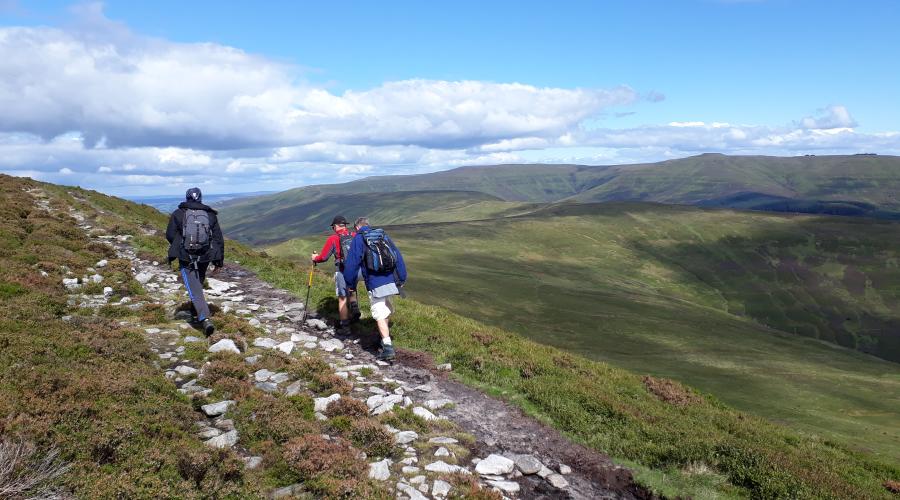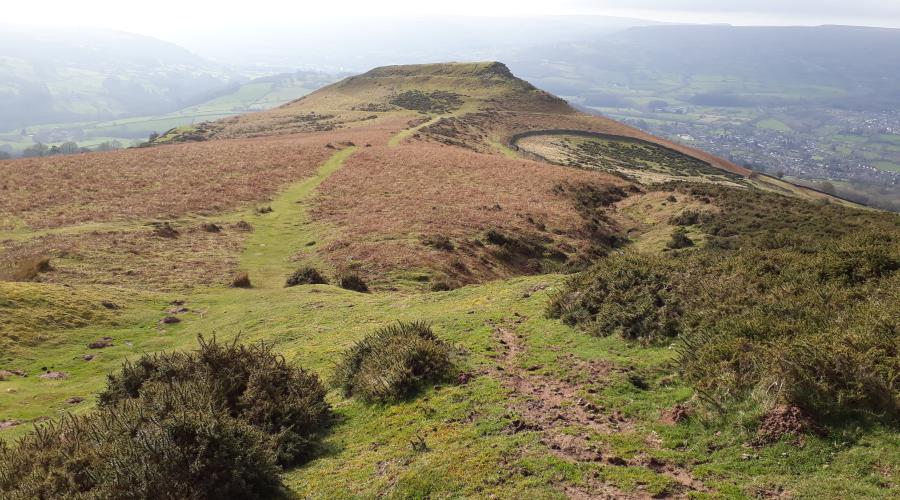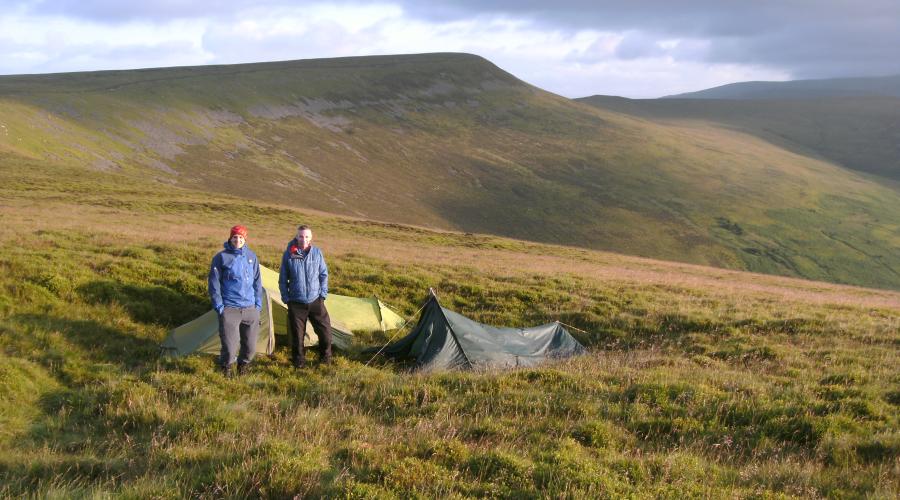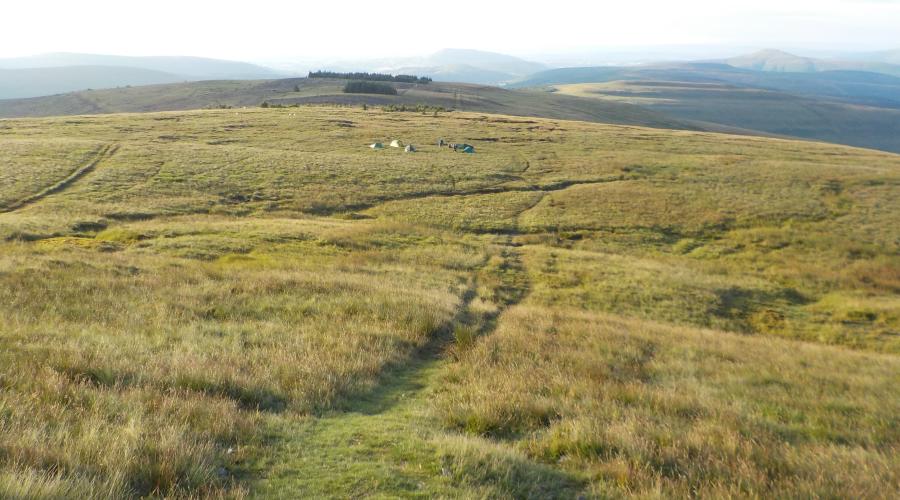 What to bring
Essential on this walk are previously used good hiking boots, waterproof cagoule and overtrousers, small DISCREET tent or bivvy bag, head torch with adequate battery life and low light output, sleeping bag, sleeping mat, personal hygiene materials, any medication, sun protection, adequate warm clothing, rucksac and enough food and drink; and water purification facilities if you will not be carrying enough water for the duration of the event. I suggest that your full rucksack should weigh less than 16kg and less than ¼ of your weight; if it risks being heavier, then try to share tents or cooking equipment with other members of the group.
Further general information is available in my booklet on wild camping which can be found under "My first OutdoorLads wild camping event" on the OutdoorLads website in "About Us", "My First Event". 
Food & drink
Bring enough food and water to cover your needs for the duration of the event There is no possibility to obtain food once we have left Crickhowell. Once we have gained height, the only possibility to obtain spring water (REFER ALSO TO THE COMMENTS IN EVENT DECRIPTION) will be when we pass the source of the Grwyne Fawr (unless you descend several hundred metres down the mountains).
Meeting & times
Jul 14 - pm