104 people attending
2 places left
You can chill out at the hostel or head out into the mountains, make it as hard or as easy as you want!
High Close Mansion, otherwise known as Langdale YHA is beckoning us once again for what is the best way to celebrate the Christmas period. The beautiful Lake District, with friends old and new and a feast of epic proportions to top it all off.
Whether you choose to relax in the main living room around the fire or brave the December cool air and take your drinks to the newly built fire pit on the main garden, you will have no trouble having a good time.  Of course we will have the awesome DJ's Dan B and Danny B (yes, there are two of them) on the virtual decks on Saturday night (and probably Friday knowing them!!
The OutdoorLads Charity Bar with its extensive spirits, lagers, beers, wines and soft drinks will be at your disposal for the weekend and whats better, we have an ice machine this time, so your drinks will be cold.  Remember, buying from the bar raises money for OutdoorLads, so help the charity by buying from the bar.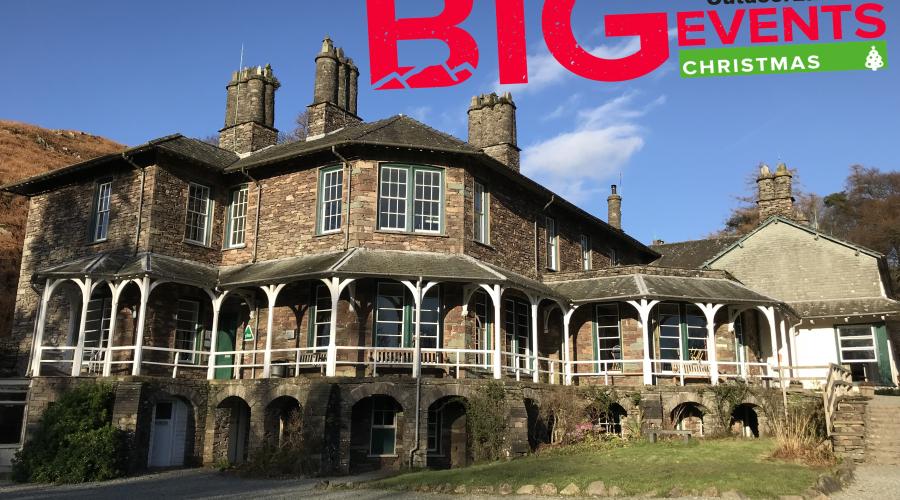 What to bring
The weekend will be filled with day walks on Saturday, so bring your walking gear and plenty of warm clothes if you fancy a wander to the fire pit in the garden of the hostel at night.
Festive jumpers will be in order for the hostel itself, so please bring them regardless of how hideous they may be!!
As always, Secret Santa will be paying us all a visit so bring a secret santa gift worth around £5 if you want to take part.  
Food & drink
The OutdoorLads Charity Bar will be on hand to supply your drinks all weekend and what is better, buying from us helps OutdoorLads raise funds which keep our events affordable for all.  So drink at the bar and leave your drinks at home.  We even have an ice machine now and will have ale and possibly lager on tap...watch this space!
Friday Arrival:  Mulled Wine and Mince Pies will be available from 6pm in the main living area.  A great way to get the weekend started!
Friday Buffet: Please bring an item for the buffet, now don't go over the top, bring an item for one person and then when everyone brings their items, we will have a buffet enough for everyone.  Try not to bring pizza and quiche - be creative!  It always goes down well.
Saturday Breakfast: A selection of toast, cereals and preserves will be available.
Saturday Christmas Dinner: A three course feast of epic proportions.  Soup to start, then Christmas Dinner with all the trimmings followed by a Festive dessert.  Dietary alternatives will be provided.  PLEASE ENSURE YOU FILL IN YOUR DIETARY INFORMATION ON YOUR PROFILE.
Sunday Breakfast: Sausage and Bacon butties will be available plus the cereals and toast should you want.  
Meeting & times
Dec 07 - pm
Location
54.438577520995, -3.0214140600706