Gay Cycling Groups In The UK
We're OutdoorLads, the UK's largest outdoor activities group for gay, bi and trans guys. With hundreds of gay cyclists in our club we've always got a ride near to you. On this page we've summarised everything gay cyclists in England, Wales and Scotland want to know before their first ride.
What types of rides can gay cyclists join?
1. Leisure Rides (Any Bike / Any Rider)
These bike rides are leisurely, easy rides along paved and easy routes like canal tow paths and old railway lines. You can use your road bike, gravel bike, hybrid bike, folding bike, e-bike, gravel bike, or any other bike!
2. Road Cycling Events
Longer distance rides than Leisure rides, and more challenging. You'll require a road bike, touring bike or gravel bike for these events. OutdoorLads runs long distance rides such as Land's End to John O'Groats (1000 miles! Wild camping, or staying in hostels/hotels along the way), or single day rides between 50-100km. Get your lycra on!
If you're a beginner road cyclist and not sure if you're prepared for the event, just message the event Leader, who'll be happy to advise you.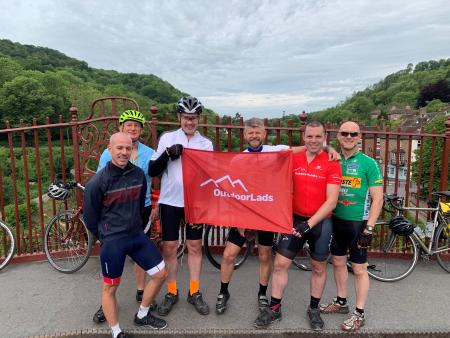 When are the next Road Cycling events near me?
Check our calendar to see all upcoming gay cycling events we have in the UK this year.
What if I'm a road cycling beginner?
Pro cyclist or not, we all started small and we're expressly inviting cycling beginners to our events. All of our Leaders will be happy to talk you through the challenges of an upcoming ride and give you pointers on how to improve your riding skills. For example, we frequently see gay bikers, mountain bikers or BMXers try their hand at road biking (and then of course falling in love with it).
OutdoorLads is committed to ensuring all cyclists are safe, by offering leaders accredited First Aid certifications. OutdoorLads Leaders are trained in group leadership, and will ensure all cyclists have the minimum required safety equipment for the ride.
I never feel nervous turning up to an OutdoorLads event as members are friendly and welcoming
Do I need a Bike to get started?
There may be a local bike hire place near the start point, or other riders may have a spare bike to lend. Just message the leader from the cycling event page if you're not sure. If you're planning on joining a road cycling event, you will need a bike that you can comfortably ride for 50km or more!
What other kit do I need for a bike ride?
The essentials are a decent bike, and a good quality helmet.
If you're planning on joining a leisure bike ride, you will likely need a backpack and some clothes you can move freely in, with plenty of layers for the colder months.
If you're planning to join a more long distance ride, panniers may be more comfortable than a backpack. Lycra cycling shorts / bib is up to you!
Is this a group for LGBTQ+ cyclists?
It sure is. We're all gay, bi and trans folks that just enjoy riding together. No dumb questions and all are welcome!
How much does it cost to join for a cycle ride?
It's free to join OutdoorLads and to thank you for signing up, we'll pop £25 of coupons on your account to use against your first event(s).
If you decide you still like us (which, of course, you will), you can continue as a Pay-As-You-Go Member, or upgrade to Full Membership to get discounted events, retail discounts, and a vote on governance matters at our AGM.
So, what are you waiting for? #GetOutMore!
Does OutdoorLads run other events?
Yes! OutdoorLads runs other cycling events like Mountain Biking (MTB) events.
OutdoorLads also run other outdoor events like walking, mountain walks, indoor climbing & bouldering, outdoor climbing, watersports, camping, hosteling and more! Check out all of our events.