Tramping round Trumptonshire, Part 1: Trumpton itself
30 people attending
0 places left
Distance is 19 km (12 miles); total ascent is 366 m; relief is hilly in the first half with one steep ascent and descent (the second half is almost flat); terrain is dirt, grass and tarmac.
Any OutdoorLads reading this who are actual lads (i.e. millennials) will be baffled, but Boomers and Generation Xers will know about Trumptonshire. The fictional county from late 1960s children's TV was the location of Camberwick Green, Chigley and Trumpton, which were inspired by Wivelsfield Green, Chailey and Plumpton in East Sussex. First up is Trumpton, and if you're expecting a market town with a fine town hall, then Plumpton's straggle of tile and flint cottages will be disappointing. However, far from disappointing will be the familiar Jack and Jill windmills and the crest of the South Downs before we reach the village, and the pretty places and actual small town of Ditchling after we do.
The sights:
Clayton: The village contains one striking surprise and two oddities. The oddities are the castellated entrance to the railway tunnel of 1840, and Jack and Jill, a mismatched pair of windmills, he a brick tower mill of 1876, she a wooden post mill of 1821, relocated from Brighton in 1850. The surprise is the wall paintings of 1140 in the humble church of St John the Baptist. They are unique in England for their extent, preservation and date.
Ditchling Beacon: At 248 metres, the highest point in East Sussex. In the care of the National Trust. A wide variety of plants can be found there, from chalk downland herbs to certain types of orchid. The hill gives panoramic views to Brighton to the south, the Weald to the north, and the South Downs stretching away to the west and east.
Plumpton: Animator Gordon Murray was cagey about his inspiration for Trumpton, Chigley and Camberwick Green. All he said was that they were inspired by three places all a mile and half away from each other. The real 'Trumpton' is just a street of cottages with the main suburban residential area at Plumpton Green near the racecourse. St Michael's church is small and Norman with a C13 chancel, but has some faded wall paintings. Plumpton Place is Jacobean, but remodelled by Lutyens in 1927-8. The Laine (former rectory) was the childhood home of Camilla, Duchess of Cornwall. At Plumpton Cross Simon de Montfort and his army descended the Downs to engage the army of Henry III at the battle of Lewes in 1264.
Streat: In a beautiful location with a view to the Downs. The church is over-restored, Norman and C13, but now mostly of 1854. Imposing Streat Place is from 1607-27.
Ditchling:  Built on a crossroads which has the C13 and C14 St Margaret's Church high above it, and very pretty in flint, timber, brick and tile. Interesting buildings include: 'Anne of Cleves' House', which was given by Henry VIII to his fourth queen as part of her marriage annulment settlement; and 'Sopers', the home of wood engraver, stone sculptor, type designer and sexual experimenter Eric Gill, which became an artistic community and inspires a museum of the arts and crafts today (designed 2014 by Adam Richards Architects). Noted Ditchling residents include Raymond Briggs and Dame Vera Lynn. Ditchling also has a good supply of pubs and tearooms of which we'll make use. 
Keymer: Oldlands Windmill is C18, a post mill with an octagonal brick round house. 
The route (please click the link to see the route details including elevations at the OS website):
A long, rather tedious footpath next to the railway line will take us to Clayton, where we'll pick up a bridleway past the windmills to connect with the South Downs Way along which we'll head east. At Plumpton Bostall we'll descend the Downs and head north along Plumpton Lane then use footpaths to go near Plumpton Racecourse. We'll then veer west and follow an intermittent bridleway to Streat and Ditchling. At Ditchling we'll head north past Lodge Hill to Oldland. Suburban streets through Keymer and Hassocks will take us back to the station.
Dogs:
I love having dogs on my walks and this walk is very suitable for them but there are a number of lanes to walk along and fields with livestock. A dog off the lead must be obedient.
IMPORTANT! - Participation Statement
You MUST complete a Participation Statement, in addition to booking your event space before attending an OutdoorLads event. You only need to complete this Participation Statement once, not for each event you attend.
COVID-19 – IMPORTANT, Please read the following before you sign up to this event:
Anyone with COVID-19 symptoms, even if they are extremely mild, or who lives or is in a support bubble with someone showing symptoms, is asked not to attend. This is in line with the government's coronavirus advice.
You must also immediately self-isolate and not attend the event if you or someone in your household or support bubble shows coronavirus symptoms or tests positive. Read the NHS self-isolation guidance.
OutdoorLads strongly encourages all attendees to take a rapid lateral flow test immediately prior to attending an event. This will help to keep everyone safe. Order free Rapid Lateral Flow Tests.
(All pictures were taken by the leader in late September 2021. OutdoorLads is welcome to make further use of them.)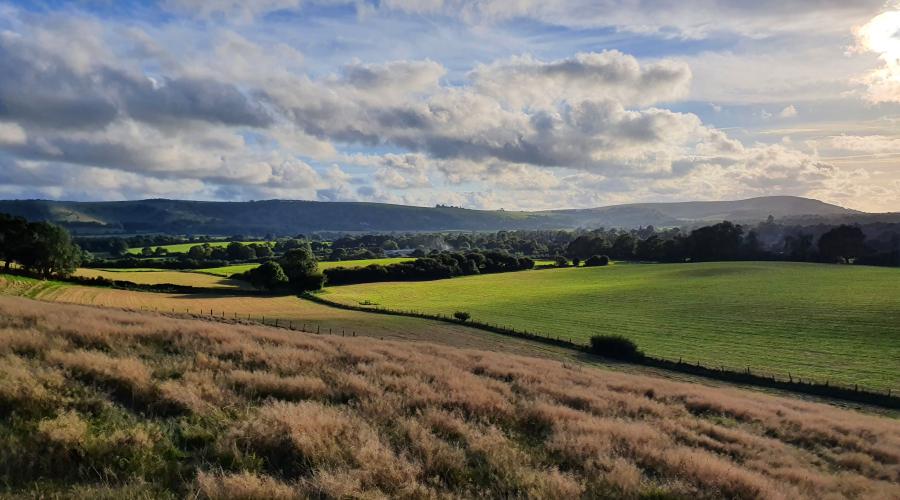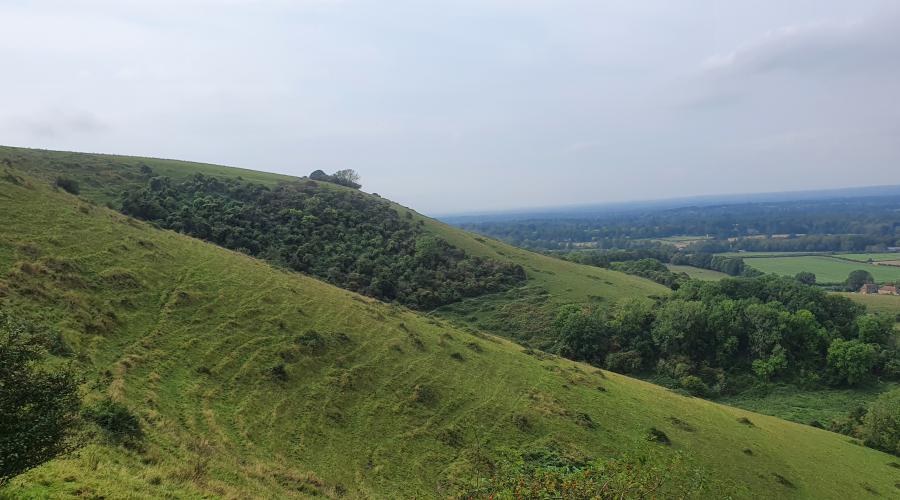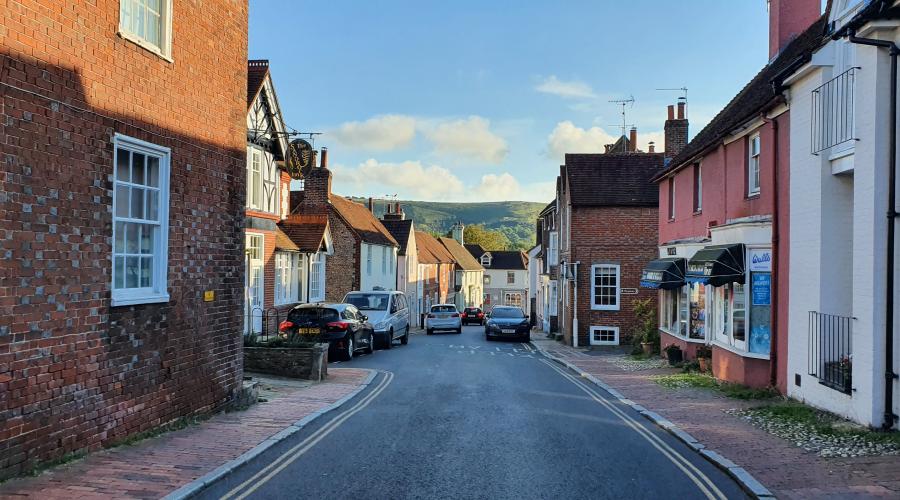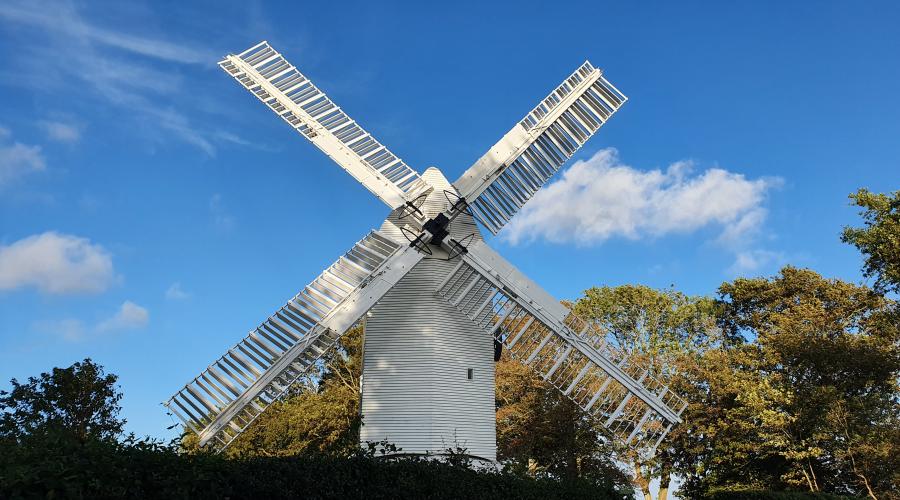 What to bring
Walking boots will be essential to cope with the hilly stretches and possible mud. Otherwise, wear clothes, ideally in layers, to cope with the weather conditions on the day, including a raincoat if rain is forecast.
Food & drink
Bring a packed lunch and plenty to drink. On the return leg of the journey, we can avail ourselves of the tearooms and pubs of the village of Ditchling.  
Meeting & times
Oct 16 - am