Strolling from the Devil to the Abbey
5 people attending
15 places left
Event booking closes on Oct 29 at 09:00:00
15 miles 6-8 hours
This will be a long, but hopefully rewarding 24km (15 mile) walk. Starting from Haselmere railway station, we will make our way along part of the Greensand Way towards the National Trust managed Devil's Punch Bowl. This area, until 2011, was home to one of the busiest A roads in Britain, but with the opening of the Hindhead tunnel, the A3 no longer thunders through, and the Bowl has become a calm, quiet haven for life. 
From here we walk to the highest point of the walk, Gibbet Hill. History tells of a sailor who was waylaid here and murdered. Even Mr Dickens makes reference to it, in his novel Nicholas Nickleby. At this view point we can see as far as central London, along with most of the route ahead of us.
Leaving the high point, the rest of the walk is mostly down hill or level, we make our way towards Thursley. Once more following the Greensand Way, we arrive into the pretty village of Thursley, nestled in the Surrey Hills. Some mythology about this village suggests it was once a site where people worships the Norse thunder god Thor, with a large rocky outcrop near the village bearing the name of "Thor's Stone". We will stop in Thursley for lunch before continuing with our walk.
We will pass from the village onto Thursley common and thence to Hankley Common. Interesting for any film buffs, Hankley Common doubled for James Bonds Scottish estate in the film "Skyfall" and is managed by the MOD. Likewise our next port of call, the sandy soiled Elstead Common which is the home to a practise area used in WWII for soldiers taking part in Operation Overlord. The decaying remains of walls and fences can still be found, lending an almost haunting air to the heath.
Next, following the Greensand Way once more, we stop in the achingly lovely medieval village of Tilford, home of two stunning bridges which span the River Wey and the Lutyens Institute (founded by Sir Edwin Lutyens - an architect perhaps best known for the Cenotaph on Whitehall). And we may stop at the pleasant Barley Mow pub by the river for a refreshment.
Leaving Tilford, we will skirt round the edge of Crooksbury Common and take a slight detour to view the ruins of Waverley Abbey. The first Cistercian Abbey in England, much of this once sprawling complex is gone, but even so, large ruins remain and help us paint a picture of life during the middle-ages.
From here it is but a short stroll to our final destination: that old Saxon village now known as Farnham.
Despite its length, this is a very pleasant walk in the Surrey Hills and would be a great walk. Do please consider your fitness for a longer day walk and the pace we may need to maintain.  
You can view the route via OS Maps app here
Images: All pictures taken by SimonH
IMPORTANT! - Participation Statement
You MUST complete a Participation Statement, in addition to booking your event space before attending an OutdoorLads event. You only need to complete this Participation Statement once, not for each event you attend. 
Anyone with COVID-19 symptoms, even if they are extremely mild, or who has recently tested positive for Covid-19, is asked not to attend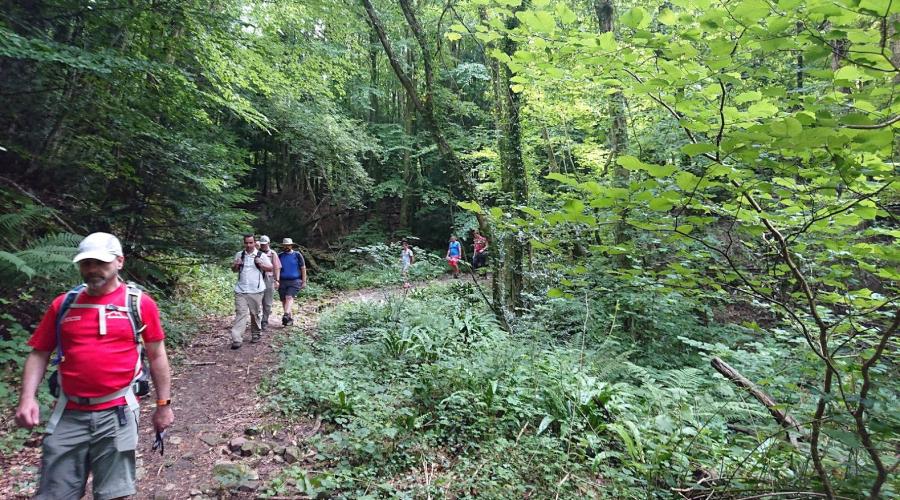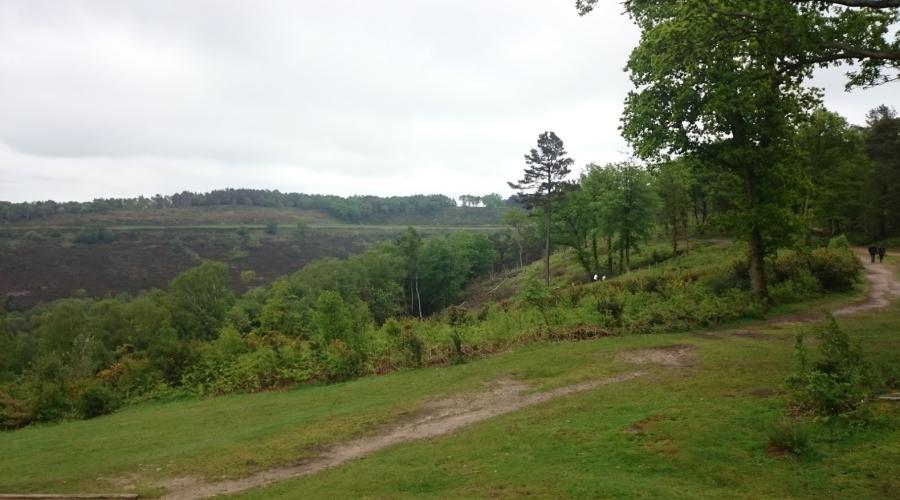 What to bring
For your comfort and safety please be prepared for the anticipated weather and the terrain of the walk - keep in mind the following:
Boots:  Hiking boots  that  are both waterproof and breathable, and provide good ankle support, are important as soon as you encounter any mud. Cross trainers may suffice in good weather and flat routes.
Socks:  Proper walking socks keep your feet dry, and help prevent blisters.
Walking Trousers:  (ideally water resistant) will be more comfortable than Jeans which are heavy and cold when wet.
Waterproof Over-Trousers:  essential in any significant rainfall.  Breathable ones are best.
Layered clothing: allows you to quickly adapt to changes in the weather as well as body temperature. E.g. a base layer or a cotton T-Shirt; a mid layer like a micro fleece, or a rugby type thick shirt,  and in cooler weather an outer layer consisting of a windproof jacket or a thick fleece. 
Waterproof Jacket: essential when hiking in all but the calmest of weather.  You get what you pay for with these. Breathable fabrics are advisable.
Hat: essential both in mid winter to preserve heat and in summer to prevent sunburn and heatstroke. 
Gloves: essential in frosty weather.
Small Rucksack: One that is comfortable to wear is essential so that you can use your arms freely. Place valuables in water proof bags inside.
Sunglassses: April- Sept: comfortable sunglasses enhance your pleasure and keep insects out of the eye
Water: even in winter one can loose a litre or more of fluid by perspiration. If you fail to make this up you'll get dehydrated which can lead to headaches and other problems. A hydration bladder is easier to use than bottled water, but higher maintenance.
Food: a packed lunch will be required unless otherwise stated. In addition carry energy bars or similar to counter 'sugar lows'.
Medicines: If you have allergies, are diabetic, or have minor ailments don't forget these!
Food & drink
I always recommend bringing at least 2 litres of water, even in winter. It may be cold but you will still need to keep hydrated!
Bring a packed lunch, for whilst there may be stops at or near places that sell food, we can not guarentee that nor that there will be enough time to order and eat a three course meal!
Meeting & times
Oct 29 - am