Shell Island Camping Weekend 2019
25 people attending
5 places left
Located in North Wales between Harlech and Barmouth and boasting stunning views of the unspoilt Welsh countryside, including Cardigan Bay and the Snowdonia National Park, Shell Island is one of Europe's largest campsites. For more details have a look at their website: www.shellisland.co.uk
Shell Island, known as Mochras locally, is a peninsula created in the early 1800's when the nearby River Artro was diverted from its original course (south of the island) to being above the island and so creating a water course effectively separating the island and the historic settlement that resided there.
The island itself is famous for (amazingly!) the number and variety of shells that wash up on it shores from the popwerful tides of the Irish Sea.
What we do over the weekend will depend on the weather. Hopefully the weather will be fine and there will be plenty of opportunity for walking, both along the coast and into the nearby Snowdonia National Park. And if it's really sunny there's a chance to go swimming in the sea or just leisurely stroll along the miles of golden sand.
If the weather's not so good there are plenty of places to visit: Harlech Castle, the Welsh Highland and Ffestiniog railways from Porthmadog, The Italianate style village of Portmeirion, or a spectacular rail journey along the coast to Machynlleth.
Well behaved dogs are welcome, but must be kept on a lead at all times and owners must clean up after them. There is an additional charge of £5 per dog, payable direct to the venue on arrival in cash.
This site is not suitable for Caravans, but motorhomes and campervans are accepted.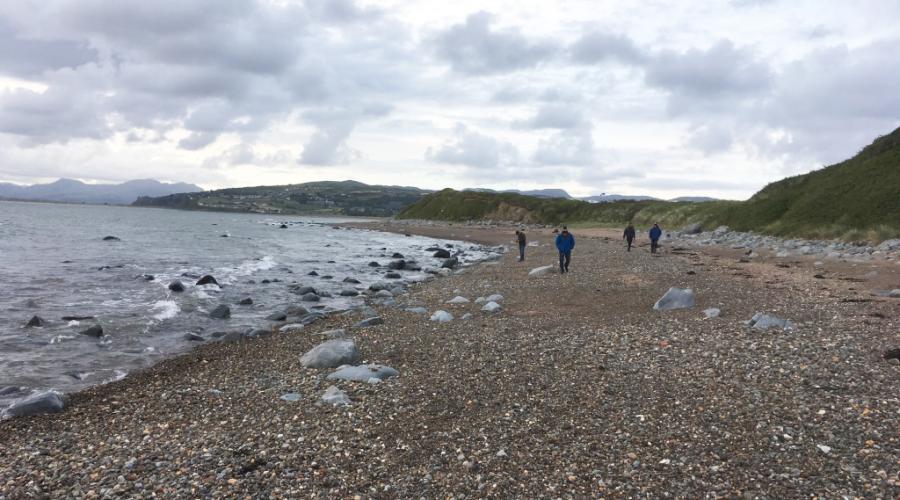 What to bring
Boots:  Hiking boots are arguably the most essential piece of kit when hiking just about anywhere.  Walker's should make sure that their boots are both waterproof and breathable, and provide good ankle support.  Boots should also be in good condition.
Socks: Walking socks are often overshadowed by those new to hiking, with many novices failing to invest in proper socks.  Good walking socks are essential in regards to keeping the feet dry, and in turn stopping the development of blisters.  Sports socks and other socks not designed for walking will often become waterlogged, or damaged which will in turn blister feet.
Gators:  Gators attach to the bottom of walking boots and extend to just under the knee.  They provide waterproofing for the bottom half of the leg, and are essential in keeping the feet dry.
Walking Trousers:  Walking trousers should be of a windproof design and made of a rip stop material, that will stand up to walking through ferns and undergrowth.  They should also ideally be water resistant, or at least not gain weight, and lose their insulation properties when wet.  Jeans are therefore to be avoided, as they are heavy when wet and provide no protection from the elements.
Waterproof Trousers:  Waterproof trousers are essential in keeping the legs dry, as water resistant trousers will not keep out any significant rainfall.  Walker's should look for waterproof trousers that are breathable, in order to avoid being soaked with sweat.
Base Layer: A breathable base layer should be chosen in order to let sweat escape from the body.  This should ideally consist of a breathable synthetic, specially designed fabric, though a cotton T-Shirt is sufficient.
Mid Layer: A Mid Layer goes on top of the base layer and should consist of a 100 weight micro fleece, or a rugby typed thick shirt.  The layering system is important as it allows walkers to quickly adapt to changes in the weather as well as body temperature.
Outer Layer: The outer layer should consist of a windproof jacket or a thick fleece.  This is the final layer and walkers should ensure that this layer provides ample warmth.
Waterproof Jacket:  A good waterproof jacket is one of the most important pieces of kit you will require when hiking.  Walkers should look for a jacket that is both waterproof and breathable in order for them to be protected from sweat.  Materials such as Gore-tex are often the best choices.
Hat: As most heat is lost through the head a good hat is essential.  The best hats are those of a fleece design, with wool also being acceptable.
Gloves: Gloves are essential in the colder months as walkers will require the usage of their fingers for various activities such as map reading.  Windproof or better still waterproof gloves are the best choice.
Rucksack: A good Rucksack that is comfortable to wear is essential, and required to carry both food and equipment.  Day sacks should have a capacity of around 30 litres with equipment being placed in water proof bags inside.
Emergency Equipment: A number of items should be taken in case problems occur whilst walking in the hills.  Emergency equipment becomes of greater importance the further from civilisation walkers are.  Equipment should include spare food stuffs of high energy, a survival bag, a whistle, a medical kit, a torch and something to make fire, either storm proof matches or a firelighter.
Food & Water:  At least two litres of water should be brought for each day hiking, with more being taken if cooking is required.  Enough food for the duration of a walk should also be taken.  Food should be of the high energy variety, with hot food being able to be eaten raw if necessary.
Map & Compass: A map of the area being walked in is essential as well as a compass.  The map should be in a waterproof bag or be of a waterproof design.
Mobile Phone: A mobile phone should also be brought and kept in a waterproof bag for use in emergencies.
Change of Clothes:  A full change of clothes should be brought and kept in waterproof bags, as well as multiple pairs of socks.
Large Rucksack/Bergen:   A large rucksack of around 60 litres is required.  This rucksack should be capable of carrying all necessary equipment on the inside, as well as providing back support.
Tent: A tent if of course essential when sleeping out in the open.  Walker's should make sure that they have pitched the tent before, and have all parts of it, such as poles and pegs.  The tent should also be light enough to carry as well as being able to stand up to the weather.  A 3 season tent is recommended as a minimum level of protection.
Sleeping Bag / Mat: A sleeping bag is of course required for camping.  Walker's should look for one that provides adequate warmth, below the temperature that they expect.  If in doubt walkers should bring a sleeping bag for colder conditions than they expect.
Cooking Equipment: Walkers should bring some kind of cooking equipment so that they can cook hot meals, and enjoy hot drinks when cold.  Being able to cook hot food is essential during the colder months.
Food & drink
You will need to provide your own food and drink for the weekend however there is a bar and a cafeteria on the island that will be open during the weekend. There is also a supermarket where you can buy items for a packed lunch for Saturday. And good food and drink are available at The Victoria Inn in Llanbedr which has an excellent beer garden.
The campsite does allow campfires and BBQ's however they must be raised off the ground so to prevent the grass being burned.
Meeting & times
Jun 07 - pm